Neha Siwach, Washington Foster's MBA Class of 2023
Age: 27
Hometown: Meerut (India)
Undergraduate Institution and Major: Shri G. S. Institute of Technology and Science
Pre-MBA Work Experience (years, industry): 5.5 years, Technology
Why did you make the decision to attend business school? Why now?:
In my last role at Accenture as an automation expert in software testing, I got plenty of opportunities to collaborate cross-functionally with various teams as well as clients. I also solved complex problems on a day-to-day basis. This made me realize that I wanted to be in a role where I could create products that solved customer's problems. That is when I decided to get my MBA. It will provide me with the necessary toolkit and help me hone my business skills.
Why did you choose Washington Foster? What factors figured most prominently into your decision of where to attend?
The small class size and the close-knit culture was what drew me to Foster. The culture was a differentiating factor, and it was exemplified in all my interactions with the program. The location was an added advantage as I wished to pursue a career in technology. All these factors combined made Foster a great choice for me.
What do you think is your most valuable or differentiating contribution to the Class of 2023?
My class has a of lot individuals who are looking to pivot to technology from different industries. My experience working in the technology industry can be very helpful to my peers during the shift.
Tell us a fun fact that didn't get included on your application:
I love traveling.
Post-MBA career interests:
I love technology products and I enjoyed my time at Accenture working solving complex problems and collaborating with different teams. While I had the visibility of the immediate deliverable, I did not have a view of the end-to-end product lifecycle. I wanted to be in a role where I could make the best use of my technology skills and the business acumen I would gain at Foster. The role of a product manager strikes the perfect balance between the two and I want to be a product manager in the tech industry after my MBA.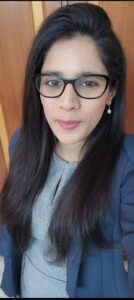 Advice for Current Prospective Applicants:
– What is one thing you would absolutely do again as part of your application process?
Do your research about the school. You are taking out time from your life to go to business school, make sure it is the right fit for you. Talk to people! No one can give a better perspective than current students, so reach out to them.
– What is one thing you would change or do differently?
Start the research early. Don't wait for your standardized test results to start the research for schools.
– What is one part you would have skipped if you could—and what helped you get through it?
The whole process was helped me gain insights and figure out what I want. I wouldn't have skipped any part of it. It was paramount in shaping the experience leading up to the business school and I think it is a crucial part of going to business school.
What is your initial impression of the Washington Foster students/culture/community?
My initial impression is that it is a very close-knit community. From helping each other with cases to interview prep, the students exemplify the supportive and collaborative environment.
What is one thing you have learned about Washington Foster that has surprised you?
I was really astonished about the effort my professors took to get to know the students and the research that they had done. It made me realize the extent to which the school went to make everyone feel valued and welcome.
Has the COVID-19 pandemic affected your personal application or admissions process in any way? If so, how? Taking the standardized tests during the COVID was not easy, especially in the early days. It got better when the standardized tests were moved online, but initially giving tests online was a very complicated and cumbersome process.
What is one thing you are most anxious about in your first year?
I am anxious about balancing the academics while also working on my internship search.
What is one thing you are most excited about in your first year?
Getting to know my amazing classmates and learning from their diverse experiences.