Alex and Graham are back for another episode of WireTaps amidst the whirlwind of R1 decisions from Harvard, Stanford, Tuck, Kellogg, Emory, Darden, Michigan, Georgetown, and more! Our hosts preview MIT, Berkeley, and Wharton R1 decisions (coming later this week) and remind listeners to drop by Clubhouse this Thursday at 12 pm ET for some R1 results chatter.
Alex and Graham also dig into some of the specific activity they've seen on MBA LiveWire over the past week, including one candidate who's Stanford deny was softened by his HBS admit.  Graham also noted that plenty of interview reports are still coming in from Round 1 candidates, and celebrates a new Adcom Q&A with Bruce DelMonico from Yale SOM.
As to our featured candidates this week, first up is a chemical engineer targeting admissions for next season. This 'early bird' has plenty of time to fine tune their application, which might include improving the GMAT score from 710 to the 740s (their prediction). They also have a very strong undergrad record, and their work experience also appears impressive, suggesting they have opportunities at M7 programs. Alex and Graham address their ROI concerns and myth-bust the notion of "under targeting" to gain scholarship money. WireTaps candidate #2 is a Taiwanese candidate who already has an offer at Columbia, from their ED round. Should they be targeting additional programs in Round 2? Alex and Graham explore the options, pros, cons, risks, and ethics of such a move. Finally, our hosts review a Latin American candidate who probably could improve her school target list; there is a big gap between her top targets (Harvard and Stanford) and remaining choices (Top 16 programs.)
Review the full profiles below and then tune into the show for all the advice!
Chemical Engineer looking at opportunities in Renewable Energy: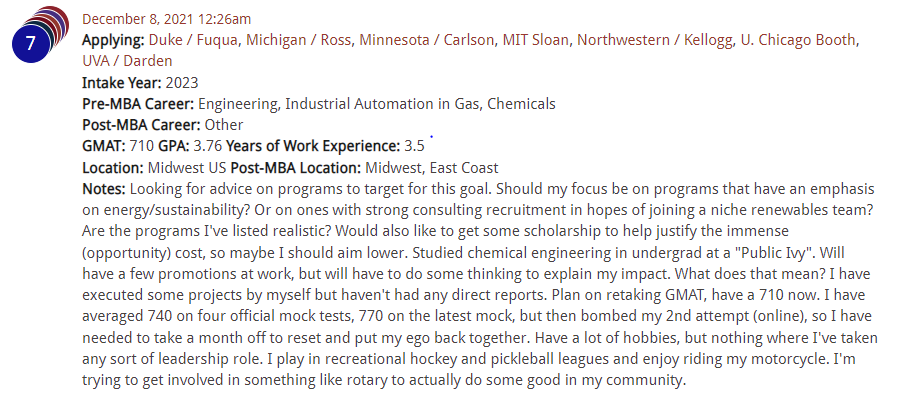 Columbia ED admit seeking to target the Trilogy in Round 2:

Latam candidate who might consider reviewing her target programs:

Happy listening!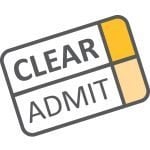 Be sure to post to MBA ApplyWire, MBA DecisionWire or MBA RankingsWire if you'd like Graham and Alex to offer admissions advice.
If You Like What You've Been Hearing, Please Subscribe and Rate Us on Apple Podcasts!
It's been wonderful seeing the audience for our podcast series continue to grow! Please, if you have enjoyed what you've heard, could you rate and review the Clear Admit MBA Admissions Podcast in Apple Podcasts? This is the best way to help more listeners find us. Also, to ensure that you never miss an episode, please subscribe to the podcast on whatever platform you use.
This episode was hosted by Graham Richmond and Alex Brown, and produced by Dennis Crowley. Thanks to all of you who've been joining us!