Grab a glass of eggnog and cozy up to this holiday edition of the WireTaps podcast! While things are now quiet on the MBA decision release front, plenty of MBA candidates are sharing their decisions on MBA DecisionWire, and Graham and Alex get into some helpful content around how to spend the holiday break if you are deciding on R1 options or applying in R2.   Graham also noted the release of Real Humans pieces for Dartmouth / Tuck and Minnesota / Carlson and highlighted the employment reports from Harvard and Tuck. Both programs had an average starting salary at $150,000; our hosts discussed the nuances of why HBS might fall slightly behind programs like Stern, with respect to this metric. Alex and Graham then tackled two ApplyWire entries and a DecisionWire entry.
First up in the batch is a military candidate who appears to have a very impressive set of experiences. While their GPA is decent, Alex and Graham wonder if the GRE (323) is going to be their weakest link, and whether it might make things a bit of an uphill battle at the very best programs. Our hosts also make some last minute recommendations regarding target programs. Next up, a candidate from China who has completed their masters degree, secured an outstanding GMAT score (770), worked several years in government, and transitioned to a serial novelist. Alex and Graham marvel at the list of highly compelling ingredients, but worry about this applicants ability to 'make the recipe'. Finally, from DecisionWire, our hosts look at a US-based candidate who largely targeted non-US MBA programs, and is now determining which is their best option for work in luxury goods in Europe in the short term and a return to the US in the longer-term.
Outstanding military candidate with modest GRE:

China-based candidate, government worker turned novelist:

US-based candidate weighing options with non US-based programs:

Happy listening!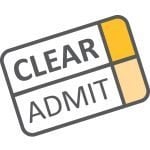 Be sure to post to MBA ApplyWire, MBA DecisionWire or MBA RankingsWire if you'd like Graham and Alex to offer admissions advice.
If You Like What You've Been Hearing, Please Subscribe and Rate Us on Apple Podcasts!
It's been wonderful seeing the audience for our podcast series continue to grow! Please, if you have enjoyed what you've heard, could you rate and review the Clear Admit MBA Admissions Podcast in Apple Podcasts? This is the best way to help more listeners find us. Also, to ensure that you never miss an episode, please subscribe to the podcast on whatever platform you use.
This episode was hosted by Graham Richmond and Alex Brown, and produced by Dennis Crowley. Thanks to all of you who've been joining us!