The Kelley School of Business prides itself on a diverse student body. While backgrounds and career interests may vary, students are united by a common desire to be part of a strong community. And with a rank in the top 25 business schools, Kelley School of Business is as prestigious as it is supportive.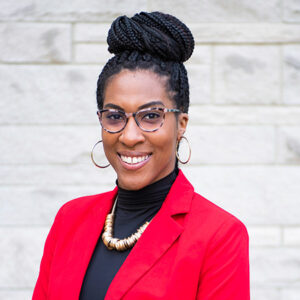 Briana Taylor is currently pursuing an MBA degree with a concentration in Marketing and Business Analytics as well as a certificate in Product Management. Briana hopes to gain a fulfilling career in product marketing at a top tech company. She's taken advantage of Kelley's many clubs and organizations to foster connections and community. 'The Consortium for Graduate Study in Management network and my Kelley Consortium family has been the most helpful during my time at Kelley. Prior to starting last fall, I attended the Consortium's Orientation Program where I had the opportunity to network with MBAs from other member schools, sit in on professional workshops, and connect with some of my dream companies. The Orientation Program was my first touch point with Microsoft, where I interned this past summer. Going into my interviews, I felt very prepared thanks to Kelley's Graduate Career Services team and the second-year Kelleys, who helped me prepare for OP and specifically my Microsoft interviews. My Consortium family continues to be a strong source of support during my time at Kelley. Whether we're studying for upcoming exams, working on team projects, or unwinding from a stressful week, I'm thankful to have them along this journey with me," Briana said. Her favorite thing about Kelley is, "the people: students and faculty."
With the full-time MBA Class of 2023 consisting of 25 percent minorities and 42 percent international students it's no surprise that diversity is a major advantage. Briana stated, "We all come from different walks of life and we all bring something unique to the Kelley community." Kelley's diverse and encouraging environment serves as a launchpad for students like Briana to become part of the next generation of business leaders.
Leadership development and global programs are an important part of this launchpad. Global immersion programs and The Global Business and Social Enterprise (GLOBASE) provide students with the experience to tackle real-world business challenges. Multiple scholarships and fellowships are available to students hoping for assistance to pursue those programs.