Welcome back to another episode of your friendly MBA-neighborhood podcast!  The big conversation from last week's MBA admissions activity centered around the interview invite releases of Harvard and Michigan / Ross (note: Alex and Graham somehow neglected to mention the release of Duke / Fuqua's Round 2 invites, also heavily reported on MBA LiveWire). Alex put Graham on the spot about his own experience interviewing at HBS, and after diving into that topic a bit Graham called listeners attention to Real Humans piece on UVA / Darden, and the employment report for Cornell / Johnson. It was no surprise that a whopping 36% of students head into Finance from Johnson. Graham and Alex also discussed SMU / Cox's merging of MBA Admissions and Career Services, and how that might, or might not, work at a larger program.
As always, this week's episode features three real candidate reviews, including two ApplyWire entries and one DecisionWire entry.
First up, Alex picked out a candidate from India who applied in Round 2, and is not being overly ambitious with their school selection. Your hosts like the overall profile, but wonder whether waiting to the following season, with apps in the first rounds, might allow them to target some higher profile programs. This week's second candidate also hails from India, but has completed an MS in the United States. With a solid engineering background and good numbers, there is a lot to like about the overall profile. Alas, this candidate is on the waitlist from Round 1 at a couple of programs, and has targeted a few top 16 programs in Round 2. Fingers crossed! Finally, from DecisionWire, Alex chose a candidate who has several offers, and is weighing UVA / Darden with a full ride against Berkeley / Haas with a $90k award. Looking at the personal preferences of the candidate, Darden may have the edge, here.
Strong profile from an over-represented app. population, should they wait?

Engineer with great numbers, on the waitlist, and waiting for Round 2 offers.

Haas versus Darden with more money, a tough call.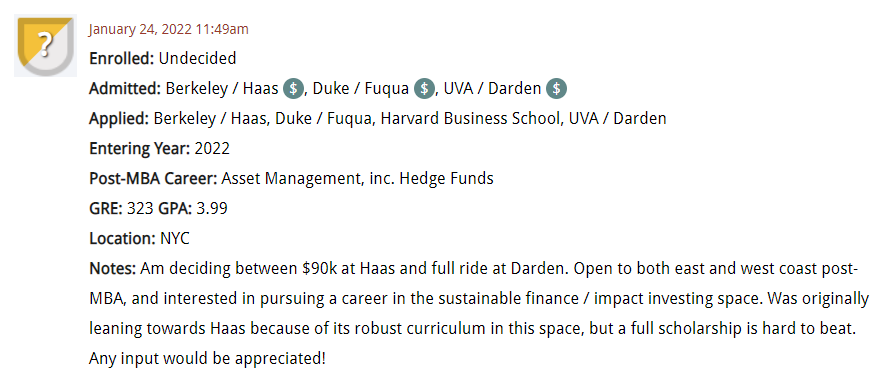 Happy listening!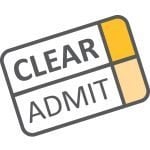 Be sure to post to MBA ApplyWire, MBA DecisionWire or MBA RankingsWire if you'd like Graham and Alex to offer admissions advice.
If You Like What You've Been Hearing, Please Subscribe and Rate Us on Apple Podcasts!
It's been wonderful seeing the audience for our podcast series continue to grow! Please, if you have enjoyed what you've heard, could you rate and review the Clear Admit MBA Admissions Podcast in Apple Podcasts? This is the best way to help more listeners find us. Also, to ensure that you never miss an episode, please subscribe to the podcast on whatever platform you use.
This episode was hosted by Graham Richmond and Alex Brown, and produced by Dennis Crowley. Thanks to all of you who've been joining us!