E Yeol (Derek) Yoo, Esade MBA Class of 2023
Age: 32
Hometown: Seoul, South Korea
Undergraduate Institution and Major: Hanyang University (International Studies)
Pre-MBA Work Experience (years, industry): 6 years 4 months in commercial bank in South Korea (KEB Hana Bank)
Why did you make the decision to attend business school? Why now?
In the early years of university, my goal was to become a strategic consultant. After over 6 years of experience in finance, I thought it was be the best for me to think about a career transition. So, I decided to attend business school, where I can learn about diverse concepts and ideas, which will assist me in becoming a strategic consultant.
Why did you choose Esade? What factors figured most prominently into your decision of where to attend?
During my research, I found that Esade's collaborative value was impressive. Nearly 90% of the students are from outside of Spain and they are from over 40 countries. I felt that this school has pivotal value that cannot be easily seen in other business schools around the world.
What do you think is your most valuable or differentiating contribution to the Class of 2023?
First, my enthusiasm towards both work and play will motivates others. Second, my finance background will be helpful for the people who are struggling with related subjects.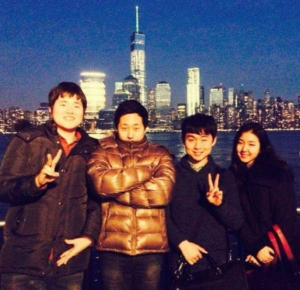 Tell us a fun fact that didn't get included on your application:
Even though I have worked in Korea's diverse TV programs over 5 years as subtitle translator and simultaneous translator, I have no certificate related with translation nor attended any school or institution to learn about translation. When I was studying in New Zealand, I was on a school team and was in preparation to become a professional soccer player.
Post-MBA career interests:
Consulting
Advice for Current Prospective Applicants:
–What is one thing you would absolutely do again as part of your application process?
Ask many people for an advice on writing CV and essays.
–What is one thing you would change or do differently?
Start to prepare earlier.
–What is one part you would have skipped if you could—and what helped you get through it?
Writing essays, invest as much time to contemplate summarizing your life.
What is your initial impression of the ESADE students/culture/community?
Very active, goal-oriented.
What is one thing you have learned about ESADE that has surprised you?
ESADE assists students with diverse methods (especially for career development).
What is one thing you are most excited about in your first year?
Learning new things and making new friends.