Satya Nadella, current CEO of Microsoft, is credited with turning the culture of Microsoft around, to a "growth mindset." The tech giant's mission statement is now, "empower every person and every organization on the planet to achieve more." This, among other features of the multinational corporation, drew Duke Fuqua MBA '21, Nathalia Borges, to pursue her internship and post-MBA job there. In this edition of Real Humans – Alumni, Nathalia shares how the Team Fuqua b-school experience prepared her to become a product marketing manager at Microsoft, insights into her summer internship there and more.
Nathalia Borges, Duke Fuqua MBA '21, Product Marketing at Microsoft 
Age: 33
Hometown: Sao Jose dos Campos, Brazil
Undergraduate Institution and Major: Universidade Estadual de Campinas (UNICAMP) – Major: Economics
Graduate Business School, Graduation Year and Concentration: Duke University, Fuqua School of Business, MBA '21, STEM and Marketing
Pre-MBA Work Experience: 9 years, Banking
Post-MBA Work Experience: 9 months, Technology
Why did you choose to attend business school?
I chose to attend business school to have the opportunity of being exposed to a more global environment, different industries and people from diverse backgrounds. Having worked most of my career in banking and being interested in the growing technology landscape, I saw an MBA as a great way to deepen the skills I needed for a technology career pivot and to gain access to professionals and roles in the tech industry. Also, I wanted to expand my comfort zone and challenge myself into different collaboration environments and that is exactly what the MBA provides.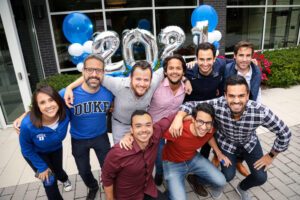 Why Fuqua? What factors figured most prominently into your decision of where to attend?
My decision was not only focused on professional and academic aspects, but it also involved the type of community I wanted to be part of. Fuqua was an amazing opportunity because of its great balance of options between classes and experimental learning; thus, allowing us to focus on classes that match our professional objectives and in hands-on opportunities, such as the development of finance or marketing projects for local organizations with mentored studies. The school also has a very well-structured career guidance program with a pipeline of preparation for recruiting in all industries and a much-involved career management team that would also provide tailored support if needed. However, the biggest factor for choosing Duke was Team Fuqua. In a school where most activities are student-led, Fuqua gives the space for people to lead groups, improve experiences and create new engagement opportunities. Seeing how old traditions are kept alive, and new ones are also always created, shows how much Team Fuqua is willing to make the environment a better place for all, year after year. During the pandemic, countless initiatives were created by the school and students to support other students and their families, as well as opportunities for safe connections, to nurture relationships and mental health. When the community needed the most, Team Fuqua stepped up and made people's lives better. Being an international student and moving to the U.S. for my MBA, I wanted to have a family away from home, and I found that in Fuqua.

What about your MBA experience prepared you for your current career?
I believe my MBA experience has prepared me for my current career from a learning and from a leadership perspective.  In terms of learning, by pursuing the STEM concentration, I gained experience with new topics that are now very important for my product marketing role in a technology company, such as data modeling, digital marketing, brand management and forecasting. On the other hand, I leveraged multiple opportunities in the MBA where I could expand my leadership experience and skills, such as being the president of the Latin American Student Association and a Teacher Assistant. These experiences not only helped me to develop myself as a person and as a leader, but they also helped me to improve skills to influence people and teams without proper hierarchy, something extremely important in team-based cultures and matrix organizations, such as Microsoft.
What was your internship during business school?  How did that inform your post-MBA career choice?
In my internship, I worked as a product marketing manager at Microsoft — in the Cloud Marketing organization — in a project focused on Azure customer success and loyalty. What impressed me the most about the internship program at Microsoft is how prepared teams are to welcome interns with proper onboarding and real-life projects that really teach what the roles and the company are about. The internship program also provides a vast variety of trainings and networking opportunities that enable MBA students to explore not only their teams but also other areas in the company. This conjunction of hands-on learning, community building and growth mindset culture are some of the biggest factors that made me want to come back to Microsoft. Now, as a full-time employee, I can see how much the internship is a good reflex of the day-to-day roles and how much it has prepared me to hit the ground running in my current team.
Why did you choose your current company? What factors figured most prominently into your decision of where to work?
Besides having had deep contact with the company's solutions during my whole life, I chose Microsoft because of the reach of the company's operations, its posture regarding growth and collaboration and its environmental and social responsibility. First, by being present in so many markets, from cloud to devices, games and software, Microsoft has an impressive portfolio of services and products that covers most of the possible needs of any company and person. And by continually evolving and adapting (and having the resources for that), Microsoft keeps the technology environment always up to date and impact economic development directly, while keeping the mission of empowering every person and every organization on the planet to achieve more. Second, I really resonate with Microsoft's posture of persistence, team effort and collaboration, which also reflects on the cooperation approach the company has to its employees and partners. The growth mindset enables people to aim higher and develop better solutions and creates a safe environment for taking calculated risks and learning from mistakes, influencing the employees to nurture a more collaborative environment inside the company. And lastly, Microsoft is really intentional about the role technology plays in society. It is important to see such a representative company engaging in initiatives of carbon reduction and sustainability for example, as well as technology and economic inclusion. After joining Microsoft for my internship during the MBA, I've recognized how all my perceptions were real and how employees have great ownership of their projects and importance for each team, enabling people to actively contribute to everything Microsoft is building for society and as an industry leader.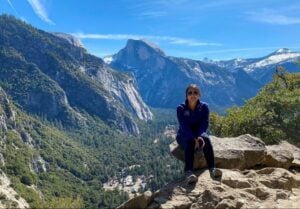 How has COVID-19 impacted your industry/career plans?
Working in the technology industry, especially in one of the biggest providers of cloud services and modern work tools, I believe COVID-19 has brought difficulties, but also countless opportunities. The increase in the work from home situation and in the virtual environment landscape increased considerably the reach and scale of the business. At the same time, we could see teams having to adapt to the distance with peers, partners, and customers, forcing us to create new forms of successfully communicating and working together. In my opinion, it all comes down to how interpret and work these challenges, and I think Microsoft has done a great job in pursuing business opportunities leveraged by the pandemic, while still making sure the work-life balance and wellness of its employees is respected and that the culture and team-feeling of the company is nurtured. Initiatives such as meeting-free Fridays and virtual cultural events are some examples of how Microsoft has been going the extra mile to ensure their employees are healthy and connected.
Advice to current MBA students:
–One thing you would absolutely do again as part of the job search?
Something I would definitely do again is to take my time in understanding my journey and translating it into stories and a resume that would highlight how much I could fit into product marketing (the role I chose to pursue). No matter how great you and your experiences are, if that doesn't show up in your resume and your stories, recruiters won't be able to identify how you will contribute to and learn from the team. Companies receive many applications, so what makes you stand out for that company and that role? How do you genuinely resonate with the company's mission and vision? Making sure you have clarity of your goals, strengths and interests will make you a better candidate and will help you find the role and the company where you will be more successful and happier.
–One thing you would change or do differently?
Looking back, one thing I would do differently is to be less hard and more graceful with myself. The MBA is an environment with many engagement opportunities, academic and social commitments and professional possibilities. I aimed to get the most out of my experience and got involved with multiple initiatives to support the Duke community and my self-development, which many times meant I had little free time and couldn't commit to everything with the same intensity. Now, I understand how important it was for me to be active in the things I cared about, such as diversity-driven discussion and activities, and it was okay to focus on certain things more than on others. We need to be the best version of ourselves we can be while respecting our priorities, values and mental health, and the MBA experience is a great moment for people to understand which those priorities and values are.
–Were there any surprises regarding your current employer's recruiting process?
I didn't get any surprise in Microsoft's recruiting process. The recruiters and alumni were always very clear and transparent about what we could expect from the process and next steps. However, what I would say is that, like in any type of interview, preparation is the key. Knowing your journey, being diligent and doing the proper research to understand how you and your goals fit into the company's landscape and broader strategy can support you in applying to the right role and showing you would be a good addition to the team. 
–What piece of advice do you wish you had been given during your MBA?
I wish I had realized before that we can't do it all. The MBA brings countless opportunities to build and engage in; however, the earlier you understand what you want to get from your MBA experience the earlier you'll be able to dedicate time to what really matters to you.