Anuja Balaji, UMD Smith MBA Class of 2024
Age: 25
Hometown: Bangalore, India
Undergraduate Institution and Major: St. Joseph's College of Commerce, Bachelor of Commerce
Pre-MBA Work Experience (years, industry): 4.2 years, Financial Services

Why did you make the decision to attend business school? Why now?
Having worked for 4 years in the field of Risk & Compliance in an Investment Bank, I had reached a point in my career where I felt that it was time to further broaden my horizons and explore other career avenues that would challenge me to step out of my comfort zone and sharpen my analytical skills – and I felt that business school would equip me with the knowledge and tools that I would need to navigate such a career transition, whilst also providing an environment in which I would be able to expand my professional network and hone my leadership abilities. 
Why did you choose UMD Smith? What factors figured most prominently into your decision of where to attend?
I chose UMD Smith primarily because of the small class size and the incredible community. The smaller cohort has enabled me to have more meaningful interactions with my peers and professors. During this first month of the MBA, I've been able to experience first-hand how genuinely supportive and collaborative the Smith community is, which has greatly helped me acclimatize to living in a new country and being away from home for the first time. Further to this, the excellent faculty at Smith and the focus on experiential learning also drew me to the program. 
What do you think is your most valuable or differentiating contribution to the Class of 2024?
During my time in the financial services industry, I was fortunate to have worked with a diverse set of individuals across the globe, and I enjoyed connecting with people on a personal level to understand their unique cultures, life experiences and backgrounds – and I hope to bring this attitude to Smith to foster a spirit of inclusion among my class and support my peers through this challenging yet rewarding journey. 
Tell us a fun fact about yourself that didn't get included on your application:
I specialize in an ancient form of painting that originates from South India, which involves the use of real gold and gems. 
Post-MBA career interests:
Consulting 
Advice for Current Prospective Applicants:
–What is one thing you would absolutely do again as part of your application process?
I think a really important part of the application process is engaging with current students. A lot of the current students that I spoke to were able to give me really valuable insights into the MBA specializations, professional clubs and career-related resources, as well as how they were able to leverage these to land their internships, which enabled me to have more informed discussions about the school during my interviews. 
–What is one thing you would change or do differently?
I would start my research about schools and the application process earlier – I applied during round 2 and was hard-pressed for time trying to get my essays, recommendations and other application material ready prior to deadlines whilst also balancing working full-time.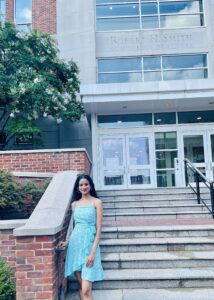 –What is one part you would have skipped if you could—and what helped you get through it?
Definitely the stress! The different components of the business school application can be very time-consuming and challenging, and it's normal to get caught up feeling worried about not having enough time to prepare for the GMAT or put together the perfect essay. Having a great support system through my family and friends really helped me get through those stressful situations. 
What is your initial impression of the Smith students/culture/community?
So far, I've been blown away by how friendly and helpful the community has been. There is a feeling of genuine inclusivity, which is even reflected in the kind of events we have throughout the year -from Diwali Night to the Mid-Autumn Moon Festival Celebration, the community strives to make you feel at home. The second years have also gone out of their way to help international students adjust to living in a new country and provide guidance on the various facets of the internship search process. 
What is one thing you have learned about Smith that has surprised you?
How truly enjoyable, fun and thought-provoking the classes are – for instance, I never imagined that the key principles of accounting could be expounded with the help of memes, Reddit threads and social media posts of companies – but was pleasantly surprised by how much more material I was able to absorb via these creative teaching methods. The professors also encourage all students to actively participate in class discussions as opposed to just listening to a lecture – which brings to the fore diverse ways of thinking and problem solving, and allows us to learn and grow more from understanding different perspectives. 
What is one thing you are most anxious about in your first year?
I'm definitely anxious about time management. Between academics, recruiting, networking and also trying to have a social life, there's a lot to juggle at the same time and I hope to effectively prioritize and find a healthy balance so that I'm not feeling overwhelmed or stressed. 
What is one thing you are most excited about in your first year?
I'm most excited about making use of the bevy of resources and opportunities that are at our disposal – be it personalized career coaching, counseling services, case prep sessions or even learning how to golf and network at the same time – there's something for everyone, and I hope to take advantage of these to develop both personally and professionally.