Chris van der Merwe, UMD Smith MBA Class of 2024
Age: 34
Hometown: Washington DC
Undergraduate Institution and Major: University of South Africa, Business Management and Accounting
Pre-MBA Work Experience (years, industry): 8 years in ed-tech in product and customer operations for an online learning and technology company – Lobster Ink, a division of Ecolab.
Why did you make the decision to attend business school? Why now?
I relocated from Cape Town, South Africa to Washington DC for work in March 2020. While moving here was in itself a major step in my career, I did also start looking ahead to where I would like to be in a few years from now, and what my career trajectory looks like. There were both skills and experience I needed to add to put me on the path I'd like to be on. In addition, I was conscious that I needed to build up a professional network in my new hometown, as well as build up connections outside of my immediate social and professional circle.
Why did you choose UMD Smith? What factors figured most prominently into your decision of where to attend?
It was really important to me to be able to continue to work full time, as I believed that taking the MBA program while working would allow me to immediately start to try and test learnings from business school in a practical environment. I believe this way, I also simultaneously add maximum value to my company and my cohort. The UMD Smith School of Business Flex MBA program offered exactly that opportunity. Secondly, the strong focus on data analysis as a strength of UMD Smith aligned with a specific interest and strength of mine. In addition, while I was shopping around between other business schools, UMD Smith's dedicated admissions team was a class above all others in their correspondence and assistance in every step of the application process.
What do you think is your most valuable or differentiating contribution to the Class of 2024
In my role at my current company, I have led consultation, implementation, and change management initiatives for multinational hospitality groups all around the world, and I will contribute the insight gathered from executing these initiatives across global organizations and cultures. Secondly, I have a sincere passion for creating a personal growth culture, whether at work or in any team, that I hope will create powerful connections for our cohort and allow us all to take maximum value from the program.
Tell us a fun fact about yourself that didn't get included on your application:
I played golf competitively for around 8 years before an injury prompted a major career change. Golf provided me the opportunity to travel, and meet people all around the world.
Post-MBA career interests:
Short term, I would like to take the next steps into leadership. Beyond that, pursue opportunities with a specific focus on strategy consultation or analysis.
Advice for Current Prospective Applicants:
–What is one thing you would absolutely do again as part of your application process?
I definitely used the Smith Admissions team extensively throughout, and they were amazing at guiding me. Secondly, find someone that has experience with professional or education-related admissions essays to help you craft yours. Articulating your purpose, life experience, and your intended contribution into a short essay is easier said than done. I'm a decent writer, but benefited tremendously from a strong reviewer to help me keep it tight.
–What is one thing you would change or do differently?
Share your authentic story with confidence because a strong cohort needs a diversity of experience and culture. Filling out the application process may feel somewhat cold, and you may be doubting what value you would add – but everyone has a different story that will bring out different experiences for your classmates – and that is where the depth of an MBA program comes from.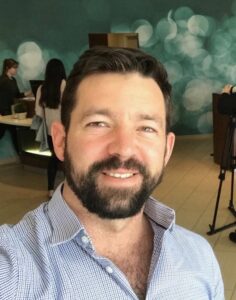 –What is one part you would have skipped if you could—and what helped you get through it?
I can't say there is anything I would have skipped. The GMAT comes to mind since I spent a fair amount of time preparing for it, and ended up not needing it, however, it was very useful for switching some of the lesser used skills (like math problem solving, etc) back on.
What is your initial impression of the Smith students/culture/community?
Fearless – it is one of our key values, but it has actually left that impression of the Smith community on me so far. I have never considered myself a great networker and am definitely not an extrovert, but I have loved the immediately apparent culture of just everyone collectively but unintentionally deciding that we will all get more out of this if we get outside our comfort zones. I have to credit the MBA program office at Smith for creating the environment for that to happen.
What is one thing you have learned about Smith that has surprised you?
The diversity of my cohort. Everyone is so interesting, with unique stories and different journeys taken to get here. As a relatively recent transplant to the US, I definitely expected to be one of the few (if not only) foreigners in the program, but we have people from all over the globe. Also, our professors and classes have been brilliant so far – significantly more practice, simulations and scenarios than I expected.
What is one thing you are most anxious about in your first year?
Balancing the deliverables, assignments, and exams with my relatively busy work schedule. Secondly, potentially the quantitative elements of economics and finance are not skillsets I exercise regularly.
What is one thing you are most excited about in your first year?
In-person class and team projects. Most of my previous studies have all been online, and with the pandemic that has continued, and meeting with professors and classmates in person is something I'm looking forward to. The team projects also allow you to get to know people, learn from their experiences, and I intend to just generally be a learning sponge absorbing as much as I can.
Has the COVID-19 pandemic affected your personal application or admissions process in any way? If so, how?
It was really important for me to be in class to be able to engage fully. From that perspective, I'm glad I started in Fall 2022 and not earlier.