Courtney McClammy, UMD Smith MBA Class of 2024
Age: 32
Hometown: Topeka, KS 
Undergraduate Institution and Major: University of Maryland Global Campus, Business Administration 
Pre-MBA Work Experience (years, industry): 11 years, military
Why did you make the decision to attend business school? Why now? 
While studying for my undergrad, I was inspired to make a career change. I believe that I have accomplished everything within the military that I wanted to so I determined now would be the best time to make this transition. I chose to attend an MBA program to make myself more marketable and create a network outside of the military. 
Why did you choose UMD Smith? What factors figured most prominently into your decision of where to attend? 
My goal was to be a Full-Time MBA student because I wanted to give the program my full focus. While looking at the programs within the DC-Maryland-Virginia area, I chose UMD Smith because I appreciated that they intentionally build diverse cohorts. This familiarizes all of us with how to work with others from a multitude of cultural backgrounds.
What do you think is your most valuable or differentiating contribution to the Class of 2024?
I come from a diverse background that has provided me with valuable insight. I bring a unique point of view, being a part of the small percentage of Native Americans within the MBA community. My tribal background influences me to preserve inclusive and diverse environments. In addition to my heritage, being a veteran with over 11 years of experience brings added value. I worked in a wide range of positions with people all over the world, which taught me essential skills such as how to be a leader, work with people from different backgrounds, and be quick-thinking.
Tell us a fun fact about yourself that didn't get included on your application:
I have a National Park Passport book and love to travel around the country collecting stamps. My favorite stamp was the one I received while visiting Denali National Park in Alaska. 
Post-MBA career interests:
I would like to find a career in organizational development or strategy consulting. 
Advice for Current Prospective Applicants:
–What is one thing you would absolutely do again as part of your application process?
I would connect with people currently in the program that you are pursuing. Every MBA student is willing to share their experience and answer questions that you may have. Before applying to UMD Smith, I spoke to veterans within the program to gain more knowledge on how to navigate a career transition after the military and it was incredibly helpful. 
–What is one thing you would change or do differently?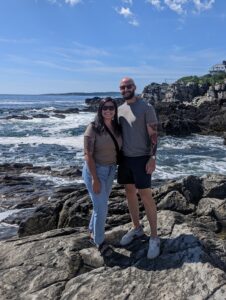 I wish I would have started earlier. I was working full-time in the military while completing my undergraduate degree, so it delayed my progression. I would have loved to start my MBA journey sooner. 
–What is one part you would have skipped if you could—and what helped you get through it?
I do not believe I would skip anything. The admissions process can be tedious while gathering all documentation, but overall, it was a smooth process and the information is important to set yourself up for success. 
What is your initial impression of the Smith students/culture/community?
The Smith community is incredibly supportive. The faculty, second-year MBA students, and my first-year peers all want to see each other succeed. It is very refreshing to be a part of a community that is eager to help, by making resources accessible, and willing to offer advice.
What is one thing you have learned about Smith that has surprised you?
The Office of Career Services is wonderful. The staff does a great job of sharing their knowledge, developing career plans, and connecting with students. They will be a significant resource for me as I navigate my career transition. 
What is one thing you are most anxious about in your first year?
Getting through the first semester. My current courses are all quantitative, which are some of the toughest courses for me, so I will feel accomplished once I overcome this challenge. 
What is one thing you are most excited about in your first year?
I am excited to make new connections and have opportunities to get to know everyone within the Smith community.