Aayush Shrestha, INSEAD's MBA Class of 2023
Age: 30
Hometown: Kathmandu, Nepal
Undergraduate Institution and Major: Albion College (Michigan, USA). Double major in Economics & Management, and Professional Communication & Production
Pre-MBA Work Experience (years, industry): ~7 years of Management Consulting
Why did you make the decision to attend business school? Why now?
For me, an MBA was always a matter of "when" and not "if." But, up until this point, I never felt ready, and I did not want to do it just for the sake of it. I was a management consultant for almost 7 years, and throughout was troubled by the feeling that I was not doing meaningful work. These feelings were further compounded during the pandemic when like most people, I spent a lot of time self-reflecting, really understanding what my drivers for happiness were (conducting presentations on zoom, wearing a suit jacket & tie-over sweatpants was not it – lockdowns really took away the charm of consulting). I realized that I no longer wanted to settle for a life of comfort, and instead wanted to strive for a life of meaning. To move towards what I define as more "meaningful" work now, I believed that an MBA was the best and quickest way to facilitate this transition for myself. 
Why did you choose INSEAD? What factors figured most prominently into your decision of where to attend?
I completed my bachelor's degree from a US college. Therefore, I did not apply to US programs because I wanted a novel experience. With regards to INSEAD, I don't need to tell anyone about its academic credibility, job placement success rates, and the size & reach of its alumni network. 
But I did use a useful strategy – during my programme selection process, I searched companies I would love to work for (VC & start-up accelerators) and looked at where their executive teams got their education – INSEAD was the most reoccurring. If like me, you have zero commitments and/or no geographical restrictions on where to live post-MBA, this could be a useful check. 
Besides, if I hate INSEAD, it is only 10 months. Yes, it is still a big financial investment. But time over money, always. 
What do you think is your most valuable or differentiating contribution to the Class of 2023?
This is probably the only time in my life when my Nepali passport has helped. Very few Nepali applicants apply to top MBA programs in general, let alone European ones. So, yes, being from Nepal is a unique selling point for me. But I'm not going to play the nationality card. 
I believe I embody the cliché "jack of all trades, master of none." I've lived in 8 cities across 6 countries spanning 3 continents; I've worked in Detroit, Berlin, Paris, London, adapting to the different work and social cultures and navigating all sorts of immigration hassles; during the entirety of my career, I've been sector agnostic and therefore have served clients within automotive & transport, construction, IoT & tech, maritime, industry & manufacturing, etc.; I have a science background, I've travelled to over 50 countries, I've played almost every sport growing up. I don't know a lot about something, but I know something about a lot.  
Tell us a fun fact about yourself that didn't get included on your application:
I love to write. Op-eds, poetry, essays – any form of creative content. In fact, young Aayush wanted to be a journalist, travel the world and work for National Geographic. When I began my consulting career, a lot of work had to be done to develop my business writing and cut out "flowery" words. (I'm sure Clear Admit has eliminated some words in this piece as well). But I am flowery and colourful with my words. I'm introverted by nature but tend to be loud in my writing. 
Post-MBA career interests:
I am one of those highly ambitious (foolish) triple jumpers – i.e., looking to change industry, function, and geography post-MBA. 
In the short term, I want to work at start-up accelerators/incubators/ innovation centres. Eventually, I want to take this experience and move into the world of venture capital. I believe developing countries will greatly benefit from alternative funds/investors like PE & VC. The absence of effective and equitable mechanisms to fund and cultivate innovative businesses and entrepreneurs is evident in developing regions. Empowering emerging entrepreneurs is integral in stimulating local economies and boosting job creation. Ultimately, I want to be a part of this revolution.
Advice for Current Prospective Applicants:
–What is one thing you would absolutely do again as part of your application process?
Be authentic in your essay and your interviews. I know, it's not ground-breaking advice. But I feel it is worth emphasizing because it is very easy to get caught up in trying to impress people by becoming who you think you should be. Conforming to notions of what a "typical" INSEAD student is supposed to be like as described by forums and other MBA "experts", submitting essays that have gone through multiple readers that don't know you too well and therefore provide advice that doesn't align with your approach and simply dilute your story, practicing interviews with sample questions and memorizing "best in class" answers to recite during the real interviews – all of this may work. However, in a school that truly celebrates diversity, the ultimate way to put your best foot forward is to be your authentic self. I was quite vulnerable in my essay – shining a light on my weaknesses and my internal struggles and highlighting how I've learned from them, and I'd like to think that this helped. In your essays and interviews, I truly believe that playing it safe is the biggest risk.
–What is one thing you would change or do differently?
I would probably spend a bit more time researching the available scholarships and how to best position myself to gain greater access to these funds. It can be tedious to write more essays after the essays of the original admission application, but I should've powered through.
–What is one part you would have skipped if you could—and what helped you get through it?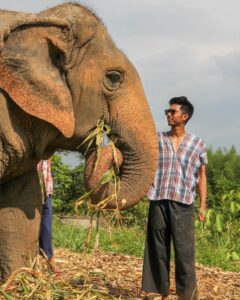 Nothing. I'm a weirdo. I actually really enjoyed the application process.
What is your initial impression of the INSEAD students/culture/community?
During my application process, I remember speaking to INSEAD alums and all of them, without fail, mentioned that the INSEAD student body self-selects itself because individuals share core traits. First few weeks here, and I completely understand their point. Everyone is proactive, energetic, down for adventure – regardless of how niche your interests are, you will find someone else who will join you enthusiastically. 
INSEAD really is all about the people. Yes, the school provides a platform whereby these people come together, provides structure to the discussions and activities, and the resources to help launch career trajectories. But the INSEAD allure is all down to its people – the students and the faculty. Also, Fontainebleau is a literal bubble – which has its pros and cons, but definitely helps differentiate INSEAD from most of the other top business schools.
What is one thing you have learned about INSEAD that has surprised you?
What has genuinely surprised me is the humility of my classmates. You put together a group of type "A" personalities that have all excelled in their fields, been leaders at their respective workplaces, individuals that boast stellar resumes and exceptional talent, you'd expect a degree of arrogance or conceitedness. But people have been so refreshingly humble and genuine. There seems to be a general acknowledgement that "I am not necessarily the smartest person in the room and that is OK; that those around me have experiences I know nothing about." People are receptive to learning and helping and criticizing and growing. And it hasn't seemed forced.
What is one thing you are most anxious about in your first year?
At INSEAD, the first year is also the last year. The year is so jam-packed, and someone with zero willpower and high susceptibility to FOMO (like me) is going to struggle to find balance between what he/she needs to do vs. wants to do vs. thinks he/she should do.  
What is one thing you are most excited about in your first year?
Getting to know the people. With INSEAD, I know the diversity element gets highlighted too often. But that is because it REALLY is such a value add. The diversity – not in terms of nationality – but in terms of backgrounds, and the breadth of experiences on show here are par none. 
The stories that I've heard are so interesting, and I've only really spoken to a third of the student body. My class includes a former race car driver who made it to the 30 under 30 for pharma, a big-tech employee who was an avocado farmer by day and a DJ by night, a ship captain, a former professional cyclist with a Ph.D. in aerodynamics, an orthopaedic surgeon – I'm sure you can understand the excitement. 
Has the COVID-19 pandemic affected your personal application or admissions process in any way? If so, how?
The COVID-19 pandemic actually accelerated my decision to join business school. The lockdown provided the necessary spark – or the lack of sparks altogether – that finally made me stop and acknowledge that it was time for a change.