Antonia Correa Vidaurri, INSEAD's MBA Class of 2023 
Age: 29
Hometown: Santiago, Chile 
Undergraduate Institution and Major: Pontificia Universidad Catolica de Chile, Business Administration, Major in Economics
Pre-MBA Work Experience (years, industry): 4 years, Financial
Why did you make the decision to attend business school? Why now?
As my bachelor's was focused on economics, I have always aimed at improving my business acumen. I am particularly interested in finance and its intersection with economics. While my economic-focused knowledge and expertise enables me to conduct exhaustive evaluations of firms with a global perspective, managing and leading a company required me to hone my business knowledge. Therefore, after working in the sell side and the buy side, I was keen to understand companies from within. 
Why did you choose INSEAD? What factors figured most prominently into your decision of where to attend?
My choice of INSEAD was mainly driven by its diversity and international identity. In fact, my classmates come from 65 different nationalities and a wide range of professional backgrounds. Given that I have completed my studies and spent most of my professional life in Chile, I have had limited exposure to different cultures on both the social and professional levels. The desire to leverage my graduate studies to form a global network of accomplished individuals from whom I can learn beyond classroom walls led me to INSEAD. And INSEAD has not disappointed. Since joining INSEAD in August 2022, I have learnt something new on a daily basis- from politics to music and cuisine, to cultural rituals and festivities. Along the lines of developing my international identity, another factor contributing to my choice was the campus exchange programme which provided me with the opportunity to live in France and Singapore. As a Chilean, living in Asia is a once-in-a-lifetime experience that will enrich my global acumen. 
What do you think is your most valuable or differentiating contribution to the Class of 2023?
In my family, we have a saying which translates to: "you know what happens when you make plans." It means that even though plans often don't go the way you want them to, things have a way of working themselves out and there's always a good solution, something better, or an alternative you didn't think about. This saying has been ingrained in me through the years, and as a result, I maintain a positive attitude upon facing challenges. I always try to make things fun, no matter how stressful they may be. Even when plans falter, I can remain motivated and good-spirited and can easily bounce back. I hope to bring this positive energy into class, group work, and overall daily interactions here at INSEAD. Consequently, hopefully, I try to transmit this mindset to my classmates and help them confront their own challenges.
Tell us a fun fact about yourself that didn't get included on your application:
I have always been fascinated by marine life, and this motivated me to want to learn scuba diving when I was 15. Unfortunately, after my first immersion in the sea, I got a strong allergy and was locked in a dark room for a week. In 2020, my sister, who is an Open Water Certified Diver, encouraged me to try again. When I submerged, I was hooked and, most importantly, allergy-free. I kept taking courses and learning until I became a certified Rescue Diver, and I'm currently close to becoming a Dive Master. 
Post-MBA career interests:
In the past, I've worked on projects from the sell side where I applied economics at a basic level and projects from the buy side where I applied finance in depth. However, I don't think I have the knowledge I need to decide whether a company will be successful in the future, nor am I an expert in analysing the internal metrics of a company to decipher what needs to be changed. I want to learn that and get involved in such projects – therefore, I believe private equity is my calling. Ultimately, I would like to work for a well-established PE firm, preferably one that is actively involved in the agriculture or technology industries (or a combination, i.e., agri-tech) in Europe. Working in a European firm will enable me to experience and fully understand the culture inside these organizations and how they differ from Latin America, which is extremely appealing to me.   
Advice for Current Prospective Applicants:
–What is one thing you would absolutely do again as part of your application process?
Be truthful. Being yourself and expressing who you truly are in your application is the best way for you to stand out among applicants. The application essays encourage you to reflect and recall the daily achievements which you have taken for granted as they have become second nature to you. 
–What is one thing you would change or do differently?
Time management because I was rushing to make deadlines. It would have been helpful to plan a timetable ahead of time to have a better work-life balance.
–What is one part you would have skipped if you could—and what helped you get through it?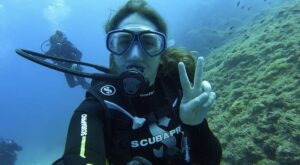 GMAT. Working and studying for the GMAT was too intense. My fiancé, family and friends were the best support – they understood that I had limited time and did not pressure me into activities. That space they gave me was very important for me.  
What is your initial impression of the INSEAD students/culture/community?
The INSEAD students/culture/community is a family-like tightly-knit community. Everyone is friendly and respectful. The administrative personnel, the teachers, and the kitchen staff are all very welcoming. They all form an "INSEAD bubble" where you are protected and taken care of. The community is super friendly and inclusive. Students, partners, teachers and staff, and everyone else that is part of this community takes care of each other. It doesn't matter if you know someone or not, everyone is happy to tell their story and to bring you into their world.
What is one thing you have learned about INSEAD that has surprised you?
One of the reasons I chose INSEAD was for the well-documented diversity of nationalities, but the diversity you experience here is much more than that. While the variations in national foods and customs are strong highlights, I have been much more intrigued by the experiences of my peers. Each individual has a different life experience than mine, so just learning how they overcame past challenges, and how they have developed into the individuals they are today is remarkable. 
What is one thing you are most anxious about in your first year?
I'm anxious about the MBA going too fast. It is only 10 months to begin with, and the speed at which the 2 months have gone by is scary. You have dinners, gatherings, classes, outdoor activities (e.g., cricket, football, rugby), regular trips – every day there is something unexpected and great. Before coming, I thought I was going to have a lot of time to do a lot of personal things and have time to myself, but the reality is time here flies quicker than in normal life. I talked to some alumni about their experiences, and everyone said something along the lines of "the whole time, we were worried this experience would end".
What is one thing you are most excited about in your first year?
I'm excited to build deep friendships across cultures and see how these new exchanges change me as a human being. I want to understand different ways of thinking – how the world works from other perspectives, how people with different backgrounds would solve or confront diverse situations – and in the process, learn as much as possible from others.