Jakub Motala, INSEAD's MBA Class of 2023
Age: 25
Hometown: Zielona Gora, Poland
Undergraduate Institution and Major: London School Of Economics – MSc Finance and Accounting, Poznan University of Economics – BSc Finance and Accounting
Pre-MBA Work Experience (years, industry): 3 years: Strategy Consulting (2y), M&A advisory (1y)

Why did you make the decision to attend business school? Why now?
My decision for an MBA was motivated by 2 factors. (1) I was looking for an opportunity to reflect on my current career journey and strategize objectives for the future. I felt that a business school could offer this break, simultaneously putting me in an environment conducive to expanding my worldview. (2) I wanted to expand my network with people who could challenge my assumptions, inspire me, and bring new perspectives. 
Why now? Why wait
Why did you choose INSEAD? What factors figured most prominently into your decision of where to attend?
I was looking for a 1-year program and a very global, diverse experience. INSEAD MBA meets both criteria.  
What do you think is your most valuable or differentiating contribution to the Class of 2023?
Being among very few students from Eastern Europe, I enjoy providing a unique perspective on what life looks like in our region and the learnings we have extracted from transforming into a market economy in Poland and noting one of the highest GDP per capita increases in the world over the last 30 years. 
Linking that experience with my passion for accelerating technologies that can create a more inclusive, sustainable, and equitable society provides an original view that fellow students can leverage in and outside the school. 
Post-MBA career interests:
Short-term, re-join strategy consulting to focus on driving sustainable growth. Long-term, possibly launch my venture to accelerate the transition to a net-zero economy.  
Advice for Current Prospective Applicants:
–What is one thing you would absolutely do again as part of your application process?
Please include personal stories, and show vulnerability and honesty. Many applicants may have stellar academic and test results; however, your personal side is also critical to AdCom. Make sure to show the school who you are and what makes you unique. 
–What is one thing you would change or do differently?
Apply earlier than in the last round. I have waited too long to submit my application resulting in unnecessary stress. Apply as soon as you are fully ready. 
–What is one part you would have skipped if you could—and what helped you get through it?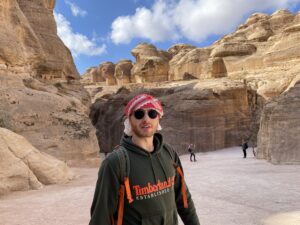 Waiting for admission results to come. Weeks after submitting the complete application are one of the longest you will experience. But stay still – do not let anxiety creep in – there is nothing you can do to influence the process at that point. 
What is your initial impression of the INSEAD students/culture/community?
INSEAD community is extremely warm and welcoming. I am constantly amazed by how inclusive and caring everyone is. Also, the incredible diversity of my classmates makes for a unique environment, where every conversation is an opportunity to learn something new and often unexpected. I am astonished at how quickly one can grow in this community. 
What is one thing you have learned about INSEAD that has surprised you?
The extent to which this school values diversity and how it enforces it in practice – INSEAD admits no more than 12% of students of the same nationality. 
What is one thing you are most anxious about in your first year?
Having FOMO (Fear of Missing Out) influence my decisions too much. There are hundreds of very compelling opportunities at INSEAD and little time. It takes courage to realize that one will not be able to participate in every event and work on every project. Prioritization according to one's goals is the first skill an MBA student should learn. 
What is one thing you are most excited about in your first year?
Bonding with my classmates on a deeper, personal level – understanding their experiences, background, and motivations. I feel an incredible amount of personal growth is awaiting through these interactions. 
Has the COVID-19 pandemic affected your personal application or admissions process in any way? If so, how? 
Fortunately, it did not. I am studying in person in Singapore, and so far, there are no limitations resulting from the pandemic. Let us hope it stays that way