Sometimes you don't recognize your true path until you encounter someone who's already on it. Damon Reynolds, Texas MBA '20, chose to pivot to management consulting after getting to know one of his financial services clients working in the field. In this edition of Real Humans: Alumni, Reynolds tells us how UT Austin McCombs provided myriad opportunities to grow as a business leader.
Damon Reynolds, Texas McCombs MBA '20, Project Leader at Boston Consulting Group

Age: 34
Hometown: Houston, TX
Undergraduate Institution and Major: University of Houston, B.S. Political Science
Graduate Business School, Graduation Year and Concentration (if applicable): McCombs School of Business, 2020, Strategy and Innovation
Pre-MBA Work Experience (years, industry): 4 years, United States Marine Corps; 3 years, Financial Services
Post-MBA Work Experience (years, industry): 3 years, Management Consulting
Why did you choose to attend business school?
I chose business school to make a hard pivot in my career. Previously, I worked in financial services as a Private Banker for my organization's affluent client base. One of my clients at the time was an Associate Partner at McKinsey. As I learned more about his work through our conversations, I found myself intrigued. One thing led to another, and ultimately, I knew business school was the best route for me to pivot into management consulting.
Why Texas McCombs? What factors figured most prominently into your decision of where to attend?
Two main reasons: 1) I didn't have one unpleasant interaction during the recruiting process. From current students, program staff, to other applicants, every interaction was positive. The people I met were intelligent yet down to earth, humble and welcoming. Understanding an MBA is not solely about what I'd learn in the classroom, it was clear this was a network I wanted to be a part of. 2) McCombs made the most sense financially as well. Deciding to get an MBA is a huge decision with many considerations. As I considered the financial implications of this next step, McCombs was a clear winner.
What about your MBA experience prepared you for your current career?
The vast amount of team projects. While there are many concepts and academic theories you will learn in business school that will certainly inform your thinking post-MBA, working efficiently and effectively with people is paramount in almost any business context. At a certain point in your career as a business leader you will be expected to persuade executive leadership, mobilize people, navigate tricky relationships, and have difficult conversations. Business school and the team projects you'll be expected to complete are an excellent opportunity to prepare yourself as a business leader – of people.
What was your internship during business school? How did that inform your post-MBA career choice?
I interned with a management consulting firm. The internship confirmed my interest and desire to grow within this industry.
Why did you choose your current company? What factors figured most prominently into your decision of where to work?
Three reasons: 1) the people, similar to the reason I chose to attend McCombs. 2) The opportunity to choose my own adventure combined with a defined path to grow within the world of business. I've done projects ranging from enterprise risk management to growth strategy and everything in between across several industries. Regarding the defined path to growth, most consulting firms have a straightforward career path for those joining out of business school, and the milestones you need to achieve along the way are fairly clear. As someone who served in the Marine Corps, this structure was attractive to me. 3) The compensation package was certainly a selling point.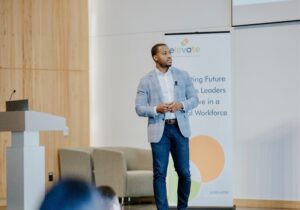 How has COVID impacted your industry/career plans?
Short answer, it hasn't. I think I'd be doing the same thing. In terms of our industry, I think COVID was a catalyst for much of our growth the last 2 years. I think COVID caused many companies to look internally and assess areas of their organization that were, essentially, on autopilot for many years.
Advice to current MBA students:
–One thing you would absolutely do again as part of the job search?
I would still talk to as many people as possible at the firms I was interested in. I did more coffee chats with practitioners than I can remember, and I'd do it again. Hearing the unique perspectives and experiences of as many people as possible within each organization you're interested in allows you to tease out themes and develop a deeper understanding of what about a company makes sense for you and perhaps what does not.

–One thing you would change or do differently?
I'd ask the hard questions during recruiting. Don't be afraid to ask the organizations you're interested in tough questions or about the things most important to you. The decision of where to begin your post-MBA career is an important one, and it's one you should feel confident about. Ask the questions that matter to you.
–Were there any surprises regarding your current employer's recruiting process?
No – the recruiting process was clearly articulated and for the most part followed the script.
–What piece of advice do you wish you had been given during your MBA?
Relax – especially during recruiting. This is easier said than done, and I'm sure this was communicated to me at some point. Nevertheless, I was still tight and anxious throughout the recruiting process. It was not until I bombed my first interview with a consulting firm that I finally relaxed. I realized the stress and anxiety were not serving me. I received offers from every firm I interviewed with thereafter. As you begin this journey, I'd encourage any candidate to sit down and develop a roadmap or a plan. Be thoughtful and visualize what success looks like for you. After that, stick to the plan and trust your process.