MBAs have myriad skills, capable of strategy and operations from the executive office to the marketing department. This edition of Real Humans: Alumni features Nicole Jizhar, who epitomizes this versatility. She serves as Executive VP of her family's company as well as co-founding a women's hygiene company with a social impact mission. Learn how earning an MBA at London Business School honed her business acumen.
Nicole Jizhar, London Business School MBA '21, Co-Founder, Nona Woman
Age: 28 years old
Hometown: Jakarta, Indonesia
Undergraduate Institution and Major: Wharton School, University of Pennsylvania (Majors in Finance & Real Estate)
Graduate Business School, Graduation Year and Concentration (if applicable): London Business School, LBS MBA 2021, Concentrations in Marketing, Retail & Management
Pre-MBA Work Experience (years, industry): Finance in New York (4 years)
Post-MBA Work Experience (years, industry): Executive Vice President of MODENA, Co-Founder of Nona Woman (Retail, Consumer Goods, FemTech, Social Impact Entrepreneurship)

Why did you choose to attend business school?
I wanted to shift my career path, both in terms of geography and industry. I grew up in Indonesia and wanted to work back in Asia after grad school. Prior to the MBA, I had spent the past 8 years in the US (for my Undergrad studying finance in Philadelphia and then my job doing real estate investing in New York). However, I intended to eventually move back to Indonesia to continue working in my family business, which was primarily in the consumer electronics sector. Given that my previous experience was primarily finance-based, I wanted to go to business school to be exposed to the world of marketing, retail and management. 
Why LBS? What factors figured most prominently into your decision of where to attend?
I loved that LBS was very international. This was exactly what I was looking for after being based in the US for nearly a decade and wanting to broaden my global network as I planned to move back to Asia. At LBS, I got to meet classmates from all over the world with incredible stories. Another big reason I chose LBS was because it offered a lot of opportunities for me to explore the retail & consumer goods industry. I was chosen to be a part of the selective Walpole Luxury Retail Management Program and was also an Executive Committee Member of both the LBS Retail, Luxury & Consumer Goods Club and the LBS Family Business Club. It's through those leadership experiences at LBS that I got to meet thought leaders in the industries I was interested in who shaped how I manage and lead in my current roles today. 
What about your MBA experience prepared you for your current career?
Right now, I'm working as an Executive Vice President in my family business, MODENA (www.modena.com), but am also the Co-Founder of my FemTech start-up, Nona Woman (www.nonawoman.com). My role in both jobs is very retail and marketing focused, so it is directly related to what I learned at LBS. In fact, Nona Woman was started with a fellow LBS classmate, Monica Pranatajaya, who is also from Indonesia and passionate about women's advocacy. We both interned at FemTech start-ups during our time in London and launched our company during our second year of the MBA. We applied for LBS Booster's start-up competition and ended up winning second place, which earned us a generous grant from the school to help us get our company off the ground, so we are forever grateful for our time at LBS! 
What was your internship during business school? How did that inform your post-MBA career choice?
I interned at a luxury British furniture company doing strategy consulting and did my LondonCAP at a FemTech start-up in London. My experience being exposed to the FemTech industry helped me a lot to start and grow my own start-up.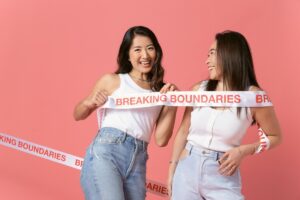 Why did you choose your current company? What factors figured most prominently into your decision of where to work?
I always knew I wanted to join my family business because I felt very connected to it and it has always been a big part of my life. However, I also wanted to grow a thing of my own in an industry that I am very passionate about, which made me start Nona Woman with Monica. We both wanted to be social impact entrepreneurs and advocate for something we are passionate about. 
How has COVID impacted your industry/career plans?
COVID helped me and my co-founder, Monica, to think about what really mattered to us, which was giving back to society. Our start-up is impact-driven and has a mission to tackle the issue of period poverty in Indonesia. Doing good was at the core of our business, which was in large part triggered by the pandemic situation that hit us during our MBA.  
Advice to current MBA students:
–One thing you would absolutely do again as part of the job search
Find something that you are passionate about and that makes you tick.
–One thing you would change or do differently
Nothing!  
–What piece of advice do you wish you had been given during your MBA?
Never say no to new experiences – say yes to every opportunity to meet new people, grab coffee with someone with a totally different background to yours, travel with your friends, intern at interesting companies, and more…