We're back this week with another episode of WireTaps, and Alex and Graham get the show started with their usual discussion of activity on LiveWire.  While the LiveWire updates have slowed down as the 2022-23 admissions season comes to its end, there was a little movement on the Chicago Booth waitlist last week. Graham then shifted gears to highlight two events Clear Admit is hosting. The first is a Real Humans event which brings students and alums together to discuss their experiences with candidates. This event includes students and alumni from UPenn / Wharton, NYU / Stern, MIT / Sloan, Michigan / Ross and Dartmouth / Tuck.  It will be held this Tuesday, June 20th and you can still signup here: https://bit.ly/realhumansmba The second is a set of events focused on MBA admissions essay insights, to be hosted on four consecutive Wednesdays beginning July 12th, where leading MBA programs will discuss each of their admissions essays. This is a very popular series, signups are here: https://bit.ly/cambaessay  Graham then shared insights from four Real Humans Alumni stories: an Indiana / Kelley grad at Deloitte, an LBS grad at Bain, a Rice / Jones grad at Goldman Sachs and a Washington / Foster grad at Amazon. Graham also mentioned two admissions tips that were recently published, one focused on understanding the campus and facilities of the different MBA programs, and the second which helps candidates select which MBA programs to target.
On a more sombre note, Alex and Graham acknowledged the recent passing of Laurie Hietanen (Stewart) who had been a leading admissions professional at CMU / Tepper, and then went on to work at the Forte Foundation. Laurie was simply a great human being, and will be missed by many in the admissions industry.
As with every WireTaps episode, Alex and Graham tackled three candidate profile reviews, drawn this week from recent ApplyWire entries:
This week's first candidate has a very strong profile all around. While their 680 on the GMAT is below average, they took the test without any preparation, and plan to retake before applying. Alex and Graham think that with a strong score, this applicant really should be targeting the very best programs in Round 1. Stanford would be at the top of the list, for example. A lot of their work has been focused on climate issues and their one concern (that they haven't worked at an 'elite' firm) is unfounded. Up next, candidate #2 is from India, with a super GRE of 335. They work for an MBB firm, supporting their front office work. They want to use the MBA to get them to Texas, and transition to the front office within the same firm. They also want to gain some scholarship money to help defray the costs. They will need to target the first round, and spread their list of target programs over a wide spectrum of tiers. Our final candidate is from Nigeria, now working in London, with another great GRE score of 332. They have five years of experience, but are 32 years old. They are targeting the very best programs, so as an older candidate, fit will be quite an important issue to address. Alex and Graham were also puzzled at the difference between their age and years of work experience, concluding that they may well have a PhD or additional post-graduate coursework already.
Environmental candidate, retaking the GMAT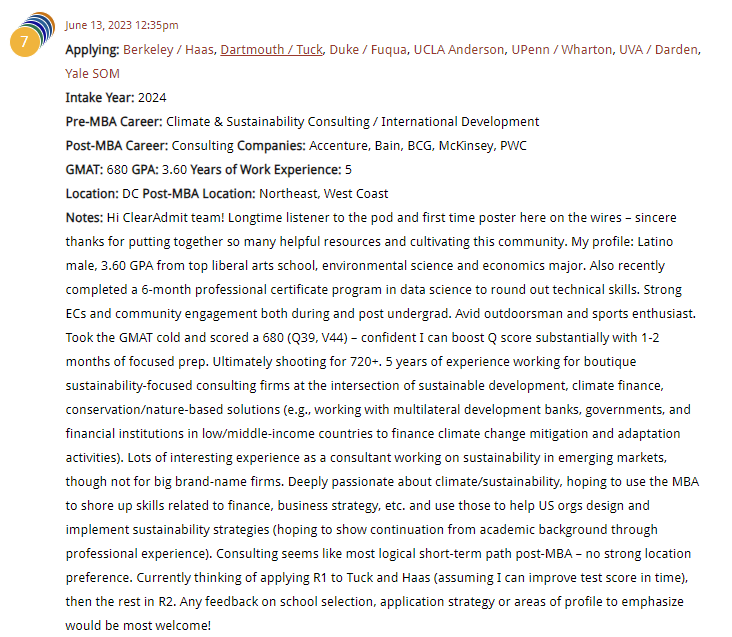 MBB back office, wanting front office

Nigerian in London, at 32

Happy listening!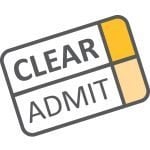 Be sure to post to MBA ApplyWire, MBA DecisionWire or MBA RankingsWire if you'd like Graham and Alex to offer admissions advice.
If You Like What You've Been Hearing, Please Subscribe and Rate Us!
It's been wonderful seeing the audience for our podcast series continue to grow! Please, if you have enjoyed what you've heard, could you rate and review the Clear Admit MBA Admissions Podcast wherever you listen? This is the best way to help more listeners find us. Also, to ensure that you never miss an episode, please subscribe to the podcast.
This episode was hosted by Graham Richmond and Alex Brown, and produced by Dennis Crowley. Thanks to all of you who've been joining us!