In this edition of Real Humans: Alumni, Allison Lawler explains how her consulting projects at Indiana Kelley ensured she was ready to grow and perform when it came time to join Deloitte.
Allison Lawler, Indiana Kelley MBA '20, Human Capital Senior Consultant at Deloitte
Age: 34
Hometown: Bloomfield Hills, Michigan
Undergraduate Institution and Major: University of Michigan – Ann Arbor; Major: English, Minor: Political Science 
Graduate Business School, Graduation Year and Concentration (if applicable): Kelley School of Business, Indiana University, Graduation Year: 2020, Concentration: General Management
Pre-MBA Work Experience (years, industry): 4 years in Retail Management (Logistics, Remodels, HR), 4 years at a Hospital (HR Manager)
Post-MBA Work Experience (years, industry): 2 years in Consulting (Human Capital)
Why did you choose to attend business school?
There were two key drivers that led me to pursue my MBA: 1.) I wanted to build a more foundational knowledge of business than I gained in undergrad, 2.) I felt I would eventually hit a barrier where I would not be able to grow professionally in the way I aspired to without an additional degree.
Why Kelley? What factors figured most prominently into your decision of where to attend?
The people that I met from Kelley (from potential and current students to alums, professors, and Admission Team) made Kelley feel like the right spot for me. I knew that all the schools I had been considering would provide me with a great education, but I wanted to find a community that would value my perspective and connect me with others who have similar views on collaboration, teamwork, and developing strong relationships.
What about your MBA experience prepared you for your current career?
I had my first experiences with consulting during my time at Kelley (including Globase, Sports Marketing in Germany, and Supply Chain Academy consulting project) and really enjoyed the Consulting course taught by Scott Laughner, the Director of Kelley's Consulting Academy. These experiences provided a safe space for me to learn more about consulting and to initially test out my consulting skill set. Additionally, the presentation skills that I developed at Kelley (Business Communications with Tatiana Kolovou and the Art of Negotiation with Carolyn Goerner were particularly memorable) have helped me feel comfortable in structuring and communicating my viewpoint and recommendations with clients.
What was your internship during business school?  How did that inform your post-MBA career choice?
I had interned with Deloitte as a Summer Associate and joined Deloitte full-time as a Human Capital Consultant following graduation. I loved my internship experience and felt confident after spending time as a Summer Associate that this would be the right career field and firm for me. 
Why did you choose your current company? What factors figured most prominently into your decision of where to work?
I loved the people that I met throughout recruitment/my internship at Deloitte and was very impressed by the culture, the firm's focus on learning and development, and the professional growth opportunities within the Human Capital offering. When I was deciding where I wanted to work, it was important to me that I found a company that was a cultural fit and would support me in growing in my career.
Advice to current MBA students: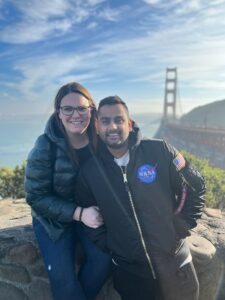 –One thing you would absolutely do again as part of the job search?
Have as many meaningful networking conversations as you can with companies you feel may be a good fit for you. These conversations can give you a great feeler on what skills are most valued within an organization, if the company culture is a fit, and the type of roles you may hire or grow into.
 –One thing you would change or do differently?
Particularly in the first year of the MBA program, there are so many different focuses and priorities that each student can have. Some people will be more academically focused and want to put their full effort into being at the top of the class, others will dedicate most of their time to recruiting, and some will prioritize extracurriculars. There are so many things you could spend your time on and only so many hours in the day, so make it common practice to reflect on how you are allotting your time, adjusting as needed, and remember to show yourself grace when things feel out of balance (it happens to everyone, particularly in recruiting season) is critical.  If I could do my MBA again, I would want to place greater focus on showing myself that grace when I was finding my right balance.
–Were there any surprises regarding your current employer's recruiting process?  
I did not experience any surprises during my recruiting process.
–What piece of advice do you wish you had been given during your MBA?
When mapping out classes, pick a few courses that are completely outside of your wheelhouse but interest you.  Many of the jobs you and your classmates will have post-Kelley will require you to navigate ambiguity, so taking a course that you may not be as naturally skilled in will help build this skill set (not to mention, there's something really rewarding about taking a class with the sole goal of learning something new/challenging).