Go behind the scenes of MBA admissions at the Duke University Fuqua School of Business with Associate Dean of Admissions Shari Hubert in this edition of our Admissions Director Q&A series.
Hubert oversees recruitment and admissions for the school's portfolio of ten business degree programs. Prior to Fuqua, she was in charge of admissions for the Full-time and Evening MBA programs at Georgetown University's McDonough School of Business. Hubert has extensive experience in the private, public, and nonprofit sectors, and entered higher education after working for the Peace Corps as director of recruitment within the Office of Volunteer Recruitment and Selection. Her work is mission-driven, and she is passionate about serving in leadership roles that have social impact. She is a current Board Member of the Harvard Business School African-American Alumni Association, and Empower Dance Foundation. She is also an Alumni Interviewer for the Dartmouth College Alumni Ambassador Program and an Advisory Council Member for the Forte Foundation. In her spare time, she loves fostering dogs and is an avid supporter of the Saving Grace Animal Shelter in Wake Forest, NC.
Continue reading for her insights into the admissions process and valuable details about the Fuqua program.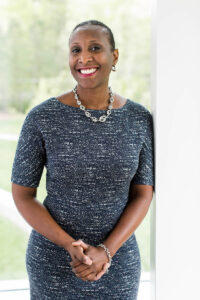 Clear Admit: What is the one aspect of your program that you wish applicants knew more about?
Shari Hubert: We can appreciate the investment we ask our students to make in themselves, and we do not want the ability to finance an MBA to be a barrier. To that end, I'd like to bring attention to the many resources Fuqua offers to help students afford this investment and to ensure they feel confident as a student regardless of their socioeconomic background.  
A little-known fact is that more than half of the class is awarded merit-based scholarships each year, which range from partial to full tuition. All an applicant has to do to be considered for a scholarship is to apply—no additional paperwork is necessary. Fuqua has doubled its scholarship budget during the past few years, and we offer a number of named scholarships from alumni endowments and other partnerships. Here are some scholarship or other degree-funding opportunities: 
The

Thomas F. Keller Scholarship

, which covers full tuition,

is awarded to applicants who distinguish themselves through their leadership and impact on their community. 

Students interested in post-MBA careers in the foreign service are eligible for

the

Thomas R. Pickering Foreign Affairs Fellowship

,

the

Charles B. Rangel International Affairs Fellowship Program

, and the

Donald M. Payne International Development Fellowship Program

.

We also award the

Manning Scholarship

for those interested in health care policy and the

University Scholarship

for those interested in interdisciplinary study (funded by the Bill & Melinda Gates Foundation).

A new scholarship now in its third year,

Fuqua Impact Scholars

is a program for students with interests in one of five focus areas: health care, social impact, leadership, entrepreneurship, and energy and the environment. 

We provide loan forgiveness awards through the

Rex and Ellen Adams Loan Forgiveness Program

for those who graduate with their MBA and work for eligible non-profits, government agencies, or certified B-corporations.

For international applicants,

we also have established partnerships with

lending agencies

that don't require a co-signor because Fuqua has agreed to help underwrite part of the debt on those loans. Students who qualify are able to borrow up to 100% of the cost of attendance, which is very generous and unique. There are also co-signer options and private alternative loans. International applicants are also eligible for all of Fuqua's merit-based scholarships.
I would encourage applicants to visit our Financing Your MBA page as there are a wealth of resources. And while these funding opportunities are aimed at making business education more accessible, we recognize there are other barriers for applicants that require support beyond financial assistance. Close to 20% of each class identifies as first-generation college students. Two years ago our students created a Low-Income, First Generation Experience (LIFE) Club at Fuqua so that students from similar socioeconomic backgrounds know they belong and have a community to lean on throughout their business school journey and to create access for others who might be contemplating their MBA but have similar concerns or questions.  
CA: Walk us through the life of an application in your office from an operational standpoint. What happens between the time an applicant clicks "submit" and the time the committee offers a final decision?
SH: We take great care in our evaluation process and it truly is a committee-based decision with many hours spent discussing applicants to ensure we are able to craft a class that is diverse and inclusive. We know how much time, energy and care is taken by applicants to submit the very best representation of themselves.    
After an applicant hits submit, our processing team checks to make sure that we have everything needed to complete an application. Also, some applicants forget that they can still submit their application with unofficial copies of their transcript and test scores. If there are still items missing that are required for the application to be complete, then our processing team will reach out to the applicant to let him or her know. 
Once we know the file is complete, it is read in full by one member of the admissions committee, who makes a recommendation on whether or not to invite the candidate for an interview (if the applicant did not participate in our open interview period). 
The reader presents the applicant's file to the admissions committee, and an interview decision is made by the committee. The application is then read in full by a second, different member of the admissions committee, who takes into account the interview evaluation once that has been completed. The reader makes a recommendation on an admissions decision (admit, waitlist, or deny) and presents the application to the admissions committee again, where a final decision is rendered. The file is read twice and discussed by the admissions committee multiple times before a final decision is released to the candidate.
CA: How does your team approach the essay portion of the application specifically? What are you looking for as you read an essay? Are there common mistakes that applicants should try to avoid? What is one key thing they should keep in mind as they sit down to write?
SH: We have two essays, the first is our iconic 25 Random Facts essay, which has been reported as one of MBA applicants' favorite essays. We hear repeatedly from prospects and applicants that the exercise is fun and allows for true self-reflection of what's important to them and what makes them truly unique. By the way, it's our team's favorite essay to read as well. One bit of advice is to use the real estate well on this essay—focus more on personal accomplishments, family, hopes, fears, and desires than professional accomplishments, since we can gather most of that from a resume.
In our second essay question, we ask applicants to be more focused in their responses. We still want to know how applicants expect to engage with our unique Team Fuqua community, but rather than focusing on the breadth of engagement opportunities that exist at Fuqua for this question, we are asking applicants to limit responses to the three most meaningful ways they expect to engage while a student. There are so many opportunities available to our students, and one of the first skills they must develop as a student is to prioritize what is most important to you, and why. We really want applicants to reflect on what they feel is important for the Admissions Committee to know about their interest in Fuqua and how they will contribute.
We also have a couple of short answer questions around career interests, both in the more immediate term as well as the longer term. We're hoping to gauge the applicant's self-awareness and ability to connect past experiences with transferable skills and new passions. We can appreciate that plans may change and students may need to be flexible, so want to understand the applicant's expectations going into the program and how realistic they are. We love aspirational goals as it gives us a window into how our alumni want to show up in the world and the impact they are hoping to make over the longevity of their careers. 
Finally, this year we are including an optional section that allows applicants to share more regarding their upbringing and family circumstances that may help us better understand their lived experience, especially for those who may have been the first in their family to attend college or who may have experienced financial hardship growing up.
Common mistakes that I've seen applicants make unintentionally is not explaining aspects of their application that may be viewed as outside of the middle 80% range (especially on the lower end). If there's something in their profile they feel is not a strength, I would urge them to tell us what they've done to shore up that area. By being proactive, applicants can demonstrate self-awareness and humility along with a drive to improve.
CA: Could you tell us about your interview process? Approximately how many applicants do you interview? Who conducts the interview (students, admissions officers, alumni) and what is the nature of the interview (resume-based, behavioral)?
SH: The admissions interview is an excellent opportunity for applicants to share their stories, present a different view of their credentials, and demonstrate their readiness for the MBA program and their genuine interest in Fuqua. We also want to understand how applicants will contribute to our community, their exposure to diverse teams and their ability to develop into a leader who values decency.   
Approximately half of our applicants are interviewed, and interviews are conducted in two formats. During the open interview period, applicants may self-schedule an interview in-person or virtually, no matter what round they ultimately apply in. 
An applicant must have "started" an application to schedule an interview. Starting an application is easy and simply requires creating an account with your name and email address. Early action applicants are encouraged to interview during open season. After open season, interviews will be conducted by invitation only and again candidates will have the option of choosing in-person or virtual. Even if an applicant is not selected to interview initially, it doesn't necessarily mean we are no longer considering his or her candidacy. We do send interview invitations at other points in the process on a case-by-case basis.  
Interviews are conducted by Admissions Fellows (second-year MBA students) or alumni and are weighted the same, no matter who conducts the interview, and may be conducted virtually or in person. Interviews are not "matched" by applicants' and interviewers' backgrounds. Most importantly, the interview is applicants' opportunity to allow us to learn about them and it's their opportunity to learn more about Team Fuqua. Since the interview is conversational, I would encourage applicants to build rapport with the interviewer and to definitely prepare questions even if they feel they know absolutely everything there is to know about us.  
CA: What is your testing policy?  Do you offer exam waivers?  Why or why not?
SH: For our Daytime MBA program, Fuqua does not waive test score requirements for applicants, but we do accept the GMAT, GRE, and Executive Assessment. So, there are three test options for applicants to consider, and we hope they choose the test they feel most comfortable taking. We also will not have a preference regarding whether applicants choose to take the current GMAT or the new GMAT Focus, same for the new GRE. The improvements in the tests are aimed at helping test takers feel more comfortable with these exams, which we welcome as well. All of the test options have been shown to be relevant and helpful in our assessment of readiness for studying at Fuqua.
For our Weekend and Global Executive MBA programs and online specialized Master's in Quantitative Management (Health Analytics, Business Analytics and Accelerated Business Analytics) programs, we do offer a process where candidates can apply for a test waiver.
CA: Could you tell us about the waitlist? What can waitlisted applicants do to maximize their chances of being accepted to your program? Does your office allow for waitlisted applicants to submit additional materials (e.g. letters of support, job updates, new test scores, etc)?
SH: We maintain a selective and active waitlist throughout the application cycle. The waitlist is not ranked. If a student is placed on the waitlist in one round, they may be admitted in subsequent rounds of admission, and we also admit people from the waitlist after the final decision release date as well. We encourage students on the waitlist to stay in touch and engaged with us throughout the process. This may include providing updated test scores, resumes, new community activities, certifications, or professional accolades, but also can include insights gained through a campus visit, a conversation with a student, or simply an email reiterating their interest and why you want to attend Fuqua. We want the waitlist process to be a two-way conversation, and we will keep applicants updated throughout the year on their status. Every year we admit a healthy number of applicants from the waitlist, and we see those students come to Fuqua and thrive.
CA: Tell us briefly about two popular courses at your institution.
SH: There are a lot of great courses to choose from, but I am happy to briefly discuss a couple of the most popular courses. 
The Consumer Behavior elective course taught by Gavan Fitzsimons is one of Fuqua's most popular classes. Gavan is incredibly approachable and students are genuinely drawn to his teaching style.  Gavan has demonstrated a remarkable ability to merge cutting-edge research with practical applications. His extensive knowledge, infectious enthusiasm, and knack for fostering an interactive learning atmosphere consistently earn him high praise from students, with students describing the course as "inspirational, riveting, and intellectually stimulating."
The Leadership Imperatives of Our Time elective, taught by retired General and former Chairman of the Joint Chiefs of Staff, Martin Dempsey, is another one of Fuqua's most popular courses. One aspect that sets this course apart and resonates with students is the reinforcement of leadership principles derived from real-life cases tied to General Dempsey's trusted advisory role during the Obama administration. Another aspect that students particularly value is the interactive nature of the class, with open dialogue and student-driven discussions that create an engaging and dynamic learning environment. Students regularly comment that the insights and experiences shared by General Dempsey are invaluable, not just for their professional endeavors but also for their personal lives. 
CA: Is there anything else you'd like to highlight about your MBA program or admissions process?
SH: One of the aspects I would like to highlight about our MBA program are the benefits of where we are located. Durham, NC provides our students the best of both worlds—an MBA from a top school in a warm climate, inexpensive cost of living, a hip, eclectic, supportive community, AND unlimited geographic access to their dream job. 60% of our graduates end up in metro areas on the West Coast and/or the Northeast/Mid-Atlantic.
Durham has a strong entrepreneurial and biotech presence due to the Research Triangle corridor, the home to more than 150 Fortune 100 companies, and the multiple accelerators and startups that have opened up in the downtown area. Durham has been ranked one of the top startup hubs outside of Silicon Valley, and a top city for business, tech, and people under 35. The city is centrally located between the beaches in eastern NC and the mountains in western NC and offers many great restaurants and cultural events, including art, theater, and live music. Durham is accessible with direct flights to and from New York, Los Angeles, San Francisco, Washington, D.C., and other major U.S. cities. 
Also, our class schedule encourages full-time students to really bond on the weekends. They stay for Friday classes and, of course, there's our iconic Fuqua Fridays event where the entire community comes together at the end of every week. It really creates an opportunity for students to build authentic relationships with each other on and off campus.