For this installment of our Admissions Director Q&A, we welcome back Melissa Rapp, Associate Dean of Graduate Admissions for the Goizueta Business School at Emory University. Melissa leads the teams responsible for the recruitment, evaluation, and matriculation of students across the portfolio of graduate business programs including a One-Year MBA, Two-Year MBA, Evening MBA, Executive MBA, Master of Science in Business Analytics, and Master of Analytical Finance, Master in Management, and the Master in Business for Veterans.
A longtime higher education professional with more than 18 years of experience, Melissa has worked at both small and large institutions helping to form and implement successful admissions strategies.  She collaborates cross-functionally with program offices, registrars, career centers, and alumni offices to develop and deliver an impactful, end-to-end student experiences. She has served on many focused task forces and committees to help schools improve student and staff experiences. Prior to working at Goizueta, she was Director of Admissions for Full-Time MBA and MSMS programs at Kellogg School of Management at Northwestern University.  Outside higher education, Melissa worked as an independent marketing consultant and is a passionate volunteer for educational organizations, disabled children and serves on community boards. She holds an undergraduate degree from The University of Kansas, a master's from Baker University and is a member of the 7th executive Ed.D. cohort in higher education management at The University of Georgia. 
Read on for her take on what to expect from this year's admissions process and advice on how to put your most successful self forward in your application.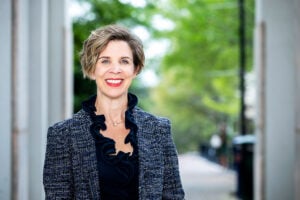 Clear Admit: What is the one aspect of Emory Goizueta MBA program that you wish applicants knew more about?
Melissa Rapp: I wish applicants truly understood the value of our small-by-design programs. It is such an important and impactful aspect of the student experience and our top-5 career outcomes. Every student receives individualized and personalized attention from our program staff, faculty, and career staff, enabling them to create a bespoke MBA experience that extends to academics but also experiential learning and leadership opportunities. This is not a place to get lost in the crowd or to choose from predetermined options. Of course, we have a wide range of established opportunities, from leadership development and entrepreneurship activities to business and society and DEI programming. But students are encouraged to bring new ideas for experiential learning. In the past few years alone, we've launched the John R. Lewis Racial Justice Case Competition and the Peachtree Minority Venture Fund based on student interests. This one-on-one attention results in deeper relationships, more meaningful curricular and extra-curricular activities, and tailored career coaching. In the end, our students are prepared to deliver results on day one of their new careers, which is why recruiters hire so many of our graduates, and a 98% employment rate three months post-graduation is par for the course. 
CA: Walk us through the life of an application in your office from an operational standpoint. What happens between the time an applicant clicks "submit" and the time the committee offers a final decision?
MR: Once a candidate hits, submit, we conduct an evaluation to determine if they will be invited to an interview. At this point, there are parallel processes happening; the application will be thoroughly read by an admissions team member, and the candidate will be interviewed, by a different member of the admissions team or an alum. After the interview evaluation is submitted, the file is reviewed again, and a preliminary decision is recommended by the Senior Director of Admissions. All the preliminary decisions are reviewed by the admissions committee—which includes the Senior Director of Admissions, me, and other staff—and final decisions are made.
CA: How does your team approach the essay portion of the application specifically? What are you looking for as you read an essay? Are there common mistakes that applicants should try to avoid? What is one key thing they should keep in mind as they sit down to write?
MR: This year more than ever, we are looking for authentic personal stories. With ChatGPT and other AI options writing good general essays, the admission committee will be looking for anecdotes and testimonials. The essay questions continue to be a great opportunity for the candidate to tell their story. We are really looking for someone to clearly articulate their goals and tell us about a time they have been a leader. These stories vary greatly from person to person, so there is no magic formula, but being transparent, owning your story, and being complete is important. Do not stop with telling us what you did, tell us why it mattered and what you learned. Make sure you are answering the question that is asked, and be succinct.
CA: Could you tell us about your interview process? Approximately how many applicants do you interview? Who conducts the interview (students, admissions officers, alumni) and what is the nature of the interview (resume-based, behavioral)?
MR: The interview is one of our favorite parts of the process because we get to sit down with the candidate one on one. Yes, we care about your academic abilities and your career history. But we also care about who you are as a person and how you will contribute to the makeup of our community. The interview makes the application process three-dimensional. As a reflection of the intimate environment found at Goizueta, all interviews are conducted by a member of the admissions team. We want every candidate to have an opportunity to interact with those who are making admission decisions.  We are continuing to offer virtual and in-person interviews to provide candidates flexibility. Prior to the interview, the interviewer has access to the candidates' resume but not their application. The interview is a great opportunity to share beyond what you featured in the application, and it is also a great opportunity for candidates to ask questions about the program and community
CA: What is your testing policy?  Do you offer exam waivers?  Why or why not?
MR: The COVID-19 pandemic taught us so many things, and among them was it challenged us to rethink how we evaluated academic readiness, and we also came to understand the variety of reasons a candidate might request a test waiver. To best support our candidates, Goizueta has continued to offer a test waiver application. We ask candidates to complete the test waiver application, submit a resume, and transcripts. The admissions team evaluates those materials and makes a decision about if a waiver is appropriate. When deciding if we should continue to offer waivers, the question we asked was what is the right thing to do, and for us, it was to continue to provide a path for candidates to apply for a waiver. 
CA: Tell us briefly about two popular courses at your institution. 
MR: Currently, two of our most popular courses are Customer Lifetime Valuation and Venture Capital & Minority Entrepreneurship. Using real-world applications from various industries, Customer Lifetime Valuation familiarizes students with a thorough understanding of customer value—how to measure it, what it implies for unit economics and overall company health, and how to improve it. The course is taught by Professor Dan McCarthy, who has popularized the concept of customer-based corporate valuation making the course popular among those moving into marketing, finance, and consulting careers. Dan is also frequently interviewed on the topic by The Wall Street Journal, Bloomberg, Business Insider, and USA Today, among other major publications.
Venture Capital & Minority Entrepreneurship examines the underlying sociological, economic, and psychological causes of inequality for angel investor and venture capital funding for minority-owned startups and delves into the finance and strategy principles of new venture valuation. Students then apply what they have learned by identifying, screening, and recommending actual investments through the student-directed Peachtree Minority Venture Fund.
CA: Could you tell us about the waitlist? What can waitlisted applicants do to maximize their chances of being accepted to your program? Does your office allow for waitlisted applicants to submit additional materials (e.g. letters of support, job updates, new test scores, etc)?
MR: The waitlist is an important part of our process. Sometimes, a candidate is put on the waitlist because the committee needs some additional information. If that's the case, we get in touch with candidates to explain the situation. In most cases, there are just too many well-qualified candidates, and we have to make some difficult choices. Candidates can add materials to their application through the online application portal and will receive an invitation to join a webinar designed for waitlist candidates for more specifics when they receive their decision. Every year we move candidates from the waitlist to admitted and candidates should be optimistic if they receive a waitlist decision. 
CA: Is there anything else you'd like to highlight about your MBA program or admissions process?
MR: I am always saying, "the Goizueta Admissions team is your team" and I mean it! We are very accessible and responsive. In addition to the standard events like information sessions and class visits, we do regular coffee chats, Insight Nights introducing dynamic faculty and staff who work directly with students, and our Get It Done 101 series, which walks candidates through all the components of the application with detailed information on how to submit your best application. The high-touch admissions experience is the Goizueta way and reflects the high-touch experience during the MBA program.