In this edition of our MBA Admissions Director Q&A series, we welcome back Rodrigo Malta, Managing Director of MBA Marketing, Recruiting & Admissions at the Texas McCombs School of Business.
Rodrigo is originally from Brazil and immigrated to the United States during high school. He earned his MBA from the University of Texas at Austin, McCombs School of Business (2007), and his bachelor's degree in management from Missouri State University (2000). Before and after his MBA, Rodrigo worked for Fortune 100 companies in internal audit and marketing in the telecom and technology industries.
One of Rodrigo's proudest moments was becoming a US citizen in 2008, which was the same year Rodrigo joined Texas McCombs as the Associate Director of MBA Admissions, Lead Diversity Recruiter for the full-time MBA Program. He now serves as Managing Director of MBA Marketing, Recruitment and Admissions over Texas McCombs' Full Time, Evening, Weekend – Dallas, Weekend – Houston and Executive MBA programs. Rodrigo loves Texas McCombs, and is passionate about building a collaborative work; educational environment where individuals can be their authentic selves. He lives in Austin with his husband (and three dogs) and loves margaritas + tacos.
Keep reading to see what Rodrigo has to say about what's new about McCombs' admissions and more.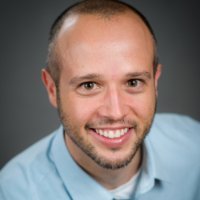 Clear Admit: What is the one aspect of your program that you wish applicants knew more about? 
Rodrigo Malta: Our award-winning faculty members. Having the resources of UT Austin—a large world-class university—supporting the McCombs School of Business means we can recruit the best and brightest around the world to join our faculty. Add our diverse students to the mix and this is the perfect recipe for lively class discussions and an amazing learning environment.
Another aspect of the program always worth highlighting – 14 of our 23 concentrations in the full-time MBA program are STEM (science, technology, engineering, math) certified, demonstrating a level of quantitative rigor across the MBA program. Learn more about STEM certified concentrations here.
CA: Walk us through the life of an application in your office from an operational standpoint. What happens between the time an applicant clicks "submit" and the time the committee offers a final decision? 
RM: Our admissions committee members participate in reading and evaluating candidates during every cycle. Once the application read is complete, video assessment evaluated and (optional) peer interview completed, the committee will discuss applications and make a final decision. 
Our process for admission is a holistic one. It's a collaborative process and although we have standardized many of the steps, it may look a little different for each application. The applicant may receive a deny, waitlist or admit decision, and if admitted they will know if they are receiving a scholarship.  All applicants are automatically considered for scholarships as part of the admissions process. 
CA: How does your team approach the essay portion of the application specifically? What are you looking for as you read an essay? Are there common mistakes that applicants should try to avoid? What is one key thing they should keep in mind as they sit down to write? 
RM: This year we are asking applicants for an MBA cover letter in lieu of a traditional application essay.  Here is the prompt to help guide applicants in writing the application cover letter: "Please write an application cover letter summarizing your aspirations, qualifications, personal and professional experiences that make you a strong candidate for the Texas Full-Time MBA program. (max 500)".
Your MBA application cover letter is inspired by the traditional job cover letter and an integral part of sharing your unique story with the Admissions Committee. The application cover letter is a critical means of learning who you are as an applicant and assessing your communication and writing skills.
Read more about our expectations for essays here.
CA: Could you tell us about your interview process? Approximately how many applicants do you interview? Who conducts the interview (students, admissions officers, alumni) and what is the nature of the interview (resume-based, application-based, behavioral)? Will your admissions interviews be in-person or virtual for the 2023-2024 admissions season?
RM:  One of the most vital parts of the MBA application process at Texas McCombs is the human component – "Human-Centered, Future-Focused" is part of our core values for a reason. We invite all MBA applicants to close out their application process in a human-centered way through a short, optional peer interview.  Yes, that is right, all applicants can complete an interview at Texas McCombs.
These interactive virtual sessions present a valuable opportunity for our applicants to connect with Full-Time MBA students, showcasing their collaborative skills, reaffirming their motivation for pursuing an MBA, and leaving a lasting positive impression on Texas McCombs. 
The optional interview will last approximately 20-25 minutes and is available throughout the round. The student ambassador will introduce themselves and ask you up to 3 questions that focus on collaboration and motivation.  The rest of the time is yours to ask a few questions that are top of mind. 
We recommend having 2-3 questions prepared for your student interviewer about the program and student experience. You are also welcome to discuss information about your candidacy that is not addressed elsewhere, as the interviewer can in turn provide this information to the Admissions Committee via a post-interview form. You can learn more about the optional, peer interview here. 
CA: What is your testing policy? Do you offer exam waivers? Why or why not?
RM:  Texas McCombs MBA Admissions is excited to share that MBA candidates have more options than ever before when considering how to complete the standardized test requirement in their application.
All applicants are required to submit a GMAT, GMAT Focus, GRE, or Executive Assessment (EA) test score.  We will waive the testing requirement if:
An expired (taken 5+ years ago) GMAT, GRE, or EA test score is submitted or

General Test Waiver

 (merit-based) is approved
Applicants should remember that standardized exams like the GMAT, GMAT Focus, GRE, EA, TOEFL, and IELTS help us evaluate a candidate's academic preparedness for the rigor of business school and are one metric used to compare candidates within a large pool of applicants.  Additionally, preparing for and taking an MBA admissions exam is one of the best ways to get your mind back into academic mode as you prepare for business school. Learn more about navigating your testing options here.
CA: Could you tell us about the waitlist? What can waitlisted applicants do to maximize their chances of being accepted to your program? Does your office allow for waitlisted applicants to submit additional materials (e.g. letters of support, job updates, new test scores, etc)?
RM:  Texas McCombs receives many applications from highly qualified applicants throughout the year. It's impossible to fit everyone into the limited space of our program, so we have an MBA waitlist. The waitlist is not a final decision from the MBA Admissions Committee. Rather, it is a place to wait and see what unfolds. The MBA Admissions Committee periodically reviews candidates on the waitlist, but we are not able to offer a concrete timeline of when applicants will hear their final decision.
As the Admissions Committee reviews candidates on the waitlist, there may be an opportunity for supplemental information or materials to be submitted. While we can ask for a range of materials, typically it is a new resume, recent job promotion information, or a new test score. Occasionally, we might ask candidates to clarify career goals or provide us with their back-up plan. In the event the Admissions Committee requests additional information, an email will be sent to all candidates currently on the waitlist approximately one week prior to the review period, so there is plenty of time to collect materials for submission.
Lastly, if the candidate would like to let us know where Texas McCombs ranks among their choices of schools, why we are the best fit for them and their career goals, or what other schools they are applying to, applicants may upload a letter of interest to be included as an attachment to their application. All candidates can upload any applicable documents to their application via the "Submit an Update" button via the "My Applications" link. 
CA: Tell us briefly about two popular courses at your institution.
RM: Business & Policy in the Age of Inequality
About the Course: Both within the United States and in a number of other developed countries, wage inequality has risen dramatically over the past forty years. Everyone in society, and especially in business, should be deeply concerned with rising inequality. In particular, inequality threatens the vision most of us have of our capitalist system, which now provides less social mobility than in prior decades. Business leaders have increasingly realized that rampant inequality threatens the foundations upon which the success of their companies relies and that they can, with some creativity, do something to ameliorate the problem.
As part of this course, students take a closer look at the causes and consequences of rising inequality, with an eye towards examining how recent business trends and popular business practices may contribute to its rise. Should business play a role in softening the blow of these practices and if so how? These are the types of questions students will discuss and debate in this course. The goals if for this class to teach students how to think about inequality and its implications in their role as managers and as citizens, and how to deal proactively with the consequences of this pervasive phenomenon. This course is taught by Adam Cobb, Associate Professor – Business, Government & Society Department at Texas McCombs. Adam holds an MBA from Texas McCombs and a Ph.D. in Management from Michigan Ross.
Innovation and Leadership
About the Course: Effectively generating innovation and change is critical to the survival and growth of organizations and is an essential component of leadership. This course draws on various theoretical foundations and business cases to develop knowledge and skills in enhancing organizational performance through effective leadership of innovation and change. Among the components of innovation and change leadership covered in the course are: understanding and overcoming organizational barriers to innovation and change, developing organizational capabilities for innovation, leading innovation and change at various levels in the organization, stimulating individual and group creativity, developing and nurturing an innovative culture, structuring innovation activities, managing the innovation implementation process, challenging orthodoxies and assumptions to develop innovations and implement change, and directing planned and emergent change. This course is taught by Alex Davern who is the former CEO of National Instruments (Ni). He is a current Board Member of NI, Inc, Cirrus Logic, FARO Technologies, and Chairman of ESI-Group.
CA: Is there anything else you'd like to highlight about your MBA program or admissions process?
RM: Texas McCombs is delighted to unveil the 2023-24 Full-Time MBA application deadline and components, featuring significant updates that reflect our dedication to reducing bias, fostering inclusivity, and improving accessibility in the admissions process. We are excited to offer an extended application submission window, including our Round 4 deadline, providing applicants with more time to carefully prepare and submit their materials. Additionally, in recognition of the diverse profiles of our applicants, we are expanding our standardized test options to include the GMAT Focus, GMAT, GRE, and Executive Assessment, and ongoing merit-based test waiver.
As part of our commitment to enabling applicants to showcase their unique voices, we are bringing back the video assessment component and introducing an optional peer interview, providing enhanced avenues for self-expression as well as authentic conversation. At Texas McCombs, all applicants can complete all application components.  These application updates aim to create an inclusive and welcoming admissions experience, ensuring prospective students have an equal opportunity to shine and contribute to our vibrant community at Texas McCombs.