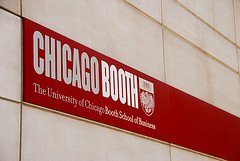 Our 2014 Admissions Director Q&A with the University of Chicago Booth School of Business' Kurt Ahlm is now available. 
Kurt Ahlm is a 10-year veteran of the University of Chicago Booth School of Business admissions office, and he seemed the perfect person to take the lead role there when former director Rose Martinelli stepped down two summers ago. Since then he has helped welcome a new dean to the school, Dean Sunil Kumar, and seen the school continue its international expansion with the opening of a new center in China to complement campuses in Chicago, London and Singapore.
Ahlm started his career in undergraduate admissions at Northwestern University and then spent time working as a corporate recruiter before coming to Chicago Booth. "I really liked higher education but I also liked the more professional type of atmosphere that the corporate world offered," he says, adding that MBA admissions provides a great mix of both. Chicago Booth benefits, in turn, from his strong background in both admissions and recruiting.
In the interview that follows, Ahlm is somewhat coy about potential developments in the year ahead, suggesting that changes are afoot but refusing to reveal any specific details yet. Don't worry – those of us here at Clear Admit will stay on top of things and update our readers accordingly. He points to some of the things that he thinks prospective applicants should be sure to recognize about Chicago Booth – including its strength in areas beyond finance and the remarkable flexibility students have to customize their own MBA program. He also gives an in-depth look at the admissions process, which went completely paperless this year, and provides valuable insight on how best to use the essay portion of the application to help tell the complete story of who you are as an applicant and how you will fit into the Chicago Booth culture. So read on!
Clear Admit: What's the single most exciting development, change or event happening at Chicago Booth in the year ahead?
There are a lot of great things going on at Booth and our momentum continues to build so it is hard to point out just one exciting development. Innovation is synonymous with Booth so things seem to change by the day. Dean Kumar and several faculty committees have been busy looking at how we can continue to strengthen the Booth brand and experience worldwide. Stay tuned for possible news.
CA: What is the one area of your program that you wish applicants knew more about?
KA: The good news here is that this question is becoming more difficult to answer, which in my mind means we are doing a much better job of communicating the distinctive advantages of the Booth MBA. Not only does the quality of the applicant pool continue to get stronger, but the diversity of applicants' backgrounds and their desired career paths continue to broaden. For years, Booth battled the public perception that we are "only a finance school," but our reputation in areas like entrepreneurship and marketing in particular has really begun to catch up. In recent years Booth has developed a very strong reputation amongst applicants and recruiters for our ability to prepare students to work, lead and innovate in those areas.
Another aspect of our program that I wish students knew more about is the comprehensive flexible nature of the Chicago Booth MBA. Booth continues to be the most flexible MBA program. For applicants who truly want an opportunity to customize their MBA experience on every imaginable level, Booth is the only option.
CA: Walk us through the life of an application in your office from an operational standpoint. What happens between the time an applicant clicks "submit'"and the time the committee offers a final decision (e.g. how many "reads" does it get, how long is each "read," who reads it, does the committee convene to discuss it as a group, etc.).
KA: This year we moved to a new application system which allows us to view everything online. This meant eliminating paper; not only was this a win for the environment, but for my back as well! Carrying the heavy bins of files to and from my house and office was a real chore.
As a result some operational functionality has changed, but the way we review has not. The review process begins with our Admission Fellows (AFs), who are second-year students selected and trained to help us review and evaluate applications. An AF completes the first read; each of these AFs reports to a director, who subsequently reviews every file independently and recommends whether or not to interview the applicant. Based on those assessments and recommendations, an applicant is invited to interview or the application will then come to me for a third review.
Those students invited to interview can then set up their interview either on campus with an AF or in their part of the world with an alum. In either case, it will be a blind interview – meaning the interviewer has not read that candidate's application, but has only seen his or her resume. That allows for great conversation to flow organically as the candidate and interview get to know one another.
After the interview, the interviewer submits a report and the candidate's file goes through another phase of review, with another director who has not seen the file before. This director will then make a recommendation to admit, deny or send the file to be reviewed by committee. Those applications sent to admit or deny get a final review from me, while the others are reviewed by me and the rest of the admissions committee.
CA: How does your team approach the essay portion of the application specifically? What are you looking for as you read the essays? Are there common mistakes that applicants should try to avoid? One key thing they should keep in mind as they sit down to write them?
KA: It's important to remember that applications are reviewed holistically; each part of the application is crucial to overall decision making. When reviewing essays, we try to determine how each essay fits within the application as a whole and how it adds value to the overall "story" the applicant is trying to tell. The most common mistake applicants make is to look at an application as a series of tick marks. They don't really take the time to step back and ask the deeper question: "What is it that I am fundamentally trying to communicate and how have I utilized all the components of the application to convey my story or message in the most holistic way?"
The applicants who are most successful are those who think about the question in a strategic way. They see all aspects of the application as chapters in a story, each element revealing a different aspect of who they are. They understand that a resume tells us one thing about them that is different from what we learn from the transcript or a letter of recommendation. Combined, all of these things create a strong outline of who somebody is. The essays then become a vehicle to add greater depth and texture to that outline.
With this in mind we value essays that successfully create that depth and texture, not ones that simply answer the question in a vacuum. The trick to a successful essay is to demonstrate strategic thought, and not simply answer the question. Ask yourself two fundamental questions as you write your essays: 1) If the school is interested in fit, like we are at Chicago Booth, what aspect of that fit are we trying to get from the essay question? 2) Does the answer I provided add value to my overall story or does it simply restate elements of the application I have already revealed through other areas?
We read as much for strategic thought and approach as we do quality of writing. We recommend getting a trusted friend or family member to read through the essays to determine if you've achieved both of those goals.