Hello and welcome to Fridays From The Frontline, Clear Admit's weekly dive into the highs and lows of the b-school applicant and student experience. With Round 3 deadlines in our rear view mirrors, the applicant blogger community was rather quiet while current students had more to day about everything from exciting trips to the financial realities of b-school.

HammO delved deep into the question of financing an MBA, which involved a fair amount of research and copious tabs on an Excel spreadsheet.
Tuck '14 The Senator was the first to admit that he'd been a bit MIA as far as his blog was concerned, but made up for it by sharing the experience of applying for a fellowship at his summer internship employer while also commenting on  delays at the airport and the weight of taking on too many leadership positions on campus. MBA Manchester '14  happily announced that he secured a summer internship at Google's London and Manchester locations. LBS '14 Gayathrisai compared the weather of her hometown – Chennai – with London meteorology, with one prevailing lesson: check the weather hourly. Anderson MBA/MPH '15 Dwight knew that many wanted to know what a typical 'day in the life' was like for him, but noted that on different days he had completely different schedules. INSEAD '14 Vrinda wrote about some of the limitations of the school's elective offerings when considered in tandem with scheduling conflicts and bidding wars. Ross '14 Eric traveled to the Bahrain and Dubai for his MAP experience, and still managed to watch the Wolverines compete in the final four NCAA basketball tournament.
Tepper '13 Julianne finished her last class and turned her attentions to the amount of debt she will be graduating with, sharing some of the financial realities and regrets of her MBA experience. Anderson '13 Kyle enjoyed documenting the many sports competitions that took place during the annual C4C Sports Weekend, which included MBA students competing in a swimming relay race in full suits!
And that's a wrap for this week's installment of Fridays From The Frontline. Stay tuned next week for news of our annual blogging competition, as well as fresh reports from our b-school blogger community. Until then, have a great weekend!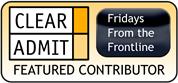 Want to join the Fridays From the Frontline community and see your blog featured regularly in this column? Just follow this link and add the FFF badge to your blog and then  email us at [email protected] with your URL so we can make sure to add you to our weekly roundups.