Welcome to Fridays From The Frontline, Clear Admit's weekly look-see into the lives of b-school applicant and student bloggers. This week applicants were a pretty quiet bunch, while soon-to-be first years were doing last minute errands and tasks in preparation of their arrival on campus. 
MBAGirlJourney tackled her HBS essay and reviewed Clear Admit's Harvard School Guide.
Yale '15 Sassafrass likened his departure (only a few days away) to b-school to an international trip and ensured that he was organized. Anderson '14 Lorraine performed some serious due diligence when considering what laptop to buy for b-school, and shared her findings for the edification of her future classmates.
INSEAD '13D Helena discussed her internship in Hong Kong and recounted some of her observations about her P3 courses. Anderson '14 Aimee provided incoming students some examples the pros and cons of living in L.A., which included the weather as a pro and a con. INSEAD '13J Jianggan reported a successful Dragon Week, and shared a music video parody he and other classmates created for a cabaret show. Anderson '14 Buzz also reflected on the various elements of the Anderson MBA and location he enjoyed the most. Judge '13 Eden concluded her MBA experience with a visit to the Tate and Christie's Auction House.
And that's a wrap for this week's edition of Fridays From The Frontline. We hope that those in transit toward their b-school campuses have smooth transitions and enjoy the last few weeks of relaxation before orientation begins. Until next week, have a wonderful weekend!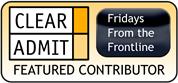 Want to join the Fridays From the Frontline community and see your blog featured regularly in this column? Just follow this link and add the FFF badge to your blog and then  email us at [email protected] with your URL so we can make sure to add you to our weekly roundups.