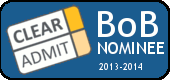 Hello and welcome to Fridays From the Frontline, Clear Admit's weekly ramble through the ruminations of the b-school blogosphere. This week, we share in the excitement of those nominated for the Best of Blogging Annual contest, as well as welcome two new b-school applicants to the Fridays From the Frontline blogging community.  A reminder that if you haven't yet voted for your favorite featured blogger, the nominations and poll can be found here. Be sure to vote before Wednesday, May 28, when the polls will close!
SarahsMBAJourney has a nice summary of each of the nominated bloggers, as well as impressions of Cass Business School. Over on MBAtheNonProfitWay, MBAMyWay discusses finding the perfect B-school bag on a budget and then uses her nomination news to give a shoutout to fellow  Johnson admit HammO who, for his part, reminisces about the early days of the BootstoSuits blog, and what a difference a year has made! Domontron channels his inner J-Law while sharing his excitement about being nominated.  MBAReApplicant discusses why he'll be matriculating at UCLA Anderson, while also thanking the blog's readers and reminding them to vote.  Ellie at CoffeeBeansandTeaLeaves uses the nomination as a reminder to update her readers with the news that she is already starting to work on her package for next year's applications and that her summer is busy with the challenges of a new management position.  
This week we also welcome two new bloggers with interesting and informative takes on the application and MBA process. GrantMeAdmission introduces himself and why he started the blog then gives an outline of how he scored 710 his first time taking the GMAT, with a review of useful materials. While actually on the waitlist at Tuck for a 2014 admit, Grant is gearing up to reapply for 2015 and has a list of resources for deadlines and rankings up as well, rounding off an active start to his blog. LifeinTransitMBA is about to start his MBA this fall, and is devoting his blog to answering the question "You're in, now what?" ; a first step is to map out a recruiting strategy and decide on a pre-MBA internship.
Best of Blogging nominee 2YrsatHBS gives some insight into final exams at HBS, as well as an account of what the closing lectures for final classes consist.  Now that classes and exams are finished, it's off to Japan and the start of summer!  Congratulations are in order to ccatcher for graduating from Tepper. Finally, MilitarytoBusiness has yet another informative and interesting post from a Wharton and HBS vet admit, on building an effective personal brand for MBA admissions.
And that's all the news for this week's edition of Fridays From the Frontline. We hope that even as applicants and current students continue to update us about their plans, travels and experiences, that they, and our readers will vote for the Best of Blogging competition nominees!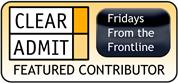 Want to join the Fridays From the Frontline community and see your blog featured regularly in this column? Just follow this link and add the FFF badge to your blog and then  email us at [email protected] with your URL so we can make sure to add you to our weekly roundups.