Fridays From the Frontline – News from the B-School Blogosphere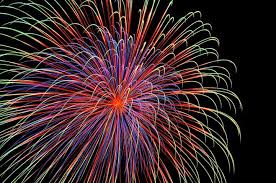 Hello and welcome to Fridays From the Frontline, Clear Admit's weekly roundup of the ruminations of the b-school blogosphere.  This week, we continue to meet UCLA Anderson's entering class of MBA bloggers, welcome a new applicant blogger to the weekly round-up, as well as check up on the hard-working current applicants already kicking off round 1 applications, even as summer is just beginning to heat up. Zubin Davar '15 is a second year Anderson student, who is sharing his experience as a summer intern at Google.  Despite his  first day nerves, Zubin is relying on key takeaways from his first year.  Those who are looking forward to their first year at Anderson include Mike Leve who recounts the true cost of an Anderson acceptance letter, of which the actual application fee is a very small part. Piyush Jain shares his excitement at joining the Anderson community, and explains his unique international perspective, as he prepares to leave his current location in the Middle East for California's West Coast. GrantMeAdmission thought he had settled on a final round 1 list, but explains why he's now expanding it to include Kellogg and Berkeley. GrantMeAdmission also takes a hard look at the top seven mistakes he made last year, one of which was to not request a free consultation with an admissions counselor. You can avoid that omission and sign up for a free initial assessment with a Clear Admit counselor here! GrantMeAdmission also provides a helpful compendium of all his posts thus far.  Although not contemplating another round of applications, at least as of yet, MBAGirlJourney contemplates how to stay sane in the face of demanding work projects.  Finally, we welcome a new blogger, TopDogMBA as he begins his 're-applicant's tail'. Although facing the disappointment of not beginning work on an MBA this year as he had hoped, TopDogMBA is staying focused and already has a plan for upcoming applications. And that's all the news for this week's edition of Fridays From the Frontline. As we here in the United States prepare to celebrate the 4th of July, we  are enjoying the summer weather and the exciting beginning of a new MBA admissions cycle! We  also hope that current applicants continue to update us with information about statuses and future plans, and that current students and recent grads also update their blogs with summer activities, or as they transition into post MBA careers.
Want to j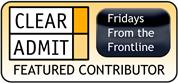 oin the Fridays From the Frontline community and see your blog featured regularly in this column? Just follow this link and add the FFF badge to your blog and then  email us at [email protected] with your URL so we can make sure to add you to our weekly roundups.