From "shrink wrap for crap" to a "greenhouse in a box," unique ventures tackling serious challenges around the globe were among those awarded seed funding by Columbia Business School's Tamer Center for Social Enterprise earlier this month. The awards, announced July 7th, went to four teams of entrepreneurs from across the Columbia University community. Each team received $25,000 in seed funding to help take their ideas to the next level, as well as access to the Tamer Center's array of social enterprise resources.
Bruce Usher, co-director of the Tamer Center and chair of the investment board for the Tamer Fund for Social Ventures, was thrilled and a little surprised when even more teams applied as part of the process this spring than in the inaugural round last fall. "This is only the second cohort, and after the first in the fall we weren't sure how many additional ventures would apply for funding," he says. In fact, they saw a slight uptick, from roughly 25 to 30 this spring.
The program is particularly innovative in that it is campus-wide. Not open solely to students in the business school, it extends across Columbia University's more than 20 schools. "Within those schools there are a lot of students doing interesting things in social enterprise," Usher says. It's also open to alumni, not just to current students.
Winning Ventures Are Overwhelmingly International
"Another thing that has been a bit surprising is that these ventures are very international in their perspective," Usher says, noting that six of the nine ventures funded to date are international, and that doesn't even count one based in New York that works with international refugees. "That's not a bad outcome—I am thrilled with that outcome—but it's a bit of a surprise," he says.
Although funds are available for both for-profit and nonprofit ventures, Usher is also struck by the fact that all of the ventures to receive funding to date are for-profit. "That seems to suggest that students are looking at social enterprise through a for-profit lens by and large," he says.
MBA Students Play an Active Role in the Competition
Only two of the four teams awarded funding in this most recent round counted CBS students among their members. Nevertheless, business school students played a vital role in the success of every venture. That's because after an initial application screening round, ventures that progress through the competition all undergo a due diligence process with student teams from CBS's "Investing in Social Ventures" course.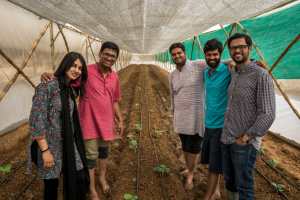 Two students in the class spent three weeks conducting a thorough review of Kheyti, one of the four ventures ultimately selected for funding. Kheyti provides a "Greenhouse-in-a-Box" (GIB) to small farmers in India to help them increase farm yields and ensure a dependable monthly income that can offset huge production variation caused by pests, excess heat and other factors.
"The student team made a full report on the potential of the business, the resources we require and our potential to scale," says co-founder Kaushik Kappagantulu, a CBS J-term MBA student in the Class of 2017. "They really helped us refine our thoughts and identify the gaps we had and the work we still needed to do," he adds. After the due diligence process, the student teams take the ideas back to the class as a whole to decide which ventures get to go on to pitch to the Tamer Fund's Investment Board.
The $25,000 in seed funding from the Tamer Fund will allow Kheyti to take the GIB idea from in-house testing to actual farmers' fields. A pilot with five initial farmers will, Kappagantulu hopes, provide the test data the company needs to prove its hypothesis, namely that setting up small, modular greenhouses on just two percent of their land will give Indian farmers a steady income of $100 a month, equal to what they currently average on 80 percent of their land given the vagaries of production. "Setting up the first farmers will help us make a concrete case for foundations to invest in a second round of funding," he says. With an additional $300,000 investment, Kappagantulu expects Kheyti to reach between 500 and 600 farmers and gain operational stability.
Kappagantulu was drawn to business school at Columbia in part because of its focus on entrepreneurship and social enterprise. "As an outsider I saw it described on paper a lot, but as an insider I have seen it first hand," he says. In addition to the Tamer Fund, he also praised the many courses offered through the Tamer Center and the deep connections CBS professors and the center have in the New York non-profit community. "I have had 10 to 15 really good meetings set up by professors or people at the Social Enterprise Center," he says.
The third thing that influenced his decision to come to CBS was the school's January term (J term), an accelerated MBA ideal for entrepreneurs in that it lets participants start in January, forgo a summer internship and complete the degree the following May.
Tamer Fund Seeds CBS Alumna's Project to Evaporate Waste
Change:WATER Labs, the second venture of the four most recently funded by the Tamer Center, was founded by Diana Yousef, who holds degrees from CBS (MBA '03) as well as Columbia's School of International and Public Affairs (' 04). "The vision is to become what we are calling a 'frugal innovation accelerator'—a product accelerator that takes available technologies and turns them into products that help people in the development context gain better access to water and sanitation services," she says.
The first product under development is a portable toilet for use in urban slums and refugee camps. "We call it 'shrink wrap for crap,'" she says with a laugh. "The reality of waste water and sanitation in the developing world increasingly is off grid—there is no infrastructure to collect it and bring it to a central processing center," she says. So Change:Water Labs is working to develop a low-cost way to collect, manage and maintain that waste. As it turns out, human waste is 89 percent water—which means trucking around a lot of water to bring it to a processing facility. "That's not sustainable," she says. "Our technology passively removes all of that water, so what you're dealing with is easier to contain and doesn't have to be collected as frequently," she says. "That radically changes the cost model around collecting that waste."
Funding from the Tamer Center will allow Yousef and her team to run a pilot with a prototype. "The only way we will know whether it will work in the market is to build the prototype and market it," she says. "It will require a lot of iterative design, so the money makes it possible."
But she's also really excited to plug into the Tamer Center's network of resources, which she hopes will yield partners in the countries where the technology can be put to use. "We would really like to be able to pilot in the context of refugee camps because that story of trying to restore dignity to people who have lost everything really resonated with our core team, which includes two of us from the Middle East," she says.
Yousef was encouraged to apply for the Tamer Fund by a former CBS classmate whose venture was one of the initial five funded last fall. Like Kappagantulu, she found the due diligence process with current CBS students very helpful. "The students I was paired with put a collection of questions back to me—some points I needed to explain better and some I had to go back and rethink," she says. "The process was great and really helped sharpen a lot of my ideas."
Coming Home to the Columbia Social Enterprise Ecosystem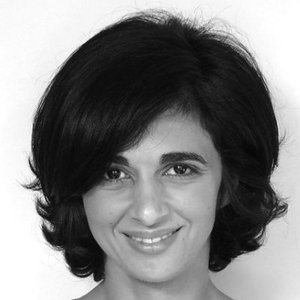 Beyond the funding and the feedback, the Tamer Fund has also provided Yousef with a fitting re-entry point into the Columbia social enterprise ecosystem. "My birth in this area—the cross-section between innovation and development—happened at Columbia," she says. Coming straight out of a PhD program in biochemistry, she was looking for ways to use Columbia as a lab to explore that intersection between development and business. "I had this idea that there had to be a way to combine business skills and my expertise in science into something that could impact developing economies," she says.
While at CBS, she helped found an initiative that would grow into Columbia Pangea Advisors, a pro-bono student consulting group. "I wanted to crowdsource around how to develop ideas in developing countries," she says. "So I thought, 'Why don't we provide consulting to these organizations working in international development?'"
At the time, it was a student-driven initiative that really distinguished Columbia from other top-tier business schools, she recalls. Now, a third of CBS students apply to participate. "When I was at Columbia, I didn't know what social enterprise was," she says. "It was really still being defined, and what was really exciting was a lot of my classmates were trying to define it."
More than a decade later, programs like the Tamer Fund for Social Ventures are helping CBS students—and students across Columbia University—put social enterprise into practice.