The F.W. Olin Graduate School of Business at Babson College online MBA application is now live for the 2016-2017 admissions season, meaning that the Babson MBA recommendation questions are available for applicants and their recommenders.
2016-2017 Babson MBA Recommendation Questions
Recommender First Name
Recommender Last Name
Title
Organization
Telephone Number
Mailing Address 1
Mailing City
Mailing State & Country
Mailing Zip
Email
Are you a Babson College alumnus/a?
How would you like to submit your recommendation?
Online
Upload recommendation letter
In what capacity and how long have you known the applicant?
How would you compare the applicant to others with a similar level of work experience?
What are the applicant's most significant strengths?
Describe the most important piece of constructive feedback you have given the applicant. Please detail the circumstances and the applicant's response.
If you would like to include a letter of recommendation in addition to your responses above, you may upload the letter here.
Please rate the applicant on the following skills (Outstanding- top 2% of peers, Excellent – top 10% of peers, Good – top 25% of peers, Average, Below Average – bottom 20% of peers, Unable to judge):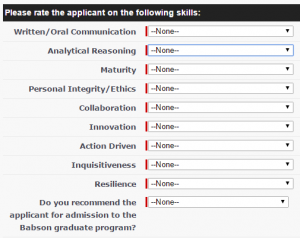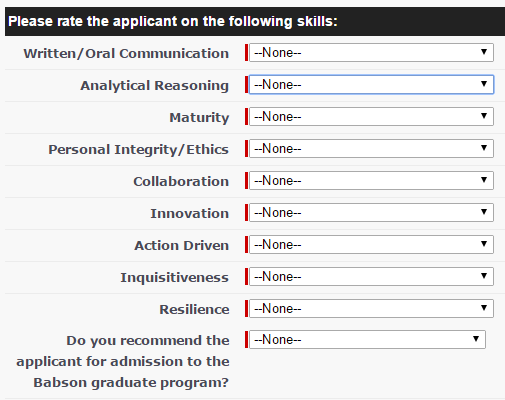 Written/Oral Communication
Analytical Reasoning
Maturity
Personal Integrity/Ethics
Collaboration
Innovation
Action Driven
Inquisitiveness
Resilience
Do you recommend the applicant for admission to the Babson graduate program?
Strongly recommend
Recommend
Recommend with reservations
Do not recommend