To commemorate Veterans Day, the University of Pennsylvania's Wharton School yesterday held a "Spotlight on Female Wharton Warriors" panel, part of a week of events recognizing the former military service members who are part of the Wharton community. Wharton MBA students Meredith Sandberg and Sophie Hilaire joined other women vets in sharing their experiences and answering questions from fellow MBA students curious about military life. The panel was jointly organized by Wharton Women and Business (WWIB) and the Wharton Veterans Club.
Second-year Hilaire served as an Army captain in logistics and a female engagement team leader in Afghanistan, where she helped teach sustainable farming techniques by day and led raids to detain terrorists by night. Fellow second-year Sandberg, a lieutenant, began her service as a surface warfare officer focused on nuclear power on a Navy aircraft carrier. Later, she returned to the Pentagon, where she worked as a speech writer to the first female four-star admiral in the Navy.
Speaking to Clear Admit just after the conclusion of yesterday's panel, Hilaire and Sandberg shared about their experiences at Wharton and how it's been a welcoming place to them as veterans.
Wharton Female Warriors Arrive Via Different Paths
For Hilaire, business school was always in the plans. "I said I wanted to be a CEO on my eighth-grade career day, and that never changed," the Ohio native tells us. But first, she headed to West Point for college and became a logistics officer in the Army for six years, stationed in the United States, Afghanistan and Korea. Among many other responsibilities, she managed 1 billion pounds of ammunition valued at $5 billion—all the ammunition across and outside of Korea intended for use by military force.
For as much as she learned in the Army, she felt that her military experience alone wasn't enough to achieve her ultimate goal. "An MBA made a lot of sense," she says. She chose Wharton, in part, because she believed it would help her build a strong international network, which was especially important to her after having worked abroad as much as she had.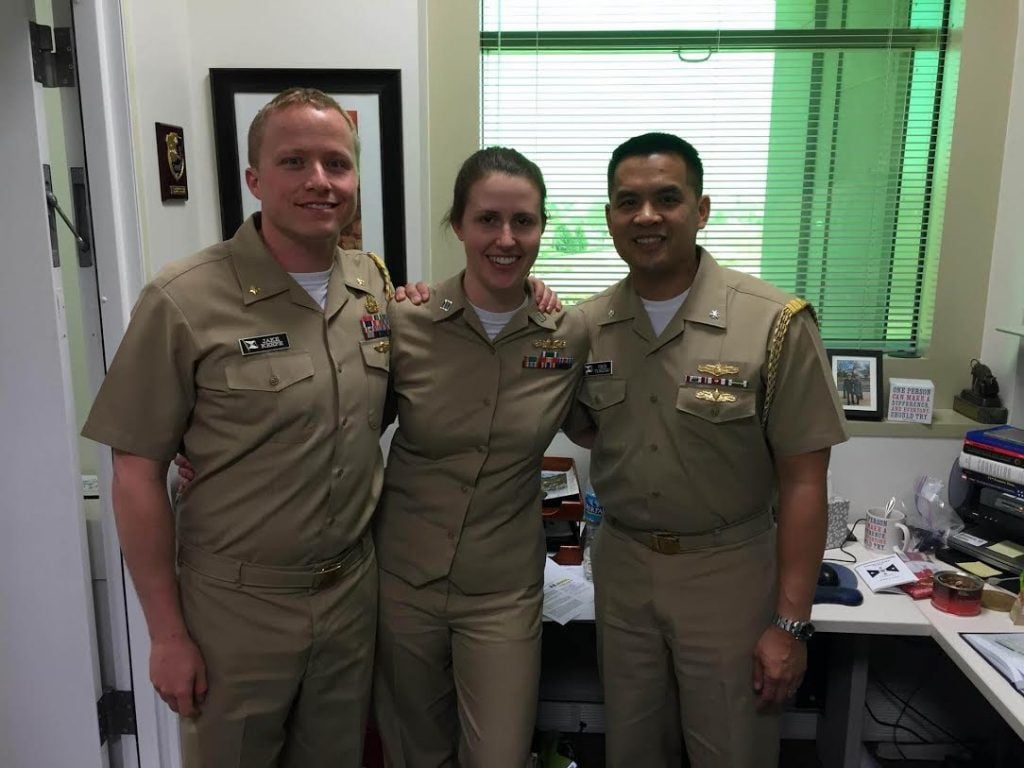 Sandberg headed to Harvard for college from Salt Lake City, where she took part in Reserve Officers's Training Corps (ROTC), following in the footsteps of her father, who had done ROTC in college and served in the Army. "He was influential in making me think about doing ROTC in undergrad, both to complement my academics and as a source of scholarship funding," she says. She entered the Navy upon graduation intending to serve for a year and see what it was like. "During the year I thought long and hard about whether the military and the Navy were right for me, but I had formed such strong bonds that I didn't want to leave."
It was while working at the Pentagon that she decided she wanted to go to business school, she says. "I had seen a lot of parts of the world and had an idea of how the government and military parts worked, but it felt like I was missing a big part of the story about what drives things in the world and how things get done." In terms of choosing Wharton, Sandberg was drawn in part by the school's reputation for focusing on quantitative skills. "I tend to have a quant brain—you need to do a lot of work with numbers in nuclear power," she says.
Influential Outreach from Current Veteran Students at Wharton
Wharton was also the only school at which veteran students reached out to Sandberg directly. Immersed in her work at the Pentagon, she didn't have a lot of time to visit individual schools when she was applying. "The first time I was on campus for some of these schools was when I was interviewing," she says. "But the Wharton Vets Club reached out to me, which I was very impressed by," she says. "Since being on campus, I have been super proud of the work that veterans do in terms of outreach to prospective students," she continues. "One of the things I am most proud of is that we don't just help the students that come to Wharton," she says, adding that she herself has helped prospective applicants with their essays for not only Wharton but also other schools. "Our primary mission is to help the other vets."
Hilaire likewise was influenced by Wharton's veteran student outreach. In her case, one student in particular really went the extra mile. Before deploying to Korea, she had planned a whirlwind tour of business schools, and as luck would have it, her time to visit Wharton coincided with a snowstorm that caused classes to be cancelled. A veteran student who had originally been scheduled to take her to class that day remained in Philadelphia just to meet with her, delaying a planned return to his own family in Washington. "It was like meeting an old friend," she remembers. "The fact that all these things went wrong that day and he met with me anyway and drove through a snowstorm to get to his family—he bent over backwards." She didn't even end up overlapping with him at all while at Wharton. "That he invested so much in me when he owed me absolutely nothing really made an impact."
A Commitment to Remaining Involved Themselves
Perhaps not surprisingly, both Hilaire and Sandberg have become committed members of the veterans' community since coming to Wharton. Serving on yesterday's panel is just one example of the many ways they've each chosen to be involved. In both her first and second years, Hilaire has worked closely with the Philadelphia Veterans Association, providing pro bono consulting as part of two semester-long independent studies with other veteran and healthcare management students. In her first year, she did a project focused on palliative care and now she is working in the realm of post-traumatic stress disorder (PTSD). "To be doing something connected to our past lives as veterans and to be able to give back at the same time is great," she says. But with plans to go into consulting when she graduates, it has also provided valuable practice as well as class credit, she notes.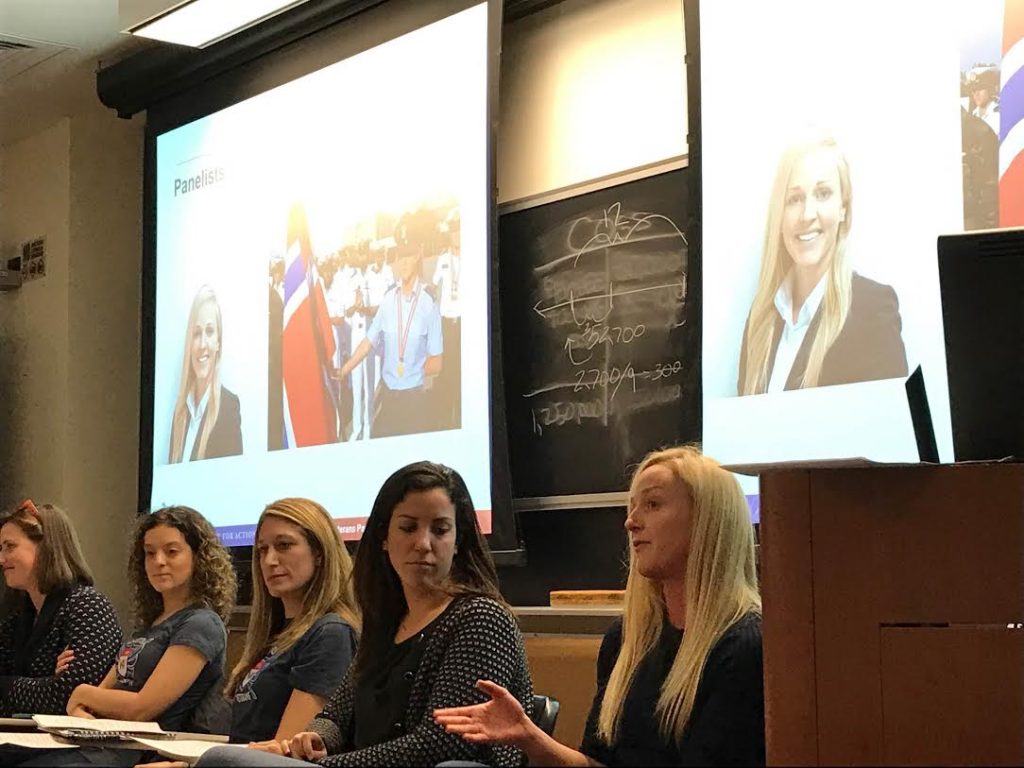 Sandberg notes that the Wharton Veterans Club also provides a community of support to students on campus, offering tutoring sessions in advance of exams and helping each other prepare along the recruiting pipeline and for interviews. "There is a strong sense of taking care of our own once they are part of the fold as well," she says. She herself benefitted from the support of the veteran community when she applied to take part in a dual-degree program Wharton has with the Harvard Kennedy School. "As I was applying last year, some of the fellow veterans who were in that program helped me think about how to frame my experiences as part of my application materials," she says. The club is also now working to grow an alliance of veteran alumni.
Transition to Campus Life Not Without Challenges
Both women conceded that the transition to life on campus brings its own challenges. "Your thought process goes from being about your unit or the people you are working with to, as a student, being very self-oriented and focused on where you are going," says Sandberg. "It can feel almost selfish or self-indulgent to shift so dramatically—but it is also a gift to work on yourself and how you want to focus your life." At the same time, aspects of being in school also really helped. "One of the reasons I wanted to transition into a school community was to have another community around me after leaving the military that was intentionally cultivated."
Hilaire, for her part, didn't think leaving the Army would be such a big deal because she'd always maintained a life outside of it. She threw herself head first into the MBA experience, but perhaps a bit too much, she recalls. "I wasn't having enough conversations on a daily basis with people from my past who were a part of the values that had created who I was up until that point," she says, which led to feeling a bit lost by the end of her first semester. "I quickly course corrected—in great part because there was a very substantial veterans network that I was able to tap into."
In fact, the approach of Veterans Day may have had something to do with it, she notes. "It can feel strange to get credit for being a veteran when I don't wear the uniform," she says. As a result, she's made a conscious effort to reach out to first-year students to see how they are doing around this time of year—including her younger sister, who is now in her first year at Columbia Business School after also serving.
Sharing Leadership Experience with Teammates
Both Hilaire and Sandberg feel they have something special to contribute to their classmates as a result of their service. "I feel like my time in the military has given me a strong ability to look at a system and start to ask the right questions," Sandberg says. "Even if you don't know the subject matter, you can start to ask clarifying questions that help everyone work through and clarify their own thoughts." Other times, she sees value in being able to push the team along. "It can be easy to get caught up in minutia, and sometimes you just have to get an assignment done."
Hilaire thinks that her ability to zoom out and see the big picture—honed especially while working for a general as her last job in the Army—is an asset. "Somehow it is easier for me as a veteran to see a situation unfolding and redirect back to what really matters," she says.
"Wow. Wait. What?"
"It never ceases to surprise people when we are in a group of classmates," says Hilaire on how colleagues react upon learning they are veterans. "They'll say, 'Wow. Wait. What?'" Despite the wide range of experiences classmates bring to business school, she seldom sees the same reaction to other backgrounds. "I think we help shatter those stereotypes of what a veteran looks like or what a woman can do."
In fact, on the first day of classes their first year, the Wharton admissions director dropped a lot of fun facts about the incoming class, including that among them was a Guinness World Record Holder for completing the fastest marathon in full military uniform. "Who's the guy that did that?" several classmates would later ask, never imagining that it was Hilaire herself. (Four hours and fifty-four minutes—"while wearing body armor, helmet and boots," chimes in Sandberg.)
"I second Sophie's point about liking to be able to surprise people and catch them off guard about the assumptions they made," Sandberg says. But neither makes a big deal of it. "Usually it's just quietly correcting folks and letting them learn from their own assumptions."
*Pictured at top, Sophie Hilaire, MBA '17