At least one was detained for hours at JFK Airport in New York before being released. Many have concerns about family members who may not be able to attend graduation ceremonies in the spring. Others must consider foregoing upcoming international school-related trips for fear they won't be allowed back in. In these ways and many others, President Donald Trump's initial days in office have left countless MBA students reeling.
At issue is the hugely controversial executive order signed by Trump on Friday (Jan. 27) temporarily banning citizens from Iraq, Iran, Syria, Yemen, Sudan, Libya and Somalia from entering the country, suspending new refugee admissions for the next 120 days and indefinitely banning refugees from Syria. That all countries in question are predominantly Muslim and that the order additionally offers priority to Christian refugees has led many to view the action as a Muslim ban, though the Trump administration denies this.
At Harvard Business School (HBS), the Student Association Senate collected concerns from students for a meeting with the school's administration Monday morning (Jan. 30). "The main concerns are regarding commencement (graduation) and the Field Global Immersion (FGI)," SAS President Rafael Rivera shared in an email. "Some students have reached out saying that their parents will not be able to come for graduation if the ban is still in place in May." Others—including individuals from countries not included in the ban—are concerned about FGI, the one-week international field experience all HBS first-year students take part in. "Some students fear that they might not be able to come back to the USA if the president increases the ban randomly for other countries," Rivera writes.
There are also concerns about summer internships and career programs after graduation. "Some students don't know if they should accept their job offers in London, because they don't know if they will be allowed to come back after the summer," he adds.
At UC Berkeley's Haas School of Business, first-year, full-time MBA student Sahinaz Safari is feeling the impact of the ban acutely. A Canadian citizen, she was born in Iran, which shows on her passport. She moved here six and a half years on a full scholarship to attend Stanford for a graduate degree in electrical engineering. She has worked at Qualcomm, Broadcom and ZS Associates and was part of the executive team in two startups. At Haas, she is heavily involved with many entrepreneurial and VC organizations, working with prominent Berkeley companies and investors. Her hope was to recruit for VC in the summer, and she has been working very hard toward that. She has a student visa to study in the United States.
With the signing of Trump's executive order on Friday, she was forced to cancel a trip to Berlin next month for the MBA World Summit, a competitive program she had been accepted to take part in. But an even greater concern for Safari is her summer internship. "I also may not be able to get an internship in the U.S. this summer because my birth country is Iran, and I may be restricted from changing my visa status to be able to work," she explains. If, instead, she goes abroad for an internship, she could be barred from returning.
Another Haas student, a native of Turkey who has made past trips to visit extended family in Syria, is concerned that the executive order might prevent him from participating in the International Business Development consulting course this spring. He is a team lead for a group scheduled to go to Pune, India.
Schools React Swiftly to Condemn Executive Order
From Harvard to Haas and multiple points in between, business schools—and their parent universities—wasted no time in letting their vehement objections to the stunning executive order be known. The University of Michigan was among the first, with President Mark Schlissel issuing a statement on Saturday morning (Jan. 28), pledging that the university would protect the interests of its international community of scholars. "The leadership of the university is committed to protecting the rights and opportunities currently available to all members of our academic community and to do whatever is possible within the law to continue to identify, recruit, support and retain academic talent, at all levels, from around the world," he wrote.
Ross School of Business Dean Scott DeRue, in a message to the community Monday (Jan. 30), called on its members to "Please stand with me for the values and ideals that are essential for a globally diverse and inclusive community." He went on to share that there would be "open discussion" gatherings for people to ask questions and that the school is "working to understand the impact of this executive order on members of our community and will work with them to ensure their safety and well-being, to the extent possible, throughout this period of uncertainty."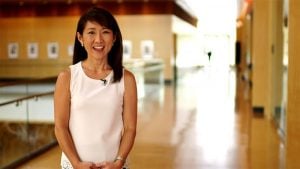 For Ross Admissions Director Soojin Kwon, recent events have really hit home. "My parents moved our family here in the 1970s with the belief that the U.S. was the land of opportunities—especially educational opportunities—for my sister and me," she wrote yesterday (Jan. 31) on her blog, which is normally focused on sharing admissions-related updates. "Michigan Ross is one of the institutions that provided me with those opportunities," she continued. "I'm grateful and proud to be part of a school with a Dean whose commitment to global diversity, equity, and inclusion is clear and unwavering and whose students have mobilized to show support for those affected by the order and hold a discussion featuring immigration lawyers and U-M faculty."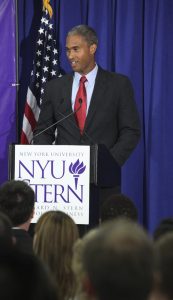 At New York University, a university-wide message from President Andrew Hamilton pledged support to any members of the NYU community who might be subject to the order while also highlighting the risk they would be taking by choosing to travel outside the United States. It added that the university has also arranged special informational sessions for anyone potentially affected with Law School faculty who specialize in immigration, as well as with administrators from the school's global programs.
Echoing the university's message, NYU Stern School of Business Dean Peter Henry wrote his own message to the business school community, also adding his personal reaction as an immigrant. "As President Hamilton so eloquently stated, the order and its immediate impact have left many of us with heavy hearts and deep concerns for those who are directly or indirectly affected," he wrote. "As an immigrant who was welcomed to this country almost 40 years ago and proudly became a U.S. citizen, it is a particularly sobering time for me."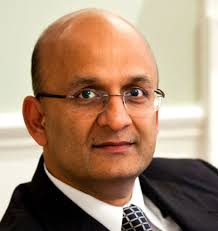 HBS Dean Nitin Nohria, too, shared his deep concerns about the executive order and his pledge to support members of the HBS community who might be impacted by it. "As a first generation-immigrant to America, I have been distressed by the recent executive order restricting (re)entry to the U.S. for citizens of certain countries that is creating so much anxiety and confusion about how the country will deal with the flow of people through its borders," he wrote. He asked for patience as he and his team work to understand the full implications, adding that Harvard's International Office (HIO) and Global Support Services would provide information and resources to international students and scholars about the evolving situation. The HIO issued its own message, underscoring that the executive order restricts entry, including reentry, into the U.S. for citizens and nationals of Iran, Iraq, Libya, Somalia, Sudan, Syria and Yemen on both immigrant (permanent residence or green card) and non-immigrant visas.
"Foreign nationals from those countries should know that until further notice, whatever their visa or green card status, they most likely will not be readmitted into the United States if they travel abroad," read the message. It added that the executive order also allows for the potential addition of countries to the banned list. "Accordingly, until more information becomes available, and given the possibility of a change in government policy that could go into effect immediately, all foreign nationals should carefully assess whether it is worth the risk to travel outside the country."
Global Support Services urged those who do travel abroad to input their itinerary and contact information in the Harvard Travel Registry, which would expedite access to a 24/7 global emergency response program. A hotline number was also provided for anyone who finds him or herself restricted from returning to the United States.
"Harvard Business School, throughout its history, has welcomed students, faculty, and staff from every part of the world," Nohria continued in his message, adding that this international diversity has helped the school thrive. "Let's draw on this diversity in the days and weeks to come to determine what we as a community can do to make sure our voices and viewpoints are heard, and to support one another during difficult times."
Meanwhile, at the University of Pennsylvania's Wharton School, a relatively timidly worded message to the community from Provost Vince Price and other top officials issued on Saturday morning (Jan. 28) drew criticism from some students and alumni for not being strong enough. "You need to do more. This is a content-free post poorly designed to lull the 'liberal' Penn 'community' into feeling good about itself for 'making a statement' that in reality makes no commitments or promises to students, faculty, staff, and their families affected by this order," read a Facebook comment from Penn student Rachel Stewart. "Much more proud of my Michigan Degree than my Penn Degree today," chimed in Wharton graduate Kevin Barlow (MBA '15). "This is a weak statement. I believe we are past the point of monitoring…"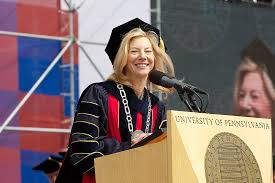 But speaking at a rally Monday afternoon (Jan. 30) on Penn's College Green, President Amy Gutman—the daughter of a Jewish immigrant who fled Nazi Germany—pulled no punches, delivering a fiery address that made it very clear how she felt. Calling the executive order "injurious to our work and inimical to our values," she decried the damage it had already inflicted on students and colleagues as "undeniable and indefensible." "This order will weaken the promise of educational opportunity, intellectual discovery and global engagement that so distinguishes American universities," she continued.
Wharton Dean Geoffrey Garrett, meanwhile, took to Twitter to express his support for Gutman's criticism of the ban.
As a migrant myself, and as @Wharton dean, I support @Penn President Gutmann's criticism of #Trump #immigrationban https://t.co/Np9IsZxA7j

— Geoffrey Garrett (@garrett_geoff) January 31, 2017