In this edition of MBA Applicant Spotlight, we catch up with Michael Sahm, a healthcare professional who submitted half a dozen business school applications and found success at Chicago Booth, Northwestern / Kellogg, Berkeley / Haas, and Arizona / Carey.
Sahm has worked in the healthcare industry for seven years, first as a management consultant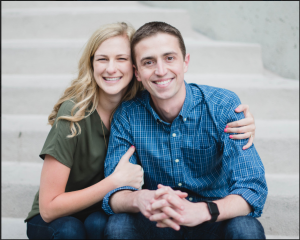 and now at Tenet Healthcare, one of America's largest healthcare providers. He really enjoys the healthcare space and hopes to explore career opportunities in healthcare venture finance or healthcare tech after business school. As an undergraduate, he earned his bachelor's degree in business administration from the University of Southern California, where he was a Dean's Scholar.
Where did you apply?  What were the results?
I applied to six MBA programs—HBS, Stanford GSB, Chicago Booth, Kellogg, Berkeley Haas, and Arizona State. I was rejected at HBS and Stanford (no interviews) and accepted to Booth, Kellogg, Berkeley, and ASU.
It was a difficult decision, but ultimately I decided to attend Berkeley for a few different reasons. My fiancée and I have strong ties to the West Coast and likely want to be here long-term. I was also advised by a number of professionals in my target industries that Berkeley would be advantageous for career and recruiting opportunities. Finally, I really liked each school but felt more of a cultural connection with the Berkeley faculty, students, and incoming class when I visited. The program has a very unique sense of community that I'm excited to join.
Which part of the application process did you put off the most?
Definitely the essays. In the early stages, I focused primarily on the GMAT and identifying the right programs to apply to and underestimated how much time I would spend on the essays down the stretch.
What helped you the most during the application process?
I would say time management. In retrospect, six applications were probably too many, and juggling the GMAT, essays, recommendations, and applications on top of working full-time is a lot. Fortunately, I never felt rushed at any point. I had four months to study for the GMAT, which let me space out my studying since I knew I would not be able to "cram" during a busy time at work. I also decided against rushing my applications for Round 1 and submitted all of my applications during Round 2, so I was able to put my best foot forward for each application. If your schedule and application timeframe allows plenty of time for each step of the process, I would encourage you to take it and not rush anything.
Which school's application was the most fun to complete?
I liked the essays for Berkeley and Booth. Berkeley's questions made it clear that they are really interested in finding out who you are, not simply what you have accomplished. Booth's was very open-ended and allowed you to take it in whatever direction you wanted. I really enjoyed writing both.
How much time did you give yourself to complete your applications? Do you wish you'd allowed more?
A lot! I started studying for the GMAT in April, took the test at the end of August, and worked on my applications from October through December. In retrospect, I wish I had started the whole process three months earlier so I could have comfortably made the Round 1 deadlines, but I am glad I spaced the process out and gave myself time to do my best work on each.
If you could go back in time and provide yourself with one piece of advice before applying, what would it be?
Just to relax and try to enjoy it. The admissions process is a roll of the dice, and none of us know exactly what the admissions committees are looking for. Do your best, be authentic, and trust that you can get anywhere you want to in your career and your life from any of the top programs.
If you get accepted/got accepted to your first-choice school, who will/did you share the news with first?
My fiancée. Where I go to business school affects her just as much as it affects me, so I let her know right away on each school.
Congratulations, Michael!
You can be a part of MBA Applicant Spotlight, too! Simply email [email protected] to introduce yourself and get started. 
For other MBA applicants' stories, see more below: