Millennials have developed something of a reputation as job-hoppers—sticking it out for just a year or two with one employer before exploring a new opportunity somewhere else. A 2016 LinkedIn survey bore this out, revealing that the number of companies people worked for in the five years after graduating from college has nearly doubled over the past 20 years. Not only that, the number of companies people work for five to 10 years after graduating has been on the rise as well.
One reason could be a lack of engagement at work. A 2016 Gallup report reveals that a whopping 71 percent of millennials say they are either not engaged or actively disengaged in their jobs. Sixty percent say they are open to different job opportunities, and only 50 percent plan to be with their company a year from now.
This restlessness and propensity for change comes at a cost to employers—$30.5 billion annually for the U.S. economy, Gallup estimates. Which amounts to plenty of incentive for companies to figure out a way to boost employee retention and slash hiring costs.
Enter Twine. A startup founded by Joseph Quan and Nikhil Srivastava—second-year MBA students at the University of Pennsylvania's Wharton School—Twine uses proprietary algorithms to help top companies match internal employees with open roles within their organization. Employees see options to grow their careers within a single company, and companies are able to hire efficiently from within, saving time, money, and institutional knowledge.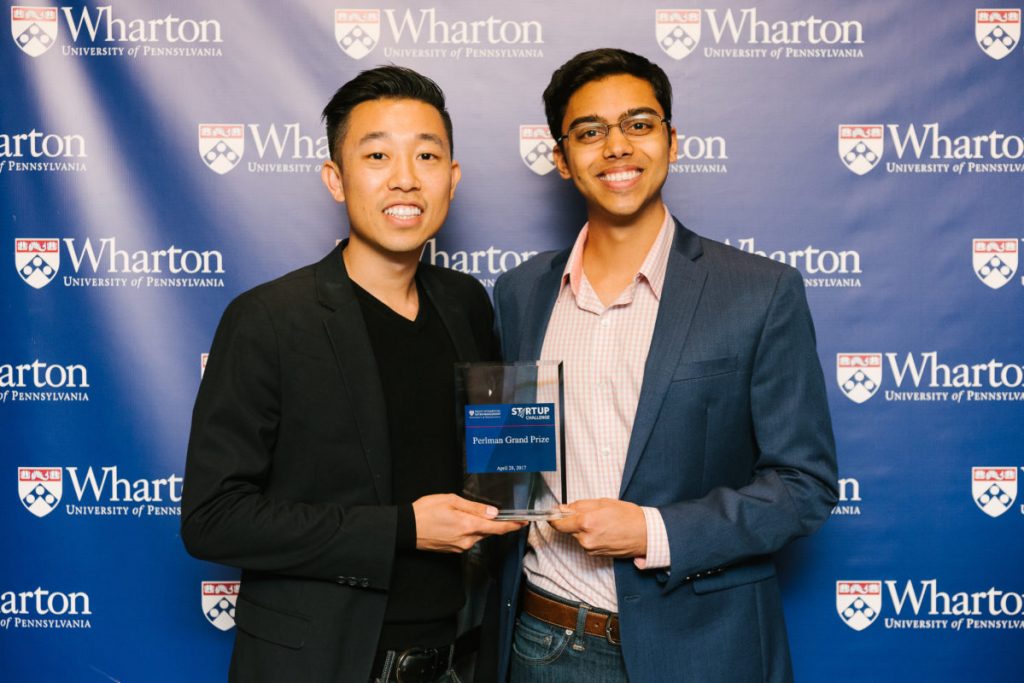 And it's resonating with people. Twine took top honors at Wharton's inaugural Startup Challenge last month, claiming the $30,000 Perlman Grand Prize plus another $15,000 in legal, accounting, and strategy services. It has also signed its first major enterprise client—Nielsen—and is in talks with several others. As their classmates prepare to head off to jobs at consulting firms and i-banks, Quan and Srivastava are going all in—full time—with their venture.
Wharton Revamps Its Marquee Entrepreneurship Competition
This year, Wharton put a new spin on the storied entrepreneurship contest that has spawned such hits as eyewear revolutionizing Warby Parker, leading Brazilian baby e-commerce site Baby.com.br, and drug R&D company Integral Molecular. In what it dubbed "version 2.0" of the Wharton Business Plan Competition, the inaugural Startup Challenge featured a fast-paced, "Shark Tank"–style competition that whittled 29 semifinalists down to eight finalist teams in the course of a single morning.
The surviving teams then spent the April 28th afternoon pitching to a live audience and a tough panel of accomplished alumni judges. These "sharks" included ExamWorks Group founder Richard Perlman, Jet.com Founder Marc Lore (now president and CEO of Walmart U.S. E-Commerce); Karlin Asset Management Co-Founder David Cohen, Dreamit Ventures Chief Investment Officer Karen Griffith Gryga, Golden Seeds Managing Director Carol Curley, and University City Science Center President and CEO Stephen Tang.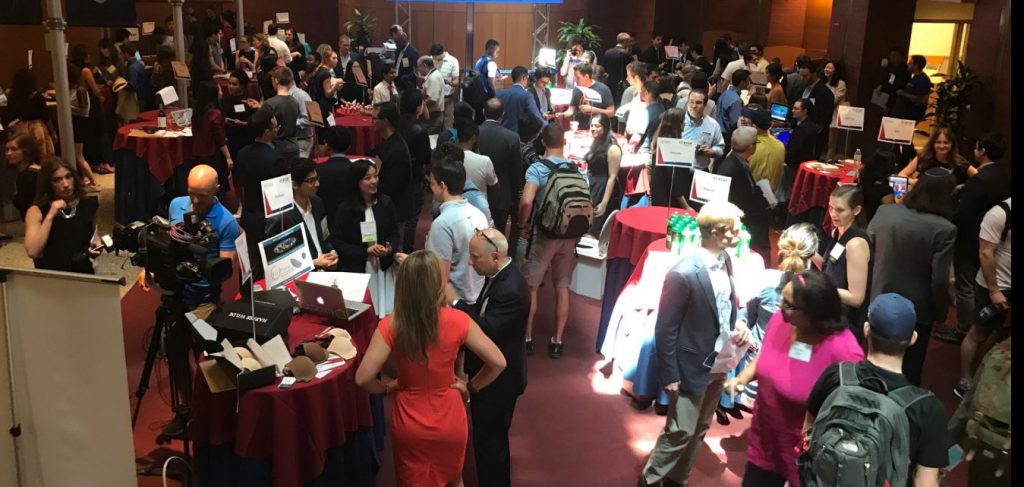 In addition to the Startup Challenge—in which Twine and its competitors each had 10 minutes to present their ideas to an auditorium full of people and field tough questions from the judges—the day also included a Startup Showcase assembling the best student ventures from across Penn in the Huntsman Hall atrium. This gave dozens of student teams the chance to demo their ideas with the investors and alumni in attendance. At points the space was so packed that it was hard to move.
Ideas on display ranged from Pinch, an on-demand spice dispenser that ensures freshness for discerning chefs, to Splaced, which calls itself the Airbnb of commercial space and connects people in need of on-demand, affordable space by the hour with underutilized space at restaurants and hotels. Teams—many of them interdisciplinary—were made up of students drawn from across the University of Pennsylvania, including Wharton, the School of Engineering and Applied Science, and the School of Design. One $10,000 prize was earmarked for the best undergraduate team. It went to Ride Health, for its software solution to improve transportation for patients.
Another new twist this year were actual elevator pitches—student entrepreneurs stepped into an elevator, where they had a minute to try to sell alumni investors on their ideas. The Penn Wharton Innovation Fund also this year funded a new $10,000 Innovation Award. It went to Neuroflow, a digital health solution headed by Wharton second-year MBA student and veteran Chris Molaro that uses real-time biometric data to measure stress in an effort improve mental health treatments and outcomes for PTSD patients, among others. The $3,000 Michaelson People's Choice Award and $2,000 Crowd Favorite Award—decided by votes cast both by in-person attendees and those who streamed online—went respectively to Splaced and VisiPlate, a tiny drainage implant that helps reduce intraocular pressure to prevent blindness caused by glaucoma. In all, total prizes awarded topped $135,000.
Wharton Entrepreneurial Offerings, Ecosystem Expanding Rapidly
Wharton has been steadily adding to its entrepreneurship offerings for several years now. VIP-Xcelerate, a new invite-only, four-month accelerator program, provides co-working space, access to workshops, and group advising for student ventures that are ready to launch. A Summer Venture Award provides financial support to students looking to build out their business ideas in lieu of a traditional summer internship. The school's campus in San Francisco affords MBA students the opportunity to spend a semester in the heart of Silicon Valley. And the Penn Wharton Innovation Fund, endowed by Wharton alumnus Alberto Vitale (WG'59) to serve as "a catalyst to stimulate innovation at the school and to surface the brainpower of its students," has awarded more than $540,000 to 210 ventures.
Along the way, the larger Penn Wharton entrepreneurial ecosystem has also only grown, giving students access to investor dollars and other support from the Dorm Room Fund, DreamIt Ventures, Ben Franklin Technology Partners, the University City Science Center, and others. The growth of the newly coined Startup Challenge itself, which has expanded in both size and scope in the 19 years since its launch, mirrors the growth of this ecosystem.
Entrepreneurship Not Always a Top Draw, But Omnipresent When Student Arrive
Students seem very appreciative of the resources—even if many say they weren't what drew them to Wharton, and they don't plan to pursue their ventures full time straight out of school. "I didn't come to business school to start a business," says Wharton second-year MBA student Renata Aráuz-DeStefano, whose business, Mwayi, brings customized, handmade clothing in vibrant African prints to U.S. consumers while providing training and jobs to Malawi women. After successfully recruiting for a full-time banking role in New York after graduation, she's had time left over to devote to her social impact venture. "This has been my second-year baby," she says.
Pinch's co-founders, second-year Wharton MBA students Sarah Budhiman and Dylan Hooe, also only fell into entrepreneurship once they got to Wharton. Avid amateur chefs, they were swept up in the entrepreneurial spirit that surrounded them at school and saw an opportunity to address a pain point they'd each encountered in their cooking, namely spices past their prime. They will both start full-time jobs in the fall but plan to continue developing Pinch in their time outside of work.
Twine's Quan also says he didn't come to Wharton for entrepreneurship. "A lot of it was actually Wharton's expertise around analytics. Wharton is fundamentally a people analytics– and customer analytics–focused school—arguably the most quantitative school out there," he says. Access to a base of research from core professors who are leaders in their respective fields—including Adam Grant, Peter Fader, and Cade Massey—was also instrumental, he says. And Twine's first big client, Nielsen, came out of a serendipitous meeting at Wharton's People Analytics Conference.
That said, the resources available to him as an entrepreneur have been huge. Twine is a three-time winner of the Penn Wharton Innovation Fund and a member of VIP-Xcelerate. And then there is the Startup Challenge itself. "Coming in, the Penn Wharton Startup Challenge is the marquee competition on campus," Quan says. "It has such an allure and brings some of the biggest names from the community out." Leaving aside the $45,000 in prize money, the Twine team also benefitted from working alongside the other talented finalist teams, in-bound media opportunities, and the opportunity to build relationships with the judges, he says. "Getting in front of Marc Lore, Richard Perlman—having that access and being able to put our business venture in front of them and get their advice on how we go to market—that was really powerful."
According to Wharton second-year MBA student Divinity Matovu, who was drawn to the school in part for the support it offers entrepreneurs, Wharton's efforts to bolster its entrepreneurship offerings has so far outpaced demand. "There are a lot of resources being invested by the school and not a lot of people taking advantage of them relative to the class size," she says. The result is a windfall for those who do come to school with an entrepreneurial path in mind—and for those who catch the bug while there. "It's like a buffet," she says.
Until word gets out…
For more on the winners of the recent Penn Wharton Startup Challenge, click here.