Rodrigo Malta, a native of Brazil, moved to the United States for high school and college and ultimately graduated from the McCombs School of Business full-time MBA program in 2007. While a student at McCombs, he was highly involved in admissions activities, and after graduation he remained in Austin, accepting a marketing position with Dell.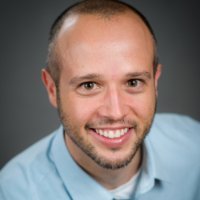 A little over a year later, when then-Director of MBA Admissions Tina Mabley contacted him about a job opening with her team—as associate director of admissions focused on diversity recruiting—he jumped at the chance to return to campus and work on something he was really passionate about. Later, when Mabley was promoted to assistant dean for the full-time MBA program, Malta applied for and got the admissions director's position in 2010.
Prospective applicants may be happy to learn that Malta understands their position on such a personal level. This empathy might also be why he's so forthcoming with useful tips and advice. Read on to learn what he has to share—including exciting plans for the new home of the Texas MBA, the many experiential learning opportunities that complement classroom time, and more.
Clear Admit: What's the single most exciting development, change, or event happening at McCombs this coming year?
Rodrigo Malta: It's a really big and exciting development to move into our new building: Rowling Hall. It's going to be the new home for our MBA program within the UT campus, and it's a great way to ring in the New Year. It will be open for business in Spring 2018.
Right now, McCombs is comprised of two buildings: the main academic building, which we share with the undergraduate students, and the conference center and hotel on the edge of campus. The new building is going to be connected to the school's Executive Center and Hotel, and it's going to be a really amazing structure with a ton of space for collaboration—making sure that those spontaneous connections happen where our students interact with other graduate students and alumni, etc.
There's a lot of use of glass in Rowling Hall. The idea is for people to feel connected and to give visibility to everything that happens in the school. On the ground floor of the new building, you're going to have a showcase of a lot of our research centers within the business school. There will also be many different types of classrooms, a ton of study rooms and collaboration space, space for an incubator (for businesses from some of our graduates), a café, etc.
The idea is that Rowling Hall becomes a gateway between the university and the city of Austin. With that community space, we want to have the community of Austin, other graduate students, and more to interact with our MBAs.
CA: What is the one area of your program that you wish applicants knew more about?
RM: I always like to highlight our Fellows Programs. More than 50 percent of our full-time incoming students self-identify as career-switchers. The Fellows Programs are great experiential opportunities for students to put their knowledge into action and to put something on their resume that signals that career switch.
We have more than over seven Fellows Programs in different industries and functional areas. The way that they work is that there is usually an academic component (in the classroom with a group of students going deep into a particular area) and an experiential learning piece, which sees the students working with a company or an organization to put into practice what they're learning in the classroom.
One program I'd like to highlight is the Venture Fellows program. In this program, 20 or so students take a class about venture capital (VC) and, while they're taking that class during their second semester, they also intern at a VC firm here in Austin. The students work hand-in-hand with folks in the VC world, evaluating business plans, advising VC firms, and learning hands-on. With the VC world being a world of connections, it's a great way for our students to get plugged into Austin as well.
CA: Walk us through the life of an application in your office from an operational standpoint. What happens between the time an applicant clicks "submit" and the time the committee offers a final decision (e.g. how many "reads" does it get, how long is each "read," who reads it, does the committee convene to discuss it as a group, etc.).
RM: At McCombs, we have three rounds. If an applicant submits their application a month before their round, we're not going to look at that application until after that round deadline has passed. We won't review any application for the round until the application deadline. If they submit a month early, it won't be reviewed until after the round closes. So, we recommend that students make sure to use all the time they need before hitting submit.
Once they hit the submit button and that deadline passes, we usually do an overview read of the applicant files with all hands on deck. Several of us take a look at the files and make the initial interview decision. We usually divide the applicants by 'Yes,' 'Maybe,' and 'No.' We try to release as many of the 'Yes' responses as soon as possible to give the applicants plenty of time to interview, and while the applicants that are invited to interview are getting ready for interviews, the admissions team is reading more applications.
We usually do the application reads from home, so that the admissions team can really focus on being immersed in the applications. Three to four weeks before the decision release for that particular round, we start to meet as a committee. We bring everyone together, lock ourselves in a room, and go through a discussion of all of the applicants. It's also during that discussion that we talk about possible scholarship awards. That way when an applicant receives an admissions decision from McCombs they also receive a scholarship decision at the same time.
That admissions committee period is a very intense three to four weeks.
CA: How does your team approach the essay portion of the application specifically? What are you looking for as you read the essays? Are there common mistakes that applicants should try to avoid? One key thing they should keep in mind as they sit down to write them?
RM: First and foremost, we're always looking for the applicant to answer the essay prompt. This is my biggest pet peeve and it seems to be something that is easily solved. Whenever you're submitting an essay response to the prompt, make sure you're answering the question being asked.
We understand that applicants are exploring a lot of different schools and applying to a lot of different programs, which they should be because you want to have options, but during the application process the essay is the main vehicle available for you to speak to us in your own voice and let us know why the MBA program is right for you. You don't want to lose or mess up this opportunity. A lot of the essays from McCombs revolve around, "Why a Texas MBA?" and "Why UT specifically?" We want to know what you think. One of the common mistakes I see is applicants trying to repackage an essay from another school and it ends up not answering the question being asked or being so generic that it doesn't really offer any value.
We also have a unique essay where we give the applicant the option to choose between writing an essay or submitting a video answer to the prompt. I always tell candidates that we really don't prefer one medium to another. It's up to the applicant to pick the medium they're most comfortable with. The whole genesis of the video essay was to give applicants more ways to put their best first foot forward.
Overall, close to 30 percent of our applicant pool chooses to do a video, so the majority are still writing essays. And, for the videos, we see a range of production values. There is no difference between admit rates when looking at written versus video or high production values versus something that you do with your iPhone camera. I enjoy any essay response that is done well.
CA: Is there anything else you'd like to share about McCombs or the application process?
RM: We have several UT and UT MBA alums in our admissions student services and career teams. We bleed Burnt Orange. You can never tell us enough about how you want to go to school here and why. That "why" piece is really important. You should demonstrate the research you do about why McCombs is the right school for you. It's something that we are looking extra hard to see.