Northwestern's Kellogg School of Management last week released a profile of its incoming Class of 2019, and Harvard Business School (HBS) earlier this summer released its own preliminary Class of 2019 profile. (The Boston school notes there could be subtle shifts come late August when the final class matriculates.) A look at both reveals that this past admissions cycle was a competitive one with few major shifts from the year before. It also shows some striking similarities between the incoming class compositions at the two schools.
Application Volume Increases
HBS clearly outperformed Kellogg in terms of application volume. At HBS, applications rose from 9,759 in 2015-2016 to 10,351 in 2016-2017, a 6 percent increase. The school maintained its stringent 11 percent acceptance rate, second only to Stanford's, which has historically hovered around the 6-percent mark. Total enrollment this year is 941, down from 942 last year. According to the school, yield this year was 91 percent, which means more than nine of 10 accepted students decided to enroll.
At Kellogg, applications rose a more modest 1 percent over last year. Melissa Rapp, Kellogg director of admissions, characterized application volume as "steady" in an interview with Clear Admit earlier this summer. The single percentage point increase included slight upticks in domestic applicants as well as those from some international markets, which offset declines in applicants from other international markets, she says. Applications totaled 4,553 last year, which puts this year's number closer to 4,600. Overall, 478 students comprise the incoming class, up from 474 in the Class of 2019.
Kellogg Continues Its GMAT Ascent
But where GMAT scores are concerned, Kellogg outshone HBS. HBS reported a median GMAT score of 730—identical to the two prior years. HBS does not share average GMAT score data, but it does reveal that the middle 80 percent of the class submitted scores between 700 and 770.
Kellogg, which shares average GMAT score, saw this metric rise another four points over last year, to 732. It's the continuation of a multi-year increase for the Evanston school that just five years ago had an average GMAT score of 708. Its meteoric rise places it second only to Stanford Graduate School of Business where this metric is concerned, barring significant jumps at other schools that have not yet reported average scores for the incoming class. (Stanford GSB doesn't release its incoming class profile until later in the fall, but last year's average GMAT score was 737.) Kellogg's overall GMAT score range was between 600 and 780. Last year, the range was 690 to 760—but last year's data only reflects the middle 80 percent range, before Kellogg started reporting full range.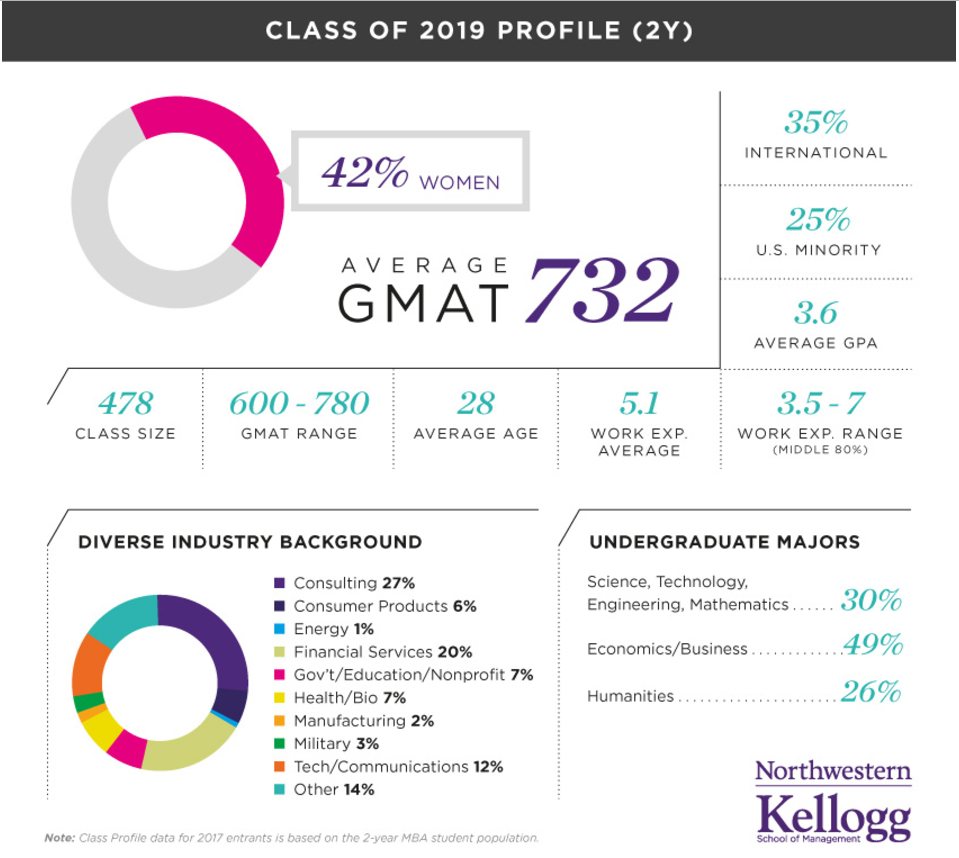 Undergraduate GPA, Major
In terms of average undergraduate GPA, HBS saw slight gains over last year, up to 3.71 from 3.67. At Kellogg, average GPA stayed the same as last year, at 3.6. As for what applicants studied while in college, both schools showed a greater preference for business backgrounds this year than last. At HBS, 45 percent of the incoming class majored in business or economics, up from 41 percent the year before. STEM majors were next, at 36 percent, with humanities majors bringing up the rear at just 19 percent. (Last year, STEM majors accounted for 38 percent, humanities majors, 21 percent.) At Kellogg, 49 percent of this year's incoming class majored in business or economics, up from 45 percent of the previous class. STEM majors, meanwhile, made up 30 percent (up from 29 percent the year before), and humanities majors rounded out the class, at 26 percent (compared to 28 percent last year).
Class Diversity Similar at Both Schools
In terms of class diversity, both Kellogg and HBS will welcome incoming classes that are 42 percent women, down slightly from 43 percent at HBS and up slightly from 41 percent at Kellogg. Forty-three percent has thus far proven the high-water mark at both institutions.
At HBS, 35 percent of the class is international, and 26 percent belongs to U.S. ethnic minorities—mirroring last year's stats. Kellogg's incoming class is also 35 percent international, though U.S. minorities are 25 percent, a percentage point decline since last year. Still, Kellogg notes that this year's class is among the school's most diverse ever.
At HBS, the incoming class counts students from 70 countries, though 69 percent of students are from North America and 65 percent are from the United States. Students from Asia make up 14 percent of the class, with Europeans comprising another 10 percent. Student from Central and South America make up another 4 percent of the class, and 2 percent—or 16 students—hail from Africa.
Varied Professional Experience
Both schools tout the varied professional experience represented by the incoming class. At HBS, those from a consulting background make up 16 percent of the class, followed closely by venture capital and private equity, which each comprise another 15 percent. The financial services category makes up 11 percent, followed by government/education/nonprofit, healthcare/biotech, and other services (each at 7 percent); consumer products and energy (6 percent each), and finally manufacturing and military (each at 5 percent). HBS shared that the average age of those in the incoming class is 27, though no details about average years of work experience were made available.
HBS Touts Its Diversity in Video Entitled "Mosaic of Perspectives"
Kellogg, meanwhile, shows a greater predilection toward applicants from a consulting background, who make up 27 percent of this year's incoming class. Applicants who have worked in financial services follow, at 20 percent; "other" makes up 14 percent, and those from a tech/communications background make up 12 percent. Other less represented backgrounds include government/education/nonprofit and healthcare/bio (each 7 percent), consumer products (6 percent), military (3 percent), manufacturing (2 percent), and energy (1 percent). Average work experience at Kellogg this year is 5.1 years, with 80 percent of the class having between 3.5 and 7 years. The average age of the incoming class is 28.
Rapp expressed great enthusiasm about both the diversity and high quality of the group of students who are just now arriving on campus, noting that theirs will be the first class that will get to enjoy Kellogg's gorgeous new Global Hub for their entire time in business school. "As we do every year, we looked for leaders that are focused on collaborating to create impact and lasting value wherever they go—before Kellogg, during their time at Kellogg, and in the future," she said. "Our comprehensive approach to admissions enables us to attract an incredibly well-rounded group of students to Kellogg. The quality of the applicant pool has increased this year, and the quality of our accepted students is commensurate with that."
Chad Losee, HBS managing director of MBA admissions and financial aid, shared fewer words but no less enthusiasm. "So hard to capture the talent and diversity of perspectives in this group. They are amazing!" he wrote on his Director's Blog.