Vikram Gulati, NYU Stern MBA Class of 2019
Age: 28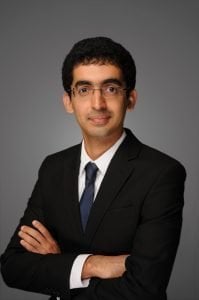 Hometown: Bangalore, India
Undergraduate Institution and Major: National Institute of Technology, Karnataka; electronics and communication engineering
Pre-MBA Work Experience: Five years in corporate banking at Citibank India
Why business school? Why now? I wanted to get an international qualification that would a) allow me to work at a global financial hub and b) allow me to switch into other areas in finance like investment banking/investment management/private equity/venture capital.
Why NYU Stern? What factors figured most prominently into your decision of where to attend? NYU Stern is among the best business schools in the world for finance and enjoys a pedigree that's second to none. Additionally, the NYC location makes it so much easier to connect with the industry. Most prominent factors—Stern's reputation for finance, location, and alumni base.
What do you think is your most valuable or differentiating contribution to the Class of 2019? I come with five years of experience in a fast-changing sector of a large emerging market (the banking sector in India). The sheer amount of regulatory, technological, and process changes that have occurred in the past five years in India have shaped the way I think and work at problems. I believe that this experience and the skills I have developed because of it make me a strong value-add to the Class of 2019.
Fun fact that didn't get included on your application? I love hiking in the Himalayas—enough to keep going back every chance I get, much to the annoyance of my family/significant other as it's not the safest of past-times, and I'm often without communication for weeks at a stretch.
Post-MBA career interests? Finance—either investment banking, investment management/research, or private equity/venture capital.
Advice to current prospective applicants:
  –One thing you would absolutely do again as part of your application process? Interview early, even though you need to fly to New York to do so. It's completely worth it.
–One thing you would change or do differently? Start earlier in the application cycle. I feel as if I underestimated the amount of work it takes to complete one application.
–Part you would have skipped if you could—and what helped you get through it? I can't think of anything! All components of the application were important to me.
Greatest highlight so far at NYU Stern? LAUNCH, NYU Stern's MBA orientation—the whole experience, the energy, and how friendly my classmates are. I hope it stays that way!
One thing about NYU Stern that you didn't expect before arriving? How friendly and approachable everyone seems to be. I'm new to NYC, and I've gotten a lot of cool tips and tricks to help me navigate through living here.
Thing you are most anxious about in your first year? The recruiting—whether I can manage to get a role that I am happy with.
Thing you are most excited about in your first year? The learning—from my courses, my peers, the MBA2s, the faculty, the projects, etc.