Sahil Joshi, MIT Sloan MBA Class of 2019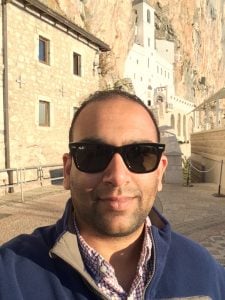 Age: 26
Hometown: Lynnfield, Massachusetts
Undergraduate Institution and Major: Dartmouth College, government
Pre-MBA Work Experience: Management consulting, 3.5 years
Why business school? Why now? In my sophomore year of high school, my father's diplomatic posting yanked me from suburban Massachusetts to Juarez, a Mexican border town. Life in Juarez exposed me to the human consequences of economic opportunity gaps, including the heated political landscape around immigration and conflict related to the drug trade. These experiences motivated me to ask: how can private sector work with the public and social sectors to drive and promote economic opportunity? As a management consultant, I was fortunate to be able to explore this in a wide range of environments.
After several projects that took me from the White House to the Middle East (and many places in between*), I want to step back and reflect on my experiences to best determine how to continue to drive change. I realized that to be increasingly effective, I would need to further develop several skillsets, including knowledge of business fundamentals, an entrepreneurial mindset, and an understanding of how working in global environments can shape efforts.
*Some of these locations include the Oklahoma State Capitol, the Santa Monica boardwalk, the Seattle Aquarium, an Austin Wu-Tang Clan concert, and perhaps the best karaoke dive bar in Midtown.
Why MIT Sloan? What factors figured most prominently into your decision of where to attend? After evaluating the schools that I was admitted to along with a large number of variables, talking to several close mentors, and trying to figure out what my "gut" was saying, two things really stood out: the beaver mascot and fictional MIT alumni like Tony Stark.
Joking aside, there were actually two (other) factors that really differentiated Sloan from the other programs I was considering. First, I was attracted to MIT's broader focus on finding novel, inter-disciplinary ways to solve the world's grand challenges. Beyond feeling connected with this mission, I was excited about how it translated into a flexible curriculum that encourages students to focus on issues they care about and coursework that encourages integration with the rest of the institute. This made Sloan feel like an incubator in addition to a university.
Additionally, upon meeting current students and my now classmates, I was blown away by how every person I spoke with had something they were passionate about. Conversations go far beyond the excitement of getting into a top program and a focus on short-term career goals—I found that Sloanies were interested in sharing long-term aspirations on how they want to make a mark. From AdMIT weekend to the first few weeks of classes, the authenticity and drive of the community made it clear that Sloan would go beyond being a transactional experience and, instead, would be transformational.
What do you think is your most valuable or differentiating contribution to the Class of 2019? Given how amazing my classmates are, this is a really tough question to answer. That said, I think I my most valuable contribution comes from my ability to connect with people from a wide range of backgrounds. After living abroad, attending an international boarding school where 80 nationalities were represented in a student body consisting of 200 students, and working in diverse cultural environments, I have learned about building relationships, communicating stories, and creating community.
Fun fact that didn't get included on your application? I really enjoy singing karaoke. I do not go very often and I am not particularly good, but the highlight of my karaoke career involved convincing one of the Hanson brothers (of 90s Pop 'MMMBop' fame) to join me in a stunning rendition of 'Don't Stop Believing' in a Philadelphia dive bar.
Post-MBA career interests? I am interested in exploring how the private sector can create economic opportunity, including the role disruptive technologies can play and how large companies can create local impact. Therefore, I am thinking about exploring internship opportunities in technology, consumer product goods, venture capital, and entrepreneurship.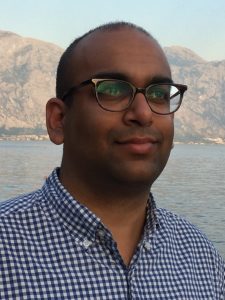 Advice to current prospective applicants:
  –One thing you would absolutely do again as part of your application process? I would definitely continue to stay weird. I found that it was very easy to get caught up in the noise of the application process. Therefore, it was helpful to step back and truly understand who I am, what I value, and what makes me unique. This introspection allowed me to both navigate specific parts of the application process (especially essay writing), while also helping me retain confidence overall.
  –One thing you would change or do differently? The one thing I would have done differently is remembering that the application process is very individual. Everyone—from friends and mentors to published admissions experts—has a perspective on how much time to spend studying for the GMAT, how to approach essays, and what programs to select. If I were to go through the process again, I would filter through these opinions to determine what resonated with me and my strengths.
  –Part you would have skipped if you could—and what helped you get through it? I actually do not think I would skip any part of the process. That said, the toughest parts for me were time management and getting started. On the time management front, I realized that I needed to prioritize application writing, actively setting aside work time and setting clear goals. On getting started, I learned that it is good to just get thoughts on paper as soon as possible, rather than trying to craft the perfect essay on my first try.
Greatest highlight so far at MIT Sloan? This is cliché but the people have been the highlight. While it has only been a couple weeks, I feel like I have known many of my classmates for much longer. From a pre-orientation trip to Lisbon to constant social events with my cohort, the welcoming, inclusive nature of the Sloan community has already made me feel at home. Everyone is approachable, engaging, and interested in learning from one another.
One thing about MIT Sloan that you didn't expect before arriving? I honestly did not expect the community to be as strong as advertised. Every school's admission site highlights its student body as collaborative, passionate, and focused on improving the world, so I did not fully know what to expect upon starting at Sloan. On the first day of orientation, Sloan's leadership explicitly highlighted the importance of "mission over market." Later in the week, the entire incoming class has an offsite, outdoor team-building day. Teams are asked to compete against one another for "points." Instead of deciding to compete against one another, teams decided to focus on making sure everyone had the opportunity to have a good experience, prioritizing relationships over "winning" an arbitrary game. The mentalities illustrated in these small examples have permeated almost every interaction—seeing Sloan's culture at work as early and often as I have has been truly inspiring.
Thing you are most anxious about in your first year? This one is easy: I am anxious about it ending. While we have just finished the first week, I know two years will not be nearly enough to take advantage of all the amazing resources, intellectually stimulating classes, and amazing relationships. To this effect, I am trying to prioritize, learn from the experience of my second years, and soak in every moment by living in the present.
Thing you are most excited about in your first year? I am excited to build strong, authentic relationships with my fellow Sloanies, get exposure to the cutting-edge approaches and technologies being developed in MIT and Sloan's research centers (including the Martin Trust Center and the Media Lab), jumping headfirst into the institute's entrepreneurial ecosystem, and getting the hands-on experience that Sloan is known for. On top of this, I am excited for some new adventures and unexpected tangents that will help expose me to new ideas and grow.