Emily McLaughlin, MIT Sloan MBA Class of 2019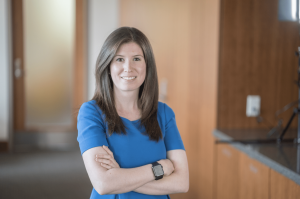 Age: 27
Hometown: Brookline, MA
Undergraduate Institution and Major: Brown University, political science and English literature
Pre-MBA Work Experience: Political campaigns, 1 year; federal government, U.S. Congress, 2 years; state government, Commonwealth of Massachusetts, 2 years
Why business school? Why now? After initially considering law school, I came to the firm realization that I didn't want to practice law. Instead I wanted to build something of my own and learn how to be the most effective leader I can be within an organization. After gathering a variety of professional experiences in different workplaces—political campaigns, federal and state offices—I knew that I was ready to go back to school and hone my skills to meet more difficult challenges.
Why MIT Sloan? What factors figured most prominently into your decision of where to attend? I knew Sloan was the right fit for me because of the rigorous and advanced technical training that it provides to its students and its world-class entrepreneurial culture. Having held leadership roles on political campaigns and in government, I knew that I wanted an MBA program that would provide me with a powerful technical and analytical skillset. In my opinion, Sloan has the best MBA program for that type of education.
I also knew that I wanted to be in a highly innovative and entrepreneurial culture, where students are encouraged to start their own ventures and are provided with the resources they need to launch and scale them. As someone who wants to start my own company someday, I know there is no better place to be than in the MIT ecosystem.
What do you think is your most valuable or differentiating contribution to the Class of 2019? Although I strongly believe in public service, I understand why many people avoid getting involved. During my time at Sloan, I hope I can convince others to consider thinking about ways to make our government and political process work better for everyone.
Fun fact that didn't get included on your application? Barack Obama was my first follower on Twitter, which might explain my passion for the intersection between government, the political process, and technology.
Post-MBA career interests? I hope to contribute to the "civic technology" space in some way and help redefine the relationship between citizens and the democratic process.
Advice to current prospective applicants:
  –One thing you would absolutely do again as part of your application process? I highly recommend studying for the GMAT/GRE early and getting the test out of the way as quickly as possible. It makes a big difference later when you need to focus all of your attention on your applications and letters of recommendation.
  –One thing you would change or do differently? Don't talk to too many MBAs or read too many blogs (!) Some information is definitely helpful, but keep in mind that every application is unique and you shouldn't make broad assumptions about schools from different admission decisions.
  –Part you would have skipped if you could—and what helped you get through it? Writing your applications is the hardest part of the process. Take the time to reflect on where you've been and where you want to go, and your essays will come much more naturally.
Greatest highlight so far at MIT Sloan? Spending a week in the Canary Islands with my classmates before the start of the semester!
One thing about MIT Sloan that you didn't expect before arriving? I underestimated the degree to which my classmates would be so genuinely interesting and fun to be around. The Sloan community is very diverse, and the people here are so smart yet so humble.
Thing you are most anxious about in your first year? Getting through the core semester while recruiting for my summer internship and attending all of the amazing events across MIT's campus
Thing you are most excited about in your first year? Meeting all of my classmates and learning everything I can from them