Alexander Beltes, MIT Sloan MBA Class of 2019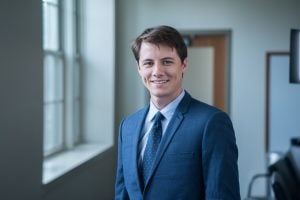 Age: 27
Hometown: Thessaloniki, Greece
Undergraduate Institution and Major: Yale University, double major in mechanical engineering and economics
Pre-MBA Work Experience: 1.5 years working for Cambodia's leading solar energy company and 3.5 years at a boutique economic consulting firm serving the electricity and natural gas industries
Why business school? Why now? As I progressed in my career, I realized there were key organizational, operational, and financial skills that I needed to be successful going forward. I wanted the strategic thinking and management experience necessary to make an impact in the business field I am most interested in: the energy transition from fossil fuels to clean energy technologies.
Why MIT Sloan? What factors figured most prominently into your decision of where to attend? The key factor differentiating Sloan from other business schools for me was Sloan's emphasis on experiential learning opportunities throughout the two-year curriculum. While working for a Cambodian solar company, I managed the process of hosting a team of four MIT Sloan students as part of the Global Entrepreneurship Lab (one of the action learning courses at Sloan). The hosting application process revealed the standards that the Sloan faculty has in place to ensure that the lab will be a meaningful and valuable learning experience for the Sloan students.
Once I got to working closely with the group of four students, seeing them put their business school knowledge into practice reinforced my idea of attending Sloan. They had an infectious enthusiasm for the program, and hearing all the activities with they were involved in on campus was exciting. The experiential learning opportunities combined with the academic opportunities at Sloan in the sustainability space made it my business school of choice.
What do you think is your most valuable or differentiating contribution to the Class of 2019? I bring experience in managing deployment of an innovative technology solution in a developing country, in the context of a social enterprise. I also have experience in working on diverse teams with colleagues from around the world and navigating different cultural and business norms of such teams.
Fun fact that didn't get included on your application? I keep a spreadsheet of all aircraft registration numbers, along with other relevant flight and aircraft information, for every flight I have flown on since 2008 so I can play around with the data.
Post-MBA career interests? Clean energy technology development and project management; energy consulting
Advice to current prospective applicants:
  –One thing you would absolutely do again as part of your application process? Brainstorm and think carefully about what you would like to communicate in your essays before you begin writing. Every essay needs to add new information that isn't just a review or repetition of what is already on your resume or in your recommendation letters, but rather reveals an additional aspect of who you are. Think about what information you would like to add to your application. This process took me a couple of months, where I would just jot down new essay ideas as they came to me.
  –One thing you would change or do differently? As I was outside of the United States, I did not have the opportunity to visit all the schools I was applying to. I felt at a disadvantage in terms of gathering useful information to make my decision for where to apply. I had to rely on reaching out to students and connections and setting up Skype calls to learn more about the MBA experience. I would definitely recommend visiting campuses if you have the opportunity to do so.
  –Part you would have skipped if you could—and what helped you get through it? Time management during the business school application process is key. Test prep, essay writing, and school research cannot all be done at the same time while keeping up with your professional commitments. Setting personal deadlines and goals is vital.
Greatest highlight so far at MIT Sloan? The highlight event so far has been the "Beer game" simulation that took place during our orientation week. The game is designed to reveal the effects of supply chain delays and miscommunication through a three-hour simulation of manufacturing beer. It was a fun and revealing method to help students understand problems within a complex supply chain system.
One thing about MIT Sloan that you didn't expect before arriving? I did not expect the emphasis of our first-semester core curriculum on the "people" side of business, such as political and cultural factors in organizational processes, or the importance of effective communication skills within different teams. Classes emphasizing such skills have been some of the more challenging but more useful I've had so far at Sloan.
Thing you are most anxious about in your first year? I am most anxious about time management and making difficult trade-offs between exciting activities, be they academic, career, or social.
Thing you are most excited about in your first year? The opportunity to be in place that offers so many exciting activities and fascinating people, making it necessary to make difficult trade-offs.