Jariel Bytheway, Yale SOM MBA Class of 2019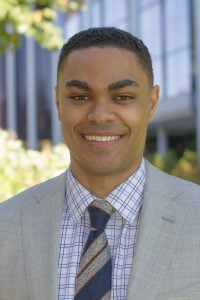 Age: 31
Hometown: Los Angeles, California
Undergraduate Institution and Major: University of California Los Angeles; political science, international relations
Pre-MBA Work Experience: I have seven years of work experience in aerospace and biotech. Most recently, I worked for Google's Verily Life Sciences in legal and corporate strategy. Previously, I worked for Raytheon as a contracts negotiator.
Why business school? Why now? After seven years of work experience, I still had large gaps in my professional skill set that were preventing me from reaching my goals—skills that my education and experience up to that point hadn't yet provided. I knew that business school would greatly close that deficit.
Why Yale SOM? What factors figured most prominently into your decision of where to attend? Authenticity and access. Many people put too much focus on ranking/brand and don't focus enough on if the school is a right fit for them and why. Yale SOM had everything that I was looking for in a school and was authentic—from the students to the administrators. Here you don't have to subscribe to any societal norm; in fact, you're encouraged to be you. Also, I don't feel closed off from the rest of the university. Yale does a great job in actively creating a culture that allows students from different disciplines to interact both in the classroom and socially.
What do you think is your most valuable or differentiating contribution to the Class of 2019? People always seem intrigued when they learn about my professional experiences and ability to have transferred to various roles within each industry with only a bachelor's in political science. I feel that I bring a unique background and wisdom unlike anyone else that adds a different framework to the class.
Fun fact that didn't get included on your application? In a matter of four months, I went from not ever owning a passport to having visited 13 countries; I caught the travel bug bad. I now have visited 23 and am eager to add to the list.
Post-MBA career interests? Long-term, I am looking forward to starting my own business. Not only does SOM have many great resources for this particular goal, but the entire Yale community provides many opportunities for students interested in creating their own venture, allowing for cross-discipline collaboration.
Advice to current prospective applicants:
—One thing you would absolutely do again as part of your application process? Spend the time to get to know the schools well. I visited many schools and spoke to a plethora of current and previous students of all ages to fully assess what would be the best fit for me. Don't forget to take the intangibles into account.
–One thing you would change or do differently? It had been a while since I was in school. Add in not having a quant background, and I could have benefited greatly by taking the time to enroll in extra classes before attending school full-time.
–Part you would have skipped if you could—and what helped you get through it? GMAT. While I ended up with a great score, it didn't come easy at first. If anyone reading this is struggling, keep pushing through. Anyone can do well; you just need the right attitude and focus.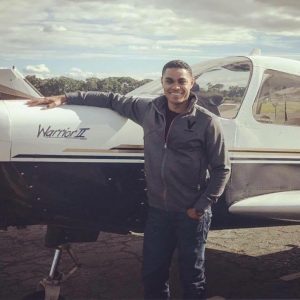 Greatest highlight so far at Yale SOM? Being co-captain with a fellow classmate who's a licensed pilot. We rented a plane and flew ourselves over Connecticut, taking in the awesome views.
One thing about Yale SOM that you didn't expect before arriving? Everyone told me that business school was busy, but I honestly didn't fully believe them; I thought that if I prepared just a little in advance, I'd be fine. The time constraint is real. You end up having to prioritize a lot more than you originally anticipated.
Thing you are most anxious about in your first year? FOMO is real. Accept it and realize that you can't do everything. Besides, you're not really missing out; you're just exchanging the now for another time.
Thing you are most excited about in your first year? To meet new people and learn from them. Business school is such a collaborative environment with so many experiences that expose you to new ideas and concepts. I'm eager to see what else I don't yet know.