Elizabeth Landau, Yale SOM MBA Class of 2019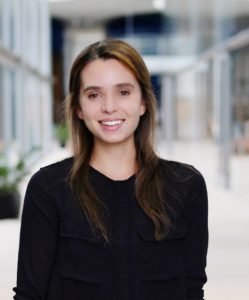 Age: 26
Hometown: New York, NY
Undergraduate Institution and Major: Brown University, American studies
Pre-MBA Work Experience: 3 years at MTV, 1 year at a start-up online bakery
Why business school? Why now? At MTV, I had the opportunity to work on several social impact projects. Requiring collaboration across teams and departments, the campaigns aimed to inform and empower audiences. I loved the work and wanted to be more involved in those kinds of initiatives. But I realized that to be effective I needed to understand more about how different teams within the business function, what drives their goals, and how leaders reconcile their aims. I came to business school to gain that perspective, along with the knowledge and skills I would need to launch similar impact campaigns in the future.
Why Yale SOM? What factors figured most prominently into your decision of where to attend? I was drawn to SOM because of the school's mission of creating business leaders for society and the tight-knit community that fully embraces that idea. Every school has incredibly talented students and professors. But when I visited Yale, I was struck by the commitment to social good. It's central to the curriculum and evident in students' career choices. But more importantly, it's visible in how people treat each other. There's a culture of helping and curiosity that I really appreciate.
What do you think is your most valuable or differentiating contribution to the Class of 2019? Aside from really good reality TV recommendations? Kidding. As someone with a non-traditional business background, I hope I'm able to contribute a unique perspective to discussions, particularly when it comes to the qualitative side of decision-making.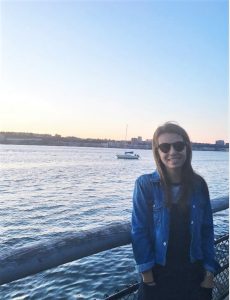 Fun fact that didn't get included on your application? I co-led backpacking trips for high schoolers in Hawaii the summer after I graduated from college.
Post-MBA career interest? Undecided. Something that unites my interests in storytelling and social impact work. I'm also interested in design innovation—figuring out creative solutions to problems.
One of the things I most appreciate about Yale and my classmates is the diverse range of experiences people have. Speaking with peers and going to events hosted by student clubs (Design & Innovation, Media & Entertainment, Marketing, etc.) have been really helpful in thinking about what I want to do and the types of opportunities that exist.
Advice to current prospective applicants:
  –One thing you would absolutely do again as part of your application process?  Ask current students questions about their experiences! They are a great resource—they know the school and they were in your shoes very recently. The students I spoke with were helpful in describing the culture of their program and offering insight into what business school is like in general. Visiting in person also helped me get a sense of things and whether I could envision myself there.
  –One thing you would change or do differently? I would give myself more time to craft essays. I am a procrastinator by nature and found myself submitting close to deadlines, which was stressful. Writing the essays is a worthwhile reflective experience. It forces you to distill what's important to you and why you want to go to business school. You can also learn a lot about a school by the questions they ask. If I were to do it again, I would make it a less condensed experience.
  –Part you would have skipped if you could—and what helped you get through it? Does everyone say the GMAT? Studying and working full-time was tricky. I ended up studying on weekends only. Creating (and sticking to) a schedule, drilling practice problems (rather than reading prep books), and finding a good study spot (with lots of coffee) really helped.
Greatest highlight so far at Yale SOM? During orientation, each learning team (a group of eight or nine who you do a lot of coursework with) goes through a ropes course together. It's goofy and fun, and helps you bond quickly. After figuring out how to get everyone over a 15-foot wall without a ladder or rope, problem sets seem very doable.
One thing about Yale SOM that you didn't expect before arriving? How busy you are! Between classes, clubs, and career and social events, there is a ton going on.
Thing you are most anxious about in your first year? That I'll blink and it will be over! The first quarter already flew by.
Thing you are most excited about in your first year? I'm most excited about continuing to get to know my classmates! At ~340, the class sounds small but actually feels pretty large. There are definitely folks I haven't met. In terms of classes, I'm looking forward to SOM's International Experience—an experiential course that starts at SOM and culminates in a 10-day trip to another country with classmates and a professor. I'm also hoping to get involved with Yale's Center for Customer Insights. They offer groups of students opportunities to work with large companies on research and strategy projects.