Spring has officially sprung, which means that business schools around the country have geared up to host their admitted student welcome events. In doing so, top schools aim to attract the best and brightest by giving them an early look at what their programs and institutions have to offer.
Virtually every school has some sort of welcome event planned—either a single day or an entire weekend in many cases. This profile is a glimpse at just a few of many exciting events taking place around the country next month.
---
Clear Admit's DecisionWeek is brought to you by HBX. HBX brings the dynamism of the Harvard Business School classroom to online learning—preparing participants for the next chapter of their careers. Learn how HBX can prepare you for the MBA classroom.
---
Some of the earliest admitted student events are at Dartmouth's Tuck School of Business, the University of Michigan's Ross School, and UNC Kenan-Flagler, all of which host their welcome events during the first full weekend in April.
Tuck's "Admitted Students Weekend" offers an "introduction to the distinctly personal, connected, and transformative experience" that Tuck provides its students. Tuck's welcome weekend includes a variety of educational and recreational activities with panels, hikes, movies, and small group dinners with current students and faculty.
Ross hosts its annual "Go Blue Rendezvous" and Kenan-Flagler hosts its "MBA Experience Weekend" on April 5th through 7th as well. Both programs offer admitted students a chance to celebrate their acceptance as well as chances to mingle with current students, faculty, and alumni, and learn more about the program ahead of the fall semester.
Additional weekend-long admission events are scheduled later in the month at the University of Pennsylvania's Wharton School, Northwestern's Kellogg School of Management, and Cornell's Johnson School of Management.
Kellogg will host its "Day at Kellogg" event April 21st through 23rd. DAK is co-presented by the business school and Joint Ventures, a student group designed for partners and families of current Kellogg students. The weekend boasts many opportunities for both admitted students and their partners or families to gain information about Kellogg and the Evanston/Chicago area, including many special activities specifically developed for the partners and families of students.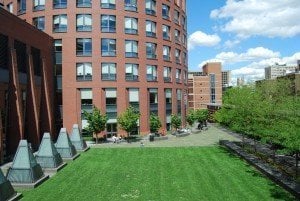 Wharton will host prospective students in Philadelphia for its Welcome Weekend April 20th through 22nd. The lineup of events at Wharton includes a vast array of professional workshops and informational sessions about the program and other financial issues. Included among them are financial planning workshops, team creativity exercises, and academic overviews of available courses in the MBA program. The weekend culminates with the Winter Welcome Celebration on Saturday night and a series of casual brunch events on Sunday morning. The Wharton Welcome Weekend website currently offers a full, detailed schedule of all events.
Johnson, meanwhile, has planned a cornucopia of happenings for both students and families of students with their "Destination Johnson" program, scheduled for April 20th through 22nd at its main campus in Ithaca, NY. The weekend offers "interactive presentations, tours, and social events" and includes some unique opportunities including dinner at a current student's home, faculty-led team activities, and a chance to tour the beautiful campus and surrounding natural beauty of the Ithaca area.
Of particular note during Destination Johnson are the "Immersion Showcases," a two-part offering taking place on Saturday that includes faculty and current students presenting about the Johnson School's unique immersion learning program, designed to provide first-year MBA students with a combination of classroom and practical, hands-on experience.
As part of our Real Humans of the MBA Class of 2019 series, current Johnson first-year MBA student Vinithra Raveendran noted that she definitely would have attended Destination Johnson if she could have. "I wouldn't necessarily do this again if I had the opportunity for a do-over, because I was living in Singapore and flying across the globe was not a feasible option for me," she said. She added that international applicants shouldn't worry if they can't make the trip. "However, my peers who did attend all gave stellar reviews of their experience. If I lived closer or otherwise had the opportunity to visit, I would absolutely take it! The in-person experience would be invaluable in helping you make the decision on whether you want to attend."
When attending these events, you'll want to make the most of your limited time there. Though it may be tiring, try to attend as many sessions and activities as possible. This will give you the most well rounded view of the program and institution and also maximize your potential for meeting people and making new connections.
Wherever you may end up, these events all offer a fun and exciting way to preview your future home!
Please note, this is not an exhaustive list of all upcoming admitted weekends. Because they are invitation only for admitted students, not all schools publicize the events beyond sharing details with students who have been invited to attend. For more on admitted students' weekends that took place last spring, check out this piece from the Clear Admit archives: "April Is Jam-Packed with Admitted Students' Weekends: What You Need to Know."