Along with showers, April also brings dozens of admitted students' weekends at business schools across the country—part of the schools' efforts to convince top candidates to call their campuses home next fall.
Anxious applicants who spent months with their eyes glued to LiveWire in a desperate attempt to foretell their futures are now packing their bags and heading off to meet potential classmates and see what life at Harvard or Stanford or Wharton or any number of other top business schools might really be like. Which means it's now the schools' turn to try to impress.
Indeed, the month of April is jam-packed with admitted students' weekends. And with dozens of schools and only a handful of weekends—one fewer even thanks to where Easter and Passover fell on the calendar this year—the weekends for several schools compete with each other, forcing some admits to pick and choose.
Stern, CBS, Ross, Kenan-Flagler, Tuck and McDonough Kick Things Off
At least seven schools—NYU Stern School of Business, Columbia Business School (CBS), University of Michigan's Ross School, UNC's Kenan-Flagler Business School, Dartmouth's Tuck School of Business, the University of Chicago Booth School and Georgetown's McDonough School—welcomed admitted students to their campuses starting the second weekend in April.
At Stern, the event was called Stern Preview 2017, and it drew together the entire school community to roll out the red carpet. Close to 500 people participated this year, the school reports, including admitted students, alumni, current students, faculty and administrators. Admitted students get to experience Stern culture firsthand through a packed agenda including mock classes with professors, an expo to help them explore their path through business school and beyond, career panels, an alumni brunch and a night out in NYC with current students.
Uptown at CBS, the event was called Columbia Connect II and took place the same early April weekend. (An earlier event, Columbia Connect I, took place in February for Round 1 admits.) These Friday-Saturday events give admits an opportunity to tour campus and meet current students, administrators, faculty, and potential future classmates. There is also student-led programming by affinity groups such as Cluster Q, CBS's LGBTQ group.
"One of the things that really impressed me was the warm feeling I received when at the school," recalls first-year CBS MBA student T.J. Winfrey. "I was also able to make some close friends during the admit weekend who are friends to this day," he continues. "We went through a mock lecture that was really fun and engaging—it really validated my decision and made me completely excited about joining CBS."
Michigan's Ross School also chose early April, April 6th through 8th, for its Go Blue Rendezvous (GBR). At Ross, the weekend included programming showcasing the academic and career opportunities at the school, as well as opportunities for admitted students to meet each other and talk to current students. "It's a favorite weekend for our team and also for current students and alumni," says Ross Director of Admissions Soojin Kwon. "We routinely get alumni who ask to be involved, and this year we had a number of MBA1s arrange their MAP (first-year consulting project) travel so that they could be back for GBR!" Some of Kwon's own favorite events of the weekend are the dinners, one held at Michigan Stadium, or the "Big House" as it's affectionately called, and another at local restaurants in Ann Arbor.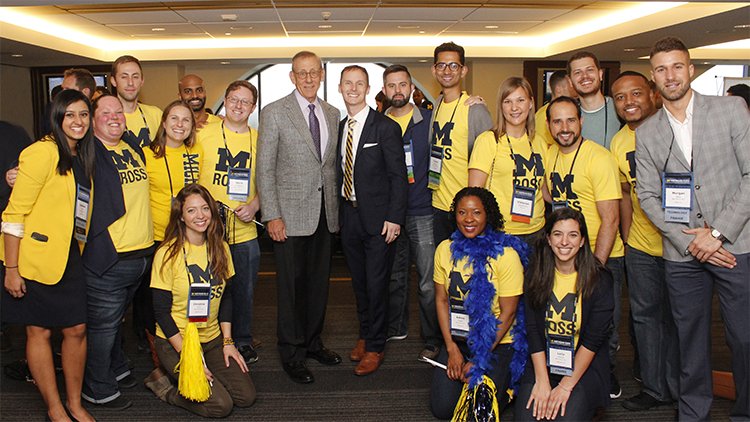 Kenan-Flager hosts a single admit weekend for the full-time MBA program, and this year it also took place April 6th through 8th. Called the UNC Kenan-Flagler Experience Weekend, it offered admitted students opportunities to meet with the school's career counselors for personal sessions, interactive panels for Consortium and underrepresented minority admitted students, an alumni networking event, career panels, and a "concentration fair" allowing students to learn more about the various ways they can tailor their MBA. On Friday, there was a separate event for partners of admitted students hosted by partners' group the Kenan Connection. And throughout the weekend's agenda, small group dinners and brunches offered opportunities for admits to connect with student groups such as the Pride Club, the Military Veterans' Club and Carolina Women in Business. A morning full of student panels discussing all aspects of the MBA program rounded out the last day of the weekend, capped off by a farewell party complete with a Southern-style BBQ lunch.
Like Kenan-Flagler, Tuck hosts just one admitted students' weekend per year, typically in April. This year's took place from April 7th through 9th. Called Admitted Students Weekend, it's designed to be an immersive experience combining informational panels on careers, academics, and life at Tuck, among others, with mock classes and opportunities to connect with fellow admitted students, current students, faculty and staff. Some of the favorite events each year are small group dinners hosted by students and other members of the Tuck community. Also topping the list of faves are outdoor recreation activities, an international lunch where current students prepare and share favorite dishes of their home countries and events scheduled for partners and children of admitted students.
Chicago Booth, meanwhile, calls its admitted students' weekend First Day, since it is the first time Round 2 admitted students officially come together and are welcomed and celebrated by the Booth community. (Another First Day event was held in TK for admitted Round 1 students.) Led and directed by current first- and second-year students, First Day for Round 2 admitted students this year was April 6th through 8th and took place at the school's Harper and Gleacher Centers.
"In addition to exploring all that the city of Chicago has to offer, a differentiating factor of life at Booth is the freedom of choice students experience every day," read communication from the school. "First Day allows admitted students, and their spouses, to discover the flexibility that will be available to them as a Booth students by taking advantage of the opportunity to choose the sessions that are most important to them, and connecting further with students and staff based on their unique interests."
Georgetown's McDonough School of Business also welcomed admitted students April 7th and 8th, the second of three Welcome Weekends it hosts each year. An earlier one, for Round 1 admits, took place in late January, and a 3rd Round Welcome Weekend will take place on May 23rd.