Each week we collect all the MBA news that's fit to print to give you a quick overview of the latest trending topics from top schools around the world.
Here's your quick MBA News You Need digest for the week of March 15, 2018.
Number of International Student Visas Decreases, Due in Part to Immigration Policies
In 2017, 17 percent fewer F-1 student visas were issued than in 2016—78,000 fewer visas overall. For Indian and Chinese students, the decline was even higher, at 28 percent and 24 percent fewer visas respectively. Why the dramatic decrease in U.S. visas issued to foreign students?
In part, it's because of increased competition from schools outside of the United States, but the Trump administration's immigration policies are also playing a significant role. Not only is it more difficult to get a U.S. visa, but students are under stricter scrutiny when they apply. And universities are feeling the change, not just in their classroom makeup but also in their wallets. Read the full article in the Wall Street Journal.
Tuck Hosts Elite Athletes, Olympians, Veterans as Part of Unique "Next Step" Program
For the second year in a row, Dartmouth Tuck will host more than 60 men and women from a wide range of sports and military backgrounds. It's part of the two-week-long Next Step: Transition to Business program. This unique program is designed for military veterans, elite athletes, and Olympians who need help developing the necessary business skills required to make a smooth career transition. Over the course of the program, students complete a rigorous business curriculum including modules on strategy, marketing, communications, and leadership—all taught by Tuck MBA faculty.
Participants also have the opportunity to prepare for their future career in business with resume-writing help, interview skills classes, and networking opportunities. When reflecting on last year's experience, Olympic silver medalist rower Conlin McCabe said: "What I enjoyed the most was how much I was able to absorb in such a short amount of time. It speaks to the quality of professors at Tuck. Not only do they possess this great knowledge of what they're teaching, but they're also passionate about it." (Tuck News)
Stanford Gamifys Executive Education, Could the MBA Be Next?
Stanford Graduate School of Business earlier this month unveiled a new certificate in its Stanford LEAD online executive education program, the Personal Leadership Certificate. It joins an existing LEAD certificate on corporate innovation, now in its third year. To offer these online programs, Stanford uses a very cool virtual campus platform, VirBELA, in which participants design their own avatars and can manipulate them through an online campus that mirrors the actual GSB campus. More than a mere gimmick, the gamified technology gives participants an opportunity to interact with one another and professors in ways that truly simulate in-person contact.
"Personal leadership is best learned through dynamic interactions with others," said Sarah Soule, faculty director of the new certificate program. "What's exciting about this new program is that we've developed a curriculum that is hands-on, spans multiple time zones, and bridges physical distance to fully engage participants in an experiential learning environment."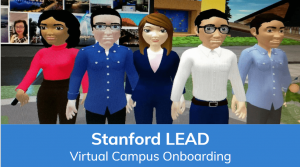 The new year-long certificate program uses a blended learning model that combining active synchronous learning, including team-based projects, on the virtual campus with work that students complete on their own, providing the advantages of an in-person program with the flexibility of an online one. Students take two foundational courses and six electives—two courses per quarter—with all courses taught by MBA faculty. Upon completion, the receive a certificate from Stanford and 24 continuing education units (CEUs). The price tag for the program is $19,000.
Though specific plans to expand use of the virtual campus platform beyond Stanford LEAD are not currently in the works, it's easy to imagine how the new technology could lend itself to an online MBA offering. A Stanford spokesperson allowed that future applications of the tech platform for MBA students are possible, especially to enhance global learning opportunities. Learn more from the Stanford Business Newsroom.
Stanford and Ross Reveal Graduation Speakers
At the Michigan Ross 2018 Commencement Ceremony, students will have the opportunity to hear from keynote speaker Marne Levine, the COO of Instagram. Before joining Instagram in 2014, Levine worked as the vice president of global policy at Facebook, where she led the company's global public policy strategy. Commencement will take place on Friday, April 27th, at 3:30 p.m. (Michigan Ross News)
Anheuser-Busch InBev CEO Carlos Brito will deliver Stanford GSB's 2018 commencement address. Brito is considered one of the most influential individuals in the brewing industry, credited with helping to transform the industry since he joined it in 1989. He's responsible for building the world's largest brewing company with more than 200,000 employees across 50 countries selling more than 500 brands in 100 countries. The commencement ceremony will take place on Saturday, June 16th. (Stanford Business Newsroom)
In February, Wharton was one of the first schools to announce its commencement speakers. You can find out who they are here.
INSEAD Celebrates 50 Years of Women with a Week of Events
To coincide with International Women's Day, INSEAD hosted a week of events beginning March 6th and continuing through today to advance its "iW50" campaign, designed to celebrate 50 years of women studying at INSEAD while also increasing awareness of the role of women in society and empowering women in business. The celebration extended across INSEAD's three campuses (in Singapore, France, and Abu Dhabi) and will close out with one global International Women's Day commemoration featuring cutting-edge research, screenings, live music, and treats.
"Half a century ago, in true enterprising spirit, INSEAD made a strong statement about gender parity in education," said Peter Zemsky, INSEAD deputy dean, dean of innovation, and strategy professor. "With decades of gender diversity efforts behind us, we invite everyone to join us in this year's INSEAD Celebrate Women events across our campuses—engaging with the men and women critical to our goal of championing gender diversity through research and education." (INSEAD News)
$5M Gift Promotes Entrepreneurship at Chicago Booth
Entrepreneurial students at Chicago Booth will soon be able to participate in a new multi-pronged entrepreneurship program thanks to a $5 million donation from alumnus Rattan Khosa ('79)—founder, president, and CEO of AMSYSCO Inc. The gift will establish the Rattan L. Khosa Student Entrepreneurs Program at the Polsky Center for Entrepreneurship and Innovation, which will include four components:
New Venture Challenge: The gift will provide a $150,000 endowment in 2018 and a $200,000 endowment in subsequent years for the first-place award winner.
Entrepreneurial Fellowships: Two graduating entrepreneurs will receive a one-year stipend and one-on-one mentoring.
Entrepreneurial Interns: Three students will receive financial support to work for a startup or start their own company.
New Student Award: An annual "Against All Odds" prize will be awarded to a graduate student who overcomes a significant hurdle to launch a business.
"Starting a business from scratch is like jumping off a cliff in the middle of the night while blindfolded, hoping that there is a safety net down below," Khosa said. "I know from personal experience that everyone needs help at some point in their lives. No one has succeeded on their own." (Chicago Booth News)
See what you missed last week in the MBA News You Need!