MBA News You Need: PepsiCo Names ESADE Alum CEO, Chicago Booth Begins Summer Business Scholars Program, Tuck Professors Talk Life Hacks, and More.

Each week we collect all the MBA news that's fit to print and provide a quick overview of the latest trending topics from top business schools around the world.
Here's your quick MBA News You Need digest for the week of August 9, 2018. 
ESADE Alum Named to Lead PepsiCo
PepsiCo elected Ramon Laguarta, an MBA alum from ESADE Business School, as its new chief executive officer. The decision was made after Indra K. Nooyi's announcement earlier this week that she will step down on October 3rd after more than 12 years as CEO. Lagaurta will become just the sixth PepsiCo CEO in its 53-year history.
Lagaurta was chosen for the role due in no small part to his impressive leadership skills, as well as his broad international market experience. In his 22 years with PepsiCo, Lagaurta has significantly expanded the company's international reach; since his tenure as PepsiCo president began in September 2017, he has overseen global operations, corporate strategy, public policy, and government affairs. He previously served as CEO of Europe Sub-Saharan Africa, one of PepsiCo's most complex arms with operations on three continents.
"Ramon is a strong and proven executive with an outstanding track record growing organically and by acquisition some of PepsiCo's largest and most important international businesses," said Daniel Vasella, chairman of the board's nominating and corporate governance committee. "He keenly understands the evolving needs of consumers and customers and the trends affecting our business in markets around the world." (PepsiCo News)
Inside the Chicago Booth Summer Business Scholars Program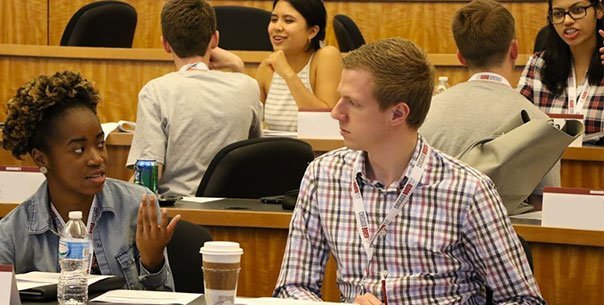 Each year, the University of Chicago Booth School of Business welcomes a group of early college students to its campus for a three-week learning experience dubbed the Summer Business Scholars Program (SBSP). The goal of the program is to provide students with hands-on experience with the principles of business before they begin their internships or careers. This year's class includes 50 scholars from 15 countries including India, Italy, Ukraine, and South Korea.
During the SBSP program, scholars take part in a unique curriculum that combines theory and practice, building on each key business competency week after week. During the first two weeks, scholars build foundations in accounting, finance, and marketing, which they put into practice during their final week. Scholars also visit Chicago-based companies where they gain practice in networking, negotiations, and leadership. (Chicago Booth Blog)
Top Life Hacks from Leading Tuck Professors
Five Dartmouth Tuck faculty shared insights into how people can apply their specific expertise to everyday life:
Harness Karma: Professor of Management Vijay Govindarajan has built a career on gaining and maintaining market leadership. In the process, he's learned just how much luck can play a significant role in market trajectories. His advice is to buckle down and focus on what you can control rather than what you can't. "The more you are sure of yourself, the more you can take advantage of random events to achieve your ambitions."
Find and Be an Exceptional Boss: According to Professor of Management Sydney Finkelstein, exceptional leaders cultivate talent factories. Instead of simply being a boss, leaders should look to elevate and mentor others.
Think Critically: Professor Andrew King emphasizes the importance of thinking scientifically about the evidence and ideas we hear. "The first principle is not to fool yourself, and you are the easiest person to fool."
Accomplish Your Goals: According to Professor of Management Punam Anand Keller, the key to a happy life is to transform nebulous desires into specific and obtainable goals. Just beware that "goals have trade-offs; they are lines in the sand," she said. "You have to make a commitment and know that you might fail."
Feel Better About Spending Money: Last but not least, Professor Eesha Sharma recommends looking at money differently. She warns about going into debt for experiential purchases and encourages people to talk about purchases to remember their financial constraints.
To read all of the advice from the professors including more in-depth how-tos, head to the Dartmouth Tuck News website.
Darden iLab Incubator Cohort Gets a Firsthand Glimpse of Startup Life
To close out the 10-week UVA Darden i.Lab summer startup accelerator program, the cohort traveled to the 1717 Innovation Center in Richmond, VA, to get a firsthand look at startup life. The group had an opportunity to survey Richmond's entrepreneurial co-working space and witness a community of entrepreneurs striving to make their place in the business world.
The day at 1717 included three panel-presentations covering topics such as the workplace of the future, an introduction to user-centered Research, and startup founders. During each panel, cohorts gleaned firsthand lessons in office design and quantitative analysis and heard from entrepreneurs.
"Getting to see the corporate perspective and then also the founders' perspective on problem solving and custom solutions created some real 'ahas' for me that are making a difference in how I am thinking about my own venture," said Evan Nesterak, founder of MAP Sports. (UVA Darden News) 
U.S. Companies Hiring Fewer Foreign MBAs
One reliable path for international students to find an American job was to earn a Stateside degree. It's why so many international students attend business school in America, but times are changing. Now that the Trump administration has imposed more stringent worker-visa rules, the odds of earning a well-paying U.S. job as a foreign MBA have declined.
Although the U.S. economy is booming and near full employment, companies are not recruiting outside the U.S. In fact, most job posts clearly state that only U.S. citizens and legal residents should apply. What will this mean for foreign MBA graduates? Read the full story in the Wall Street Journal.
[jetpack-related-posts]