MBA News You Need: Yale Searches for New Dean, Tuck Sets Donation Record, UCLA Anderson Welcomes Class of 2020 International Students, and More

Each week we collect all the MBA news that's fit to print and provide a quick overview of the latest trending topics from top schools around the world.
Here's your quick MBA News You Need digest for the week of August 2, 2018. 
Yale SOM Embarks on Search for New Dean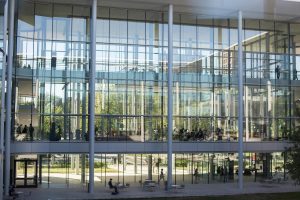 Yale School of Management President Peter Salovey has put together an advisory committee to lead the dean search. As chair of the committee, Professor of Finance Andrew Metrick will receive help identifying candidates from executive search firm Heidrick & Struggle as well as an alumni consultative committee chaired by Timothy Collins ('82), CEO and senior managing director of Ripplewood Holdings and chair of the Yale SOM Board of Advisors. PepsiCo chairman and CEO Indra Nooyi ('80) will also advise the committee.
The search follows Dean Edward A. Snyder's announcement earlier this year that he planned to step down as dean, a role he's held since 2011, to return to teaching and research at the end of the 2018-19 academic year. Candidates are encouraged to apply by emailing [email protected].
Read the full press release on the Yale SOM website.
Tuck Sets Yet Another Record for Alumni Giving
Dartmouth's Tuck School of Business raised $51.3 million for the fiscal year of 2018, shattering the $31.1 million record it set last year. The dramatic increase in donations were due in large part to the April launch of The Tuck Difference: The Campaign for Tomorrow's Wise Leaders. The new campaign refocused Tuck's priorities around people, programs, and places. In doing so, the campaign received overwhelming support from Tuck alumni and friends.
"I am inspired by the generosity of our alumni and grateful for their support at this important moment in our school's history," said Dean Matthew J. Slaughter.
Overall, The Tuck Difference campaign is hoping to raise $250 million as part of Dartmouth's comprehensive $3 billion campaign, "The Call to Lead." Four years into the campaign and Tuck has already raised $140 million.
To learn more, visit the Dartmouth Tuck website for the full news story.
UCLA Anderson Adcom Director Pens Welcome Letter to Incoming International Students
This week, international students from the Class of 2020 traveled to UCLA Anderson for the annual International Welcome Week. In what has become a yearly custom, Admissions Director Alex Lawrence penned a welcome letter to the incoming class.
Lawrence started by telling the incoming class how proud he was of all the students' accomplishments and how much he enjoyed getting to know them during the application process. "Our class is definitely a fabulous collection of diverse and talented individuals…. but in the end, we are all one Anderson family," he wrote.
Lawrence offered his advice on getting the most out of the unique experience UCLA Anderson has to offer. "You may find yourself in situations that will challenge you in a variety of different ways," wrote Lawrence.
"Fortunately, you have plenty of classmates, faculty, staff, and alumni who are there to help. I encourage you to embrace these opportunities to challenge yourself and find out how much you can truly accomplish."
He also recommended international students explore the greater Los Angeles metro area and make plans to see as much of the United States as possible.
Lawrence concluded his letter by offering students sound advice on how to keep in touch with the MBA admissions team.
To read Admissions Director Alex Lawrence's full letter, visit the UCLA Anderson blog.
As China Clamps Down on International Educational Partnerships, Overseas Business Schools Could Feel the Impact
China's changing its stance on alliances with foreign universities could have significant repercussions on U.S., U.K., and Australian business schools.
In a six-line statement from China's ministry of education, the country's universities were asked to "purge their links with foreign institutions," which effectively shuttered 234 joint degrees and partnerships, including 24 undergraduate and master's qualifications in business administration and finance.
As part of this effort, Chinese universities have also increased their recruiting efforts in an attempt to lure students away from foreign programs by offering more fast-track options and incentives.
According to Yuan Ding, vice president and dean for the China Europe International Business School in Shanghai, this change is positive. He told the Financial Times, "In China, people are always very entrepreneurial and create all sorts of things. This is a way to clean up. It helps the parents, who are the least informed and have been lured into paying for what they thought was a top foreign degree for their children."
What could this mean for foreign schools? For starters, they can expect fewer applications from Chinese citizens. Since 2014, the demand has already decreased from 130,000 GMAT test submissions to 97,000. Read the full report in the Financial Times.
Darden Prof Reveals How the School Plans to Dominate Experiential Leadership Development
UVA Darden's new Initiative for Transformational Leadership and Learning is a multidisciplinary effort devoted to leadership development. Launched with $2 million in seed funding, the goal of the program is to create transformational learning experiences that cater to students interested in developing their leadership capabilities. When talking about the program, Professor Jim Detert spoke about how the initiative would put students into actual leadership roles where they can experience highly stressful, highly emotionally-charged, and emotionally ambiguous situations.
"Some people have suggested that over half of true leadership development comes from the practice of leading itself," explained Detert. "That is clearly distinct from acquiring knowledge or anything else we typically do in the classroom. So, what we are aiming to do here is to become the best in the world at providing and carefully assessing the value of the 'doing' part of leadership development." (Darden News)
[jetpack-related-posts]