Home » News » ApplyWire » MBA ApplyWire Spotlight: Enough Work Experience?
MBA ApplyWire Spotlight: Enough Work Experience?

Welcome to another edition of MBA ApplyWire Spotlight, in which we highlight a pertinent post from an MBA applicant to one of our useful admissions tools.  This week, we take a look at an applicant who's hoping to work in the consumer goods industry post-MBA.
The applicant detailed their history and concerns: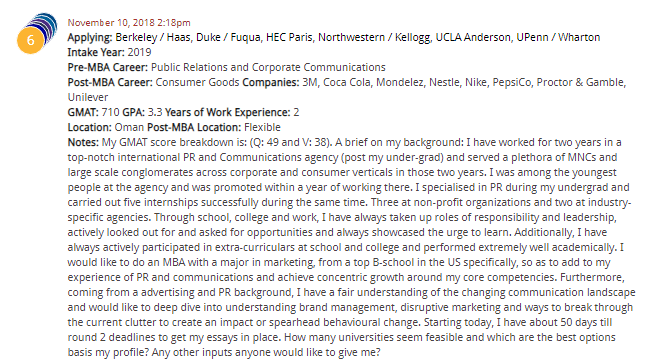 Then, our resident expert, Alex Brown, kicked off the conversation about work experience:
Talk then turned to school choice:
The candidate then focused on work experience:
And Alex Brown wrapped it up with some useful advice:
Best of luck to those applying to their target schools!
Readying your applications? Do you know which business schools you will be applying to? Share your story on ApplyWire. It's completely anonymous and only takes a minute to complete.
Posted in: ApplyWire, DecisionWire, Feature Small, Weekly Columns
Schools: Berkeley / Haas, Duke / Fuqua, HEC Paris, Northwestern / Kellogg, UCLA Anderson, UPenn / Wharton
About the Author

Lauren Wakal
Lauren Wakal is the Editor-in-Chief of Clear Admit, responsible for overseeing content creation for the site. Lauren has been covering the MBA admissions space for more than a decade, from in-depth business school profiles to weekly breaking news and more.
Sign Up For Our Newsletter