Fridays from the Frontline: To Do Or Not To Do: The Intensive Language Program – That Is The Question

One of INSEAD's major selling points is its language policy, which requires that students speak English fluently and moderately well in a second language. By the time the program wraps, INSEAD MBAs must be able to speak a "third, commercially useful, language at A2 'Basic' level in order to graduate."
Since languages play such an integral role in an INSEAD education, it may come as no surprise that the school offers intensive language courses in both Spanish and French. Current MBA student Rada Keratirags '19J took to the INSEAD MBA Experience blog to review the intensive French course offered by INSEAD training partner FL&C in Fontainebleau.
The following post has been republished in its entirety from its original source, the INSEAD MBA Experience Blog.
To Do Or Not To Do: The Intensive Language Program – That Is The Question
Rada Keratirags, MBA'19J
A 26-year-old auditor-turned-consultant from Bangkok, Thailand. Travelling has always been my passion, and documenting it—both by photography and keeping a diary—comes naturally to me. And here I'd like to share my INSEAD journey with you.
I believe a lot of people wonder about this. In fact, I owe a 19D a thorough review of the intensive language program.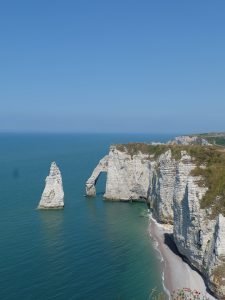 To give you some background, I am a 19J who chose to do French in Fontainebleau during the summer. I have learned 5 languages—being fluent in English and my native language and retained a very basic knowledge of three more: Mandarin Chinese, Spanish and German. Some of my classmates believe that my multilingual skills were the boost to my French, but I believe this is a two-sided sword. I can guess meaning of words and have no difficulties understanding concepts that differ from English, but my brain does go back to Spanish or German some times; I keep saying those -teen numbers in Spanish and read the words ending with an -e in German.
Even though INSEAD offers both intensive French and Spanish, I chose to do French mainly because of my unfortunate experience travelling through small towns in Provence where, not knowing French and not having internet connection, I did not know that the trains were on strike nor did I know what I just ordered for dinner. After considering the fact that I would spend months in France and that I have not yet reached the level required by the school in my third to fifth languages, I decided to learn the sixth one.
Before the intensive language course, like everyone else, I downloaded a mobile application to work on my French. Traditional schools like Alliance Française could not get me to A2 in a couple of months, and lessons disguised as games seem like a good idea for my long ride to work. But projects became more demanding, not to mention farewell dinners, I got to work only on basic greetings and pronunciation. French pronunciation is a pain, and not knowing how to pronounce a word basically means you lack a way to remember one. I was not sure whether French is hard compared to Spanish or German, or that I learned those two languages while I was young. Aging takes toll on memory too.
Arriving with a heavy heart, all my worries were basically solved in two days. On the first day, the teacher covered greetings, how introduce yourself, basic daily life phrases, conjugation of the verb être (to be), conjugation of regular verbs, French alphabets, the number 0 to 30, days of the week, months of the year. On the second day we learned about conjugation of the verb avoir (to have), aller (to go), the number 31-60, how to tell your age, how to express an intent, how to tell the time, countries and nationalities, possessives, family members and we were expected to form longer sentences. And by the third day I stopped keeping track. My French improved immensely, especially with an opportunity to practice any minute! Classmates practiced ordering beers in a bar in French. A shy person like me had a late start in the second week: successfully expressing my wish to open a bank and looking for the water bottle I have forgotten. Basically, the lessons were well built on one after the other and the intensity of the program makes people improve so fast. The class size is also small, with fewer than 10 people (the actual number may be even lower than this; there were 5 people in my class in the first week, 6 in the second and 7 last). And even the quiet ones participate in endless roleplays and get comfortable and creative telling stories and creating dialogues. Credits must be given to our lovely teacher Ineke Ribatto. She makes class fun by telling stories to help us remember the nitpicks of the language and does it in French, slowly and little by little.
Then, there are friends and France in the summer. Since the language class ends at 3 (3.30 for Spanish), and the sun sets at almost 10, 25 of us have plenty of time to hang out and explore Fontainebleau and France. We do BBQ, hang out by the canal (it's impressive, check it out!), go to Paris, hike by a cliff in Étretat. But what I have to say was the best of our luck is being here during the World Cup, where France is the winner. The atmosphere was overwhelming, and I'm glad I'm here!
Overall, I'd say do the intensive French course in Fontainebleau. You will not only get the language requirement over with, but also gain survival French skills, not including unforgettable times with new friends!
Clear Admit Resources
Thanks for reading our this account from an INSEAD student! As you work on your INSEAD MBA essays and application, we encourage you to consider all of Clear Admit's offerings: