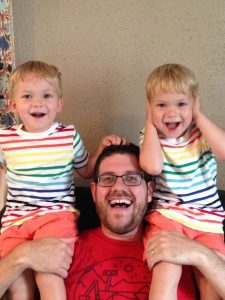 Aaron Reese, Rice Jones MBA Class of 2020
Age: 33
Hometown: Austin, TX
Undergraduate Institution and Major: Rice University, Political Science and Religious Studies (I also have an MA in Arab Studies from Georgetown University)
Pre-MBA Work Experience: 8 years working primarily in Middle East research and analysis. 4 years concurrently working as a father to James and Daniel.
Why business school? Why now?
My work experience has been very region-specific, and although I loved working on and in the Middle East I wanted an opportunity to broaden that experience. After considering it for a while, a sudden change in employment proved to be precisely the opportunity to make the leap.
Why Rice? What factors figured most prominently into your decision of where to attend?
In all honesty, the choice was easy to go "Rice Twice." As a Rice alumni, I already loved spending time on the campus and visited frequently to work and see friends. I knew the school's culture, and knew that the small, more intimate environment would be a great fit with my personality. Plus, for family reasons I was eager to stay in Texas for school. I only submitted one other application to another Texas school, but once Rice admitted me the choice was made.
What do you think is your most valuable or differentiating contribution to the Class of 2020?
Coming from a "non-traditional" background I have spent a lot of time thinking about how political, security, and social events around the world generate impacts beyond their immediate location. Forecasting is always challenging, but I think that developing that skill of thinking about uncertainty and the future as it relates to the complexity of human events is very useful.
Fun fact that didn't get included on your application?
I'm a juggler, and I worked as a bicycle taxi driver on the side when I lived in DC. Still one of my favorite jobs I've had!
Post-MBA career interests?
One area I'm looking at very closely is cybersecurity. It's an area of personal interest, as I've always been a tech guy at heart, and it is a field of ever-growing importance.
Advice to current prospective applicants:
–One thing you would absolutely do again as part of your application process?
I feel like I was as natural as possible. I wanted to ensure that I came across as myself so that the admissions office could see how I would fit into the class.
–One thing you would change or do differently?
I would have taken the GMAT (I took the GRE)—I think the challenge would have been useful preparation.
–Part you would have skipped if you could—and what helped you get through it?
After just saying that I would have taken the GMAT, I would say I'd skip taking the standardized tests entirely. I don't think they tend to be good measures of critical skills for business school. That said, I had taken the GRE a decade ago for a previous graduate degree, so I didn't have much anxiety.
What is your initial impression of Rice's students/culture/community?
I'm very happy to have a similar experience as I did as an undergraduate: my class is filled with great people, and they are all the kinds of people I would be friends with in general. I've really enjoyed getting to know them.
One thing you have learned about Rice that has surprised you?
I'm a returning student so I didn't expect many surprises, but I'll admit to being pleasantly surprised by how familiar the campus feels even after what feels like quite a while away. It has really retained its character.
Thing you are most anxious about in your first year?
Firing up my quantitative engines again to dive into finance and accounting.
Thing you are most excited about in your first year?
Getting to know my new colleagues, and embarking on the new global field experience to Latin America.