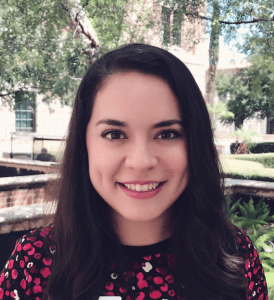 Beatriz Aguirre, Rice Jones MBA Class of 2020
Age: 27
Hometown: Torreon, Mexico
Undergraduate Institution and Major: Tecnológico de Monterrey, BA in Accounting and Finance
Pre-MBA Work Experience: 5 years in Tax Consulting and 3 years in Retail/Management.
Why business school? Why now?
I have always wanted to continue my education with a master's, but I was waiting for the right time. I got to a point in my career where even though I have a strong business background, I felt I needed to know more about all the other areas of managing a business.
With my experience, I realized I needed further challenges to develop my leadership and communication skills to become a better manager. I know that the Rice MBA program combines my interests and will provide the challenges I need.
Why Rice? What factors figured most prominently into your decision of where to attend?
Rice's location and strong program is what brought me initially to visit. When I visited the school and had the chance to talk to the students and faculty members, I really got a sense of the close-knit community that Rice has to offer.
The most important thing for me was feeling that I wanted to be a part of this class and that I belonged here.
One important factor for me, is that Rice provides not only opportunities to network and study, but it also values playing an important role in the community. Here I have the chance to expand my career and give back to society.
What do you think is your most valuable or differentiating contribution to the Class of 2020?
Besides my work experience, I contribute to Rice with my personality. I am an empathetic person and I love to make friends. I will bring people together and that will definitely help my class in every aspect.
Fun fact that didn't get included on your application?
I formed a softball team with my friends during high school. We never won a single game. I don't know if our excitement blinded us but we never gave up. It has been one of my favorite experiences and it made me really happy.

Post-MBA career interests?
Finance & Strategic Management.
Advice to current prospective applicants:
–One thing you would absolutely do again as part of your application process?
1. If you have the time and money to visit your list of schools, definitely do so. Visiting the school will give you that feeling of "fit", which is so important. I fell in love with Rice the first time I came to visit because I totally visualized myself being a part of this community.
2. Don't be afraid of asking for help during your application process, it can be stressful and confusing but there is always someone like me that is willing to help you out.
–One thing you would change or do differently?
I was definitely stressed about the GMAT, but you have to learn to see yourself as a well rounded person. Comprehend that you are more than a score and there are a lot of other abilities and skills that you can portray in your application.
–Part you would have skipped if you could—and what helped you get through it?
I would have skipped the GMAT but that's impossible. Asking for advice on the GMAT is so powerful, try to enroll in a good course since day 1 and stick to it.
What is your initial impression of Rice's students/culture/community?
It's even better than what I have expected. I am so happy and grateful to be here; classmates, faculty members and administration will all make you feel at home. I know that if I want to communicate something I will definitely be heard.
One thing you have learned about Rice that has surprised you?
Free coffee, haha.
It surprised me that we started networking since day 1, I am glad we did it since it actually helps you build a sense of confidence in that area.
Thing you are most anxious about in your first year?
I am anxious about handling schoolwork, recruiting and extracurricular activities. But as I am getting to know all of my classmates, I know we will all be able to do it since we actually form a helpful group.
Thing you are most excited about in your first year?
What I have enjoyed the most so far is meeting all of my classmates. They are all incredibly nice, helpful and smart people. We all have different backgrounds and stories that make us unique and interesting. I admire each one of them and it is really enriching to see how even we are all so different we can form great friendships.
Second, I am excited about applying to the Rice Business Board Fellows program, which is a program that unites Rice MBA's with Houston-Area Nonprofits. I have been raised to always help people and contribute in a positive way, this is a unique chance to actually impact on the community around us and I will be thrilled to join.