In this MBA DecisionWire Spotlight, which highlights MBA candidates' choices as shared in Clear Admit's DecisionWire, we take a closer look at a candidate accepted to U. Chicago Booth and Columbia Business School and weighing where to go for investment banking.
The candidate laid out their conundrum in the post: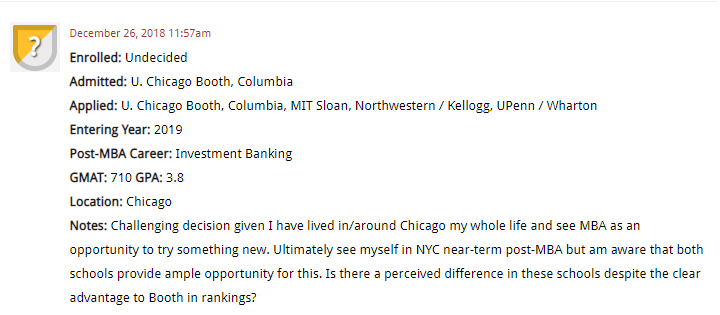 Clear Admit's co-founder and admissions expert, Graham Richmond, weighed in:

The original poster then returned to expand on their experience with Booth—and a potential timing issue:

Clear Admit's resident expert, Alex Brown, then suggested some further research into others firsthand experiences:

A community member then wrapped up the thread:

Congrats on your admits and best of luck with your decision!
See more feedback on MBA admissions decisions at:
Do you know where you'll be going? Do you have a tough decision before arriving on campus? Share your story on DecisionWire. It's completely anonymous and only takes a minute to complete.