Each week we collect all the MBA news that's fit to print and provide a quick overview of the latest trending topics from top business schools around the world.
Here's your MBA News You Need digest for the week of April 29, 2019.
Genovese Fellowships Awarded to 3 UVA Darden Students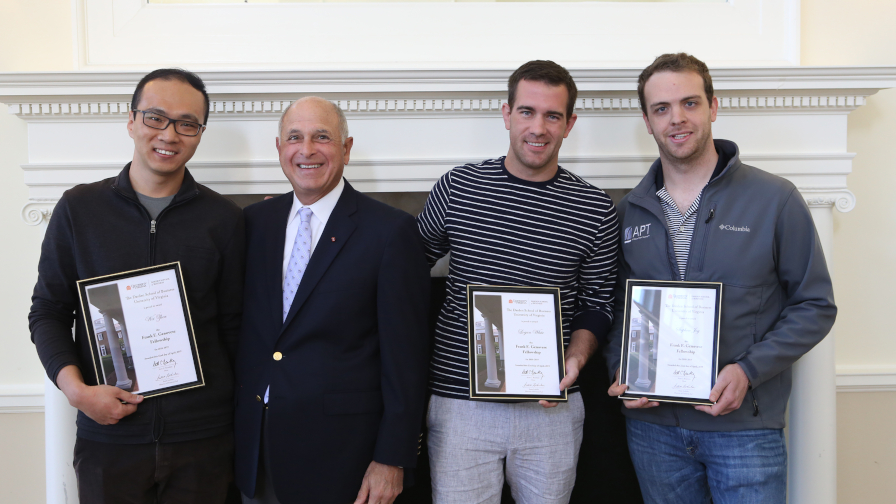 Three MBA students from UVA Darden's Class of 2020 have been awarded the Frank E. Genovese Second Year Fellowship: Stephen Joy, Wei Zhou, and Logan White.  The fellowship, created by alumnus Frank Genovese (MBA '74), is awarded to second-year students interested in pursuing careers as general manager or owner-operator of a business.  Zhou, for instance, will be interning at Amazon this summer and plans to explore entrepreneurship.
Students in the top 30 percent of the first-year class are eligible to apply and winners are reimbursed for the cost of their second year.  The Genovese Fellowship began with $2 million in gifts and, after 28 years, has supported more than 70 Darden students.  The current endowment is $6 million, so first-years for many new classes will have the opportunity to earn this fellowship.
Read more about the fellowship on the Darden news site.
HEC Hosts Second Annual Student-Led Crises Simulation
The second edition of the HEC Crises Challenge took place on April 11 and 12. Hosted by HEC Paris, the student-led crisis simulation invited 14 teams comprised of 66 students pulled from six business schools to learn the dos and don'ts of communicating with stakeholders and the general public.  The school, recognizing that crisis simulations are rare exercises in mainland European schools, reported an "air of novelty and…excitement." Moreover, the scale of this year's event had nearly doubled compared to the first.
In a single 24-hour collaborative event, the teams dissected four crisis scenarios, including a food contamination crisis, a cyber attack, and more. Each team was tasked with generating a video response to the crises to convince an executive board their approach was the correct one. The four best teams then faced off in a simulated press conference and fielded questions.
The winning team was made up of five students from HEC's MBA and M.Sc. programs, led by Noemie Escaith (MBA '20).  The winning team will head to Michigan / Ross to compete in the North American challenge.
Learn more about the competition on the HEC website.
Tuck's General Management Program for Athletes and Veterans Offered in Fall 2019
The Tuck Next Step program, a general management certificate that helps athletes and veterans transition to civilian life, will now run twice a year.  The program builds upon Dartmouth Tuck's commitment to creating opportunities for veterans and elite athletes by helping participants improve their business skills and apply what they learned to the next phases of their careers.  The additional opportunity to earn the certificate takes place in September.
"Athletes and veterans have a really unique set of experiences, and that diversity is a key component of wise leadership," explained Next Step faculty director and Tuck Deputy Dean Punam Anand Keller. "Tuck aspires to provide the business foundation and connections that enable participants to take the next step and pursue civilian careers."
The spring 2019 cohort welcomed veterans with a collective 670 years of service and 245 commendations. In the same class, athletes had participated in 2,900 international competitions and took home 48 Olympic and Paralympic medals. Overall, the cohort ranks the program 4.9 out of 5.
Read the full news story on the Dartmouth Tuck website.
IMD Partners with UEFA, ECAL, and ThinkSport for an Innovative MBA Experience
IMD Business School has partnered with UEFA, ECAL/University of Art and Design Lausanne, and ThinkSport to develop a hands-on learning challenge as part of this year's MBA Innovation Week.  Participants will work closely with experts drawn from the worlds of sports and business to enhance the experience of fans at live football events.
Students can concentrate on mobilizing the city, paying attention to special needs, and/or improving the in-stadium experience. The UEFA Euro 2024 finals in Germany may potentially implement the winning idea.
"The purpose of this challenge is to show that innovation is not just about spontaneous inspiration. It is a process and it can be grueling. After this week, our participants will be able to lead real teams through the innovation process and experience what the pitfalls are. Through Innovation Week, we are inspiring them to become better leaders," said Professor of Strategy and Innovation Cyril Bouquet.
Eighteen teams comprised of 90 MBA students and 18 students from the Master of Product Design at ECAL are slated to take part in the challenge this week.
Learn more about the challenge on the IMD news site.
Deloitte's Chair/CEO to Keynote NYU Stern's 2019 Graduation
Janet Foutty, the Chair and CEO of Deloitte Consulting LLP and Chair-elect of Deloitte LLP, was announced as the keynote for the NYU Stern School of Business 2019 Graduate Convocation ceremony.
In her address, Foutty will discuss how graduates can and will meet this era of change and uncertainty, offering insight drawn from her own personal and professional experiences.  She will also address the leadership principles that have empowered her to meet challenges head-on.
The Convocation will take place on Friday, May 24 at 3:00 p.m. at the Hulu Theater at Madison Square Garden.